Market demand and Extended Producer Responsibility can help boost the recycling rates of used beverage cartons in India.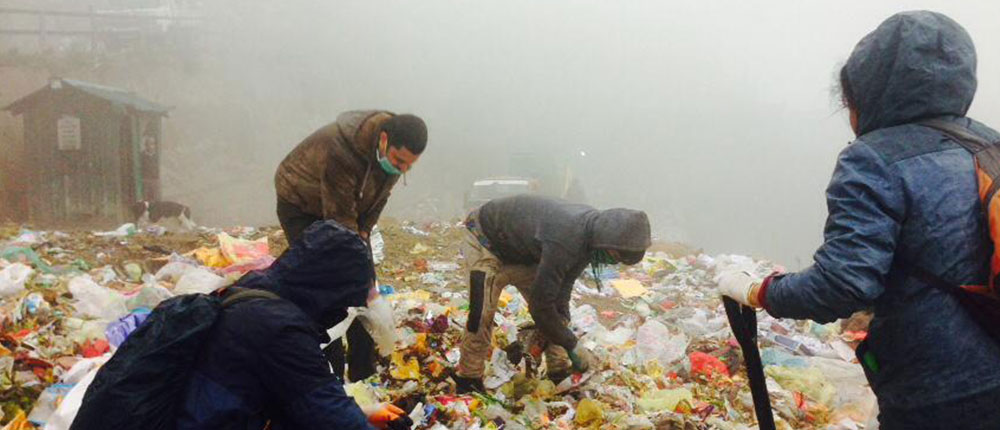 India has high recycling rates — about 27% for paper and about 60% for plastics 0151— which is mostly due to rising market demands for lower-priced products and easy availability of feedstocks for further offtakes. However, this domain requires a lot more attention mainly because Indian cities alone generate around 1,61,000 tonnes of Municipal Solid Waste every day, most of which end up in landfills. Going by the current rate, India might soon require land of size of Delhi every year to effectively deal with the piling waste. The worsening situation also calls for the need of moving back materials to circular economy loop via recycling. This will not only help reduce waste burdens from cities but also recover valuable materials, lower greenhouse gas emissions and conserve resources such as energy and water.
Extended Producer Responsibility for improving recycling rates
It is the consumer market that drives the producers. The waste management rules of2016 in India made the producers, brand owners and importers of the products responsible for the products they create, sell and subsequently generate waste. And that's the Extended Producer Responsibility (EPR) for the uninitiated. It essentially means that producers will have to bear the costs of collecting, transporting, recycling or reusing, and the responsibility of disposing of their products and materials at the products' end of life. The rules are focused on a life cycle approach to minimize the impact of a product. It works towards eliminating the process of waste generation and resource scarcity, promotes efficient processes and leads to a more sustainable form of development.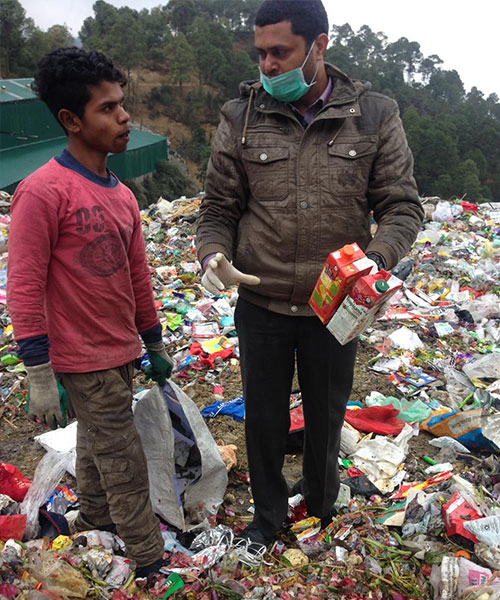 An essential cog in the recycling wheel is the demand for quality products at low price and value chain for all stakeholders involved in the collection of recyclable materials. EPR has a critical role to play in putting the materials back into the circular economy loop, especially for the newly introduced low-value recyclable products such as the used beverage cartons (UBCs) and multilayer packaging. Highlighting the role of EPR, Sourabh Manuja, Fellow, Environment and Waste Management, TERI, says, "Looking at the positive side, and increasing trends of green market demands, EPR has shown the path to many organisations towards sustainability. EPR is trying to infuse the concept of PPP (people, planet and profits) into the policies of organisations in India." There are ample benefits that come along. As a company demonstrates better on the environmental front, it gathers more faith from stakeholders, creates a positive image, and grows in business too.
But being a new concept, EPR has its own set of challenges. "As it is regulatory compliance and waste trade happens in a combination of informal and formal actors, it becomes important to derive mechanisms to avoid double counting of same collected waste loads," adds Manuja.
Dubbing EPR as a game-changer in India, Monisha Narke, Founder and CEO, RUR GreenLife Private Limited, says, "EPR is an excellent bridge between the producer and consumer with the environment being the immediate beneficiary. EPR helps make everyone responsible for making waste into a resource. EPR funds can be utilised to establish a network to bring back the post-consumer material for recycling/safe disposal and raise awareness amongst the citizen on various sensitive issues related to environmental conservation."
However, EPR alone can't resolve the waste problem, warns Manuja. "There are still many more stringent monitoring, review and verification (MRV) systems required to be inbuilt to make this a successful and effective mechanism and help cities reduce waste burdens. Yes, it does provide business opportunities to the recycling industries in case materials are looped back to the circular economy chain," he adds.
Leading with example
Few companies have been voluntarily doing EPR as they produce waste products, which they want to be utilised back as much as possible. To do this, they need to create active recycling chains among various regions of the country. This, in turn, helps the brand become environmentally cautious that enhances the goodwill of products, giving them a lower risk of losing their packaging product demand, instead of providing opportunities in new product markets.
TERI conducted a study on UBC management for Tetra Pak; spread across 20 cities of India and one city each in Nepal, Sri Lanka and Bangladesh in 2019 and found out that around 54% of the total UBCs generated by consumers across 20 cities in India are recycled. The 2019 study was the third in the series of studies commissioned by the company. The earlier two studies conducted by TERI on UBC management also called post-consumer beverage carton management, observed that recycling rates were about 29-35% in 2011, and 48-51% in 2015.
Touching the halfway mark in the recycling rate is considered is a big feat. Over the years, the Swedish company had taken it upon itself to reduce waste, recycle resources and leave no stone unturned to generate awareness, build a multi-stakeholder value chain, and strengthen the collection and recycling landscape in the country. "Through constant interactions and tie-ups with recyclers, we have been able to develop solutions, technologies and applications of UBCs. We have always tried to bring up the level of active sorting of UBCs and reduce mixed waste recycling, and making recycling of UBCs more effective, efficient and economical," says Sumit Jugran, Sustainability Manager, South Asia Markets, Tetra Pak. The company, in association with many NGOs has been involved in creating awareness about UBC recycling among waste workers and scrap dealers and building a reverse logistics network for sending the used cartons to recyclers.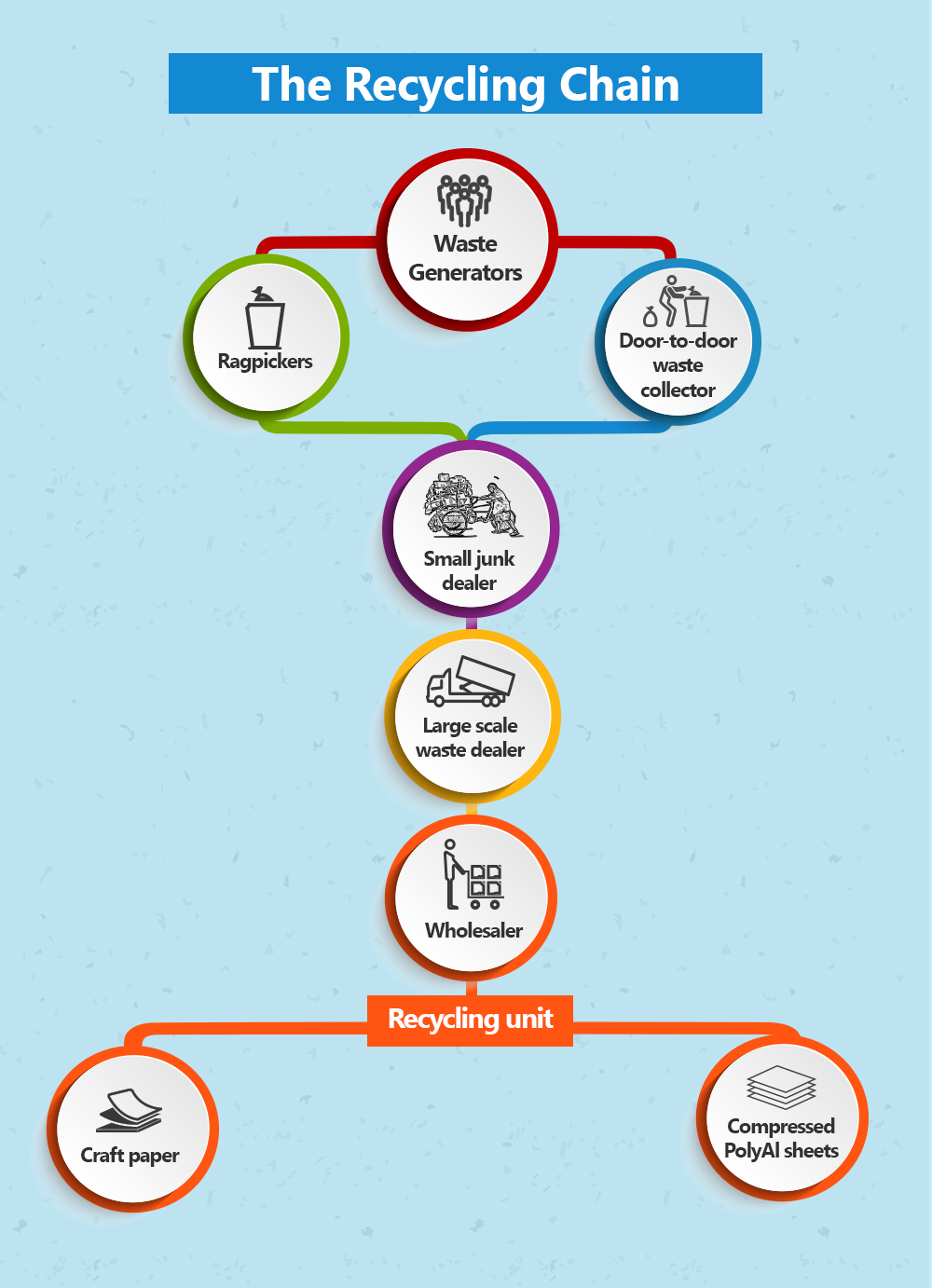 The recycling value chain
Delhi-based Mohamad Sagir, the founder of Development Links Foundation and Green Recycling, has been working on collecting and recycling UBCs since 2006. Explaining the work at the ground level, says, "We have a well-established network of around 1.5 lakh rag-pickers who collect around 50 tonnes of UBCs (~10 truckloads) from hotels, airports, households, etc., in a month. They sell it off for Rs 4-5 per kg to small junk dealers. The big suppliers like me then buy it from them for Rs 5-7 per kg, and sell it to the recycling factories." His monthly collection target is now around 100-120 tonnes UBCs from North India.
In the recycling process, the buyer (the recycler) pays an attractive price to the seller (the waste collector), and the company provides communication, promotion and equipment support to the recyclers. "The recycling facilities generate new livelihoods. Carton collection gives an additional source of income to waste collectors," says Sagir. The recycling efforts come with economic benefits for all the concerned in the value chain. As Sujauddin, North India UBC accumulator, explains, "The company gives us a subsidy of 50 paise per kg for collecting UBCs from small junk dealers, and that makes for a good margin per month".
To further boost the recycling process, few companies have been giving incentives such as baling machines and vehicles so that work can be expedited.
However, with interventions of EPR, higher prices for low-value recyclables can effectively drive informal recycling and increase it. "Higher prices can be achieved by reducing the number of stakeholders in the collection chain and upcycling by-products through different interventions such as using PolyAl from UBCs to make compressed polyal sheets. These sheets are being used for making furniture/mobile toilets/ other infrastructures, etc.," says Manuja.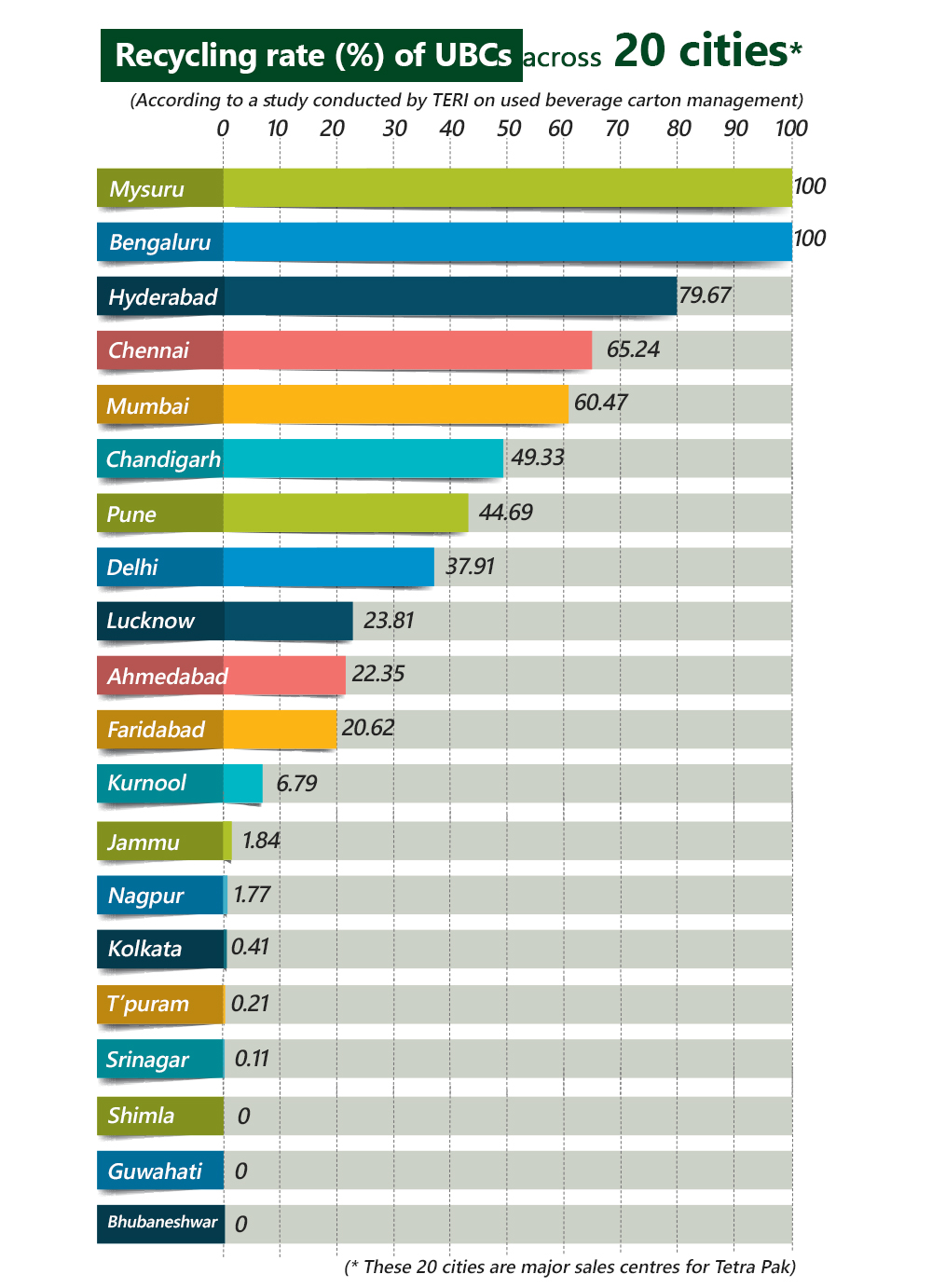 Consumers hold the key
Despite strengthening the recycling ecosystem, retrieving low-value products from municipal solid waste, however, is a challenging task as waste is still not segregated at source. To a large extent, the onus to strengthen the recycling ecosystem lies on the consumers. "It starts with individual waste management comprising waste segregation as an important component. Lack of awareness only aggravates the problem of waste segregation," says Jyoti Nadkarni, who formed a group of residents to kick-start a waste segregation drive in Hyde Park housing society in Kharghar, Navi Mumbai, in 2017. Nadkarni held an awareness workshop for residents to introduce the concept as hers was the first gated community in Kharghar to do so. "I explained different types of wastes to them, and the correct method of disposal for each. Dry waste, including low-value recyclables, constituted a huge proportion of the total waste generated, and it needed attention. We formed groups and started weekly inspection of waste collection with the housekeeping staff for the smooth functioning of the collection. Today, residents have taken it upon themselves to do it." The group hands over the collected dry waste to Sampurn(e)arth Environment Solutions Pvt. Ltd for further action, including recycling. "We have started spreading this activity and encouraged other societies too to do a similar method of recycling their dry waste so that we could achieve our aim of making Kharghar a 'Zero Garbage City'. There are more than 25 societies and many individuals everyday adopting this practice to help maintain our environment.
On an individual level, there are many like young eco-warrior 12-year-old Anushka Akhouri, who has been collecting UBCs from her home for the last few years, and depositing it at the nearest carton collection centre in Mumbai. "My house generates a lot of beverage cartons. It didn't make sense to throw away these used beverage cartons. I had learned in one such workshop that these could be recycled and help an underprivileged child get access to quality education." Here she is referring to the Cartons Le Aao, Classroom Banao initiative, is one of the campaigns under the "Go Green With Tetra Pak Program, as a step towards protecting natural resources and empowering underprivileged children. The packaging giant and Mumbai-based RUR Greenlife - Are you Reducing, Reusing, Recycling? (RUR) use these cartons to make desks, notebooks, and entire classrooms. "Recycling is the in thing; we can give the cartons a new life, protect natural resources and also reduce the impact of climate change," quips Akhouri.
And it is thanks to low waste-conscious journey of individuals like Akhouri that in 2013, 2013, Narke's program was recognized by the Limca Book of Records as a unique recycling initiative. So far, RUR GreenLife Private Limited has recycled 4.3 million cartons, donated 300 school desks and 200 garden benches, and tied up with schools, residential societies and corporates to collect cartons. "Our decade-long journey has helped sensitized more than 3 million citizens to adopt sustainable living and start recycling. Few schools that started with UBC recycling have also adopted initiatives such as PET bottle recycling, MLP recycling, e-waste recycling and Bio composting amongst others," adds Narke.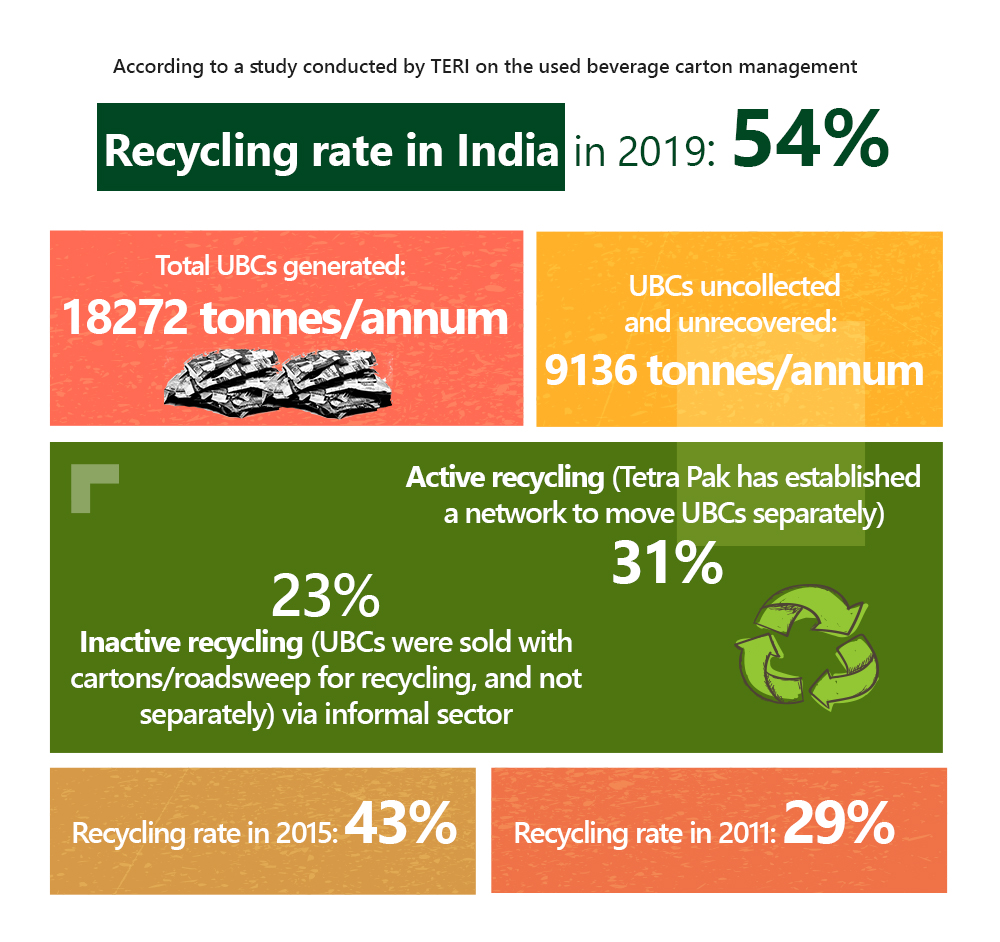 Way forward
Recognizing these challenges, Sagir says, "The introduction of EPR legislation is a step in the right direction but not enough. The awareness level, among others in the value chain is way too low." Sagir has been holding workshops for waste pickers to make them understand the recycling potential of low-value products. He has been organising health camps at regular intervals in states where he operates — Delhi NCR, Haryana, Rajasthan, Uttarakhand, Bihar, West Bengal, Odisha and Jharkhand.
The market mostly drives the recycling chain in a developing economy as higher value products seem to have higher recycling rates. Further research and development to mobilise the unexplored markets and demands, via product manufacturers' interventions are useful to make businesses sustainable and help urban local bodies manage their waste better. However, handholding of markets via EPR should be such that markets are self-driven after a specific maturity time. "Integration of informal and formal sector collectors and recyclers is also an important aspect in waste management chain and EPR approaches can help building capacities of informal sector workers and well as linking them with formal recyclers and industries. This can certainly help the transition of packaging materials from a linear economy to a circular economy in a smooth manner," opines Manuja.
Tetra Pak has set an ambitious goal to achieve 100% recycling rate by 2021. To transform the recycling landscape, the packaging company formed a coalition — Action Alliance for Recycling Beverage Cartons (AARC) — in 2017. "We want to grow our recycling rate and AARC is a step in that direction. It is the first-of-its-kind initiative that will work towards strengthening the end-to-end waste management ecosystem by engaging with all stakeholders across the value chain. With big corporations such as Coca Cola India, Pepsico, Diageo, and many others coming aboard, we can work better and achieve a fairly higher recycling rate. This decade will be interesting," says Jugran.
Sagir too seemed quite optimistic, and says, "Going by the current rate of recycling UCBs, we can aim and also achieve these numbers." Adding his two cents, Sujauddin quips, "We can accomplish the 100% recycling milestone too, but it needs realigning our recycling efforts all over again and start with more vigour."