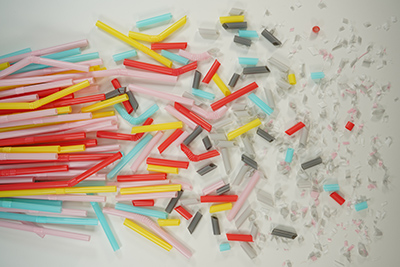 The prevalence of microplastics in the environment has become a major global concern. Plastics based on their size are broadly classified as Macro and Microplastics (<5 mm) and enter the environment through various routes. A recent study by Toxics link indicates the presence of microplastics in all tap water samples collected across the state of Goa in India. This not only documents the exposure of human health to microplastics but also to chemical contaminants and additives accompanying it. With research suggesting the presence of plastic particles in the human bloodstream, there is a need to understand their sources and explore ways to impede their generation.
Primary microplastics such as microbeads are a typical source that are manufactured or added intentionally to personal care & cosmetic products (PCCPs). They are used as cleansing or exfoliating agents in products, such as shower gels, scrubs, bath products, facial cleaners, toothpaste, etc. On the usage of these products, microbeads that are emitted pass through the drains, eventually ending up in our lakes, rivers, and oceans threatening human health, and marine life. It is also notable that there have not been many removal methods documented once these particles are emitted into the environment. Most wastewater treatment plants are also not designed to capture micro or nano sized particles. According to United Nation Environment Programme (UNEP) report on Legal Limits on Single-Use Plastics and Microplastics, 2018, microbeads used in PCCPs are a significant direct source of marine litter, especially in locations with limited or no waste water treatment in place.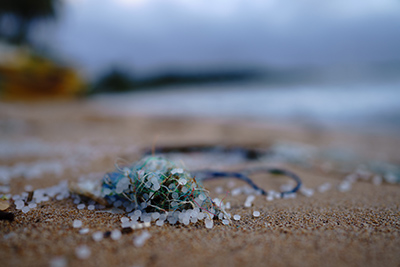 How are the other countries dealing with this?
Many countries including the United States, Canada, and Republic of Korea, have outlawed the use of microbeads in the manufacture of exfoliating materials and abrasives in personal care and cosmetic products. Finland, France, Ireland, Luxembourg, and Sweden had decided to voluntarily phase out the use of such products by June 2020 and replace them with suitable alternatives. Even before the prohibition on microbeads, industrial associations such as Cosmetic Alliance Canada, French Federation of Beauty Companies, and the Cosmetic, Toiletry, and Perfumery Association, United Kingdom have taken proactive steps to phase out and ban their use.
The Indian Scenario
Primary microplastics in the Indian scenario has been no different from the rest of the countries, however, it has not been given the adequate attention it deserves. In an assessment of 35 PCCP samples conducted by Toxiclinks in India, 20 samples were detected with the presence of polymers. Understanding the need, the Bureau of Indian Standards in 2017 developed a standard that deals with the 'Classification of cosmetics raw materials and adjuncts' and documents the list of materials not safe for use in cosmetics.
Way Forward
While BIS has taken note, the same is yet to translate into a tangible regulation or a phase out plan in the country. This action plan would definitely lend further clarity to the restrictions, paving the way for timely implementation eventually restricting their use completely. There also exists a need to document the issue of microplastic accumulation adequately to inform stakeholders including the industry about the gravity of the issue. The industry must be encouraged to devise voluntary measures such as labeling of products "Microplastic free". This would not only improve consumer awareness but also assist consumers in making informed choices.
**This article is inspired by observations from the secondary review performed under UNEP CounterMeasures II project.
Footnotes:
[1] http://toxicslink.org/docs/Toxics%20Link%20-%20Goa%20Tap%20Water%20final.pdf
[2] https://doi.org/10.1016/j.envint.2022.107199
[3] Downtoearth(2020). Microplastics, microbeads: What you did not know about self-care products. [online] Available at: https://www.downtoearth.org.in/blog/environment/microplastics-microbeads-what-you-did-not-know-about-self-care-products-71619
[4] http://toxicslink.org/docs/Toxics%20Link%20-%20Cosmetic%20Report.pdf