TERI organised four virtual technical sessions on 'Powering India's Hydrogen Ecosystem' at the International Climate Summit 2021 where discussions focused on the scope, potential, and policy and regulatory impetus needed to boost green hydrogen application in India.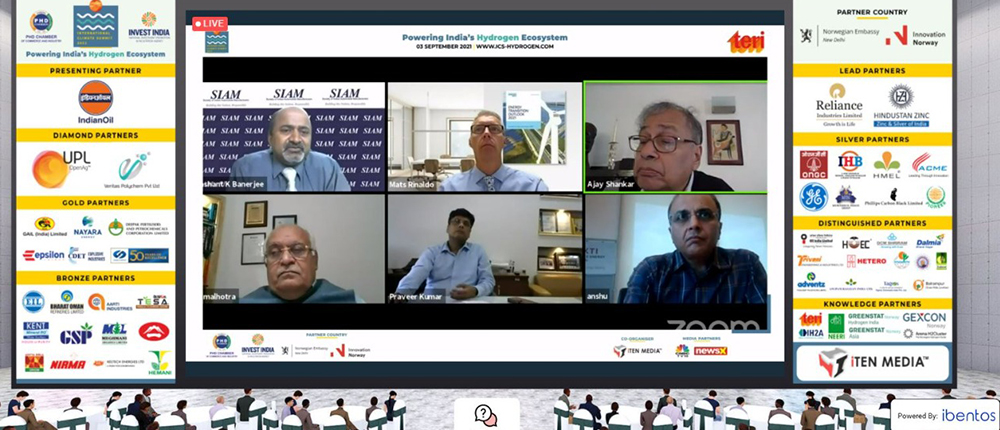 On 3rd September, 2021, TERI as a knowledge partner to the International Climate Summit (an initiative by the PHD Chamber of Commerce and Industry in partnership with NITI Aayog, Ministry of Environment, Forest & Climate Change, Department of Scientific & Industrial Research, and the Department of Science & Technology, Government of India) organised four virtual technical sessions. The theme for the Summit was 'Powering India's Hydrogen Ecosystem' and the summit acted as a precursor to the 26th Conference of Parties (COP) to the UN Framework Convention on Climate Change (UNFCCC) to be convened in November 2021 at Glasgow.
The session on 'Fuel Cell and Hydrogen in Transportation' focused on the potential role of hydrogen for power generation and in the transportation sector, where the introduction of alternative energy sources such as renewables has been most elusive. Sushil S. Ramdasi, Deputy Director, Automotive Research Association of India (ARAI) said at the session, "Fuel cell technology is (an) extension of EV technology… Cost of battery is as high as $250/ kWh which provides opportunity to further reduce cost through innovations in fuel cell." The panel also discussed how hydrogen produced from renewable energy sources is the only sustainable solution for the long term, but that the use of hydrogen based on natural gas may constitute a convenient transition solution.
The session titled, 'Role of Hydrogen for a Carbon Neutral Ladakh' focused on the role of hydrogen for a carbon neutral Ladakh, a mountainous region and a Union Territory (UT). With growing economic activity, energy demand is likely to increase in the electricity and transport sectors, leading to a rise in the dependence on fossil fuels. This will increase both local pollution and CO2 emissions. In this regard, the session saw stakeholders from the Indian industry actively working towards making the region carbon neutral discuss how hydrogen can prove to be a game changer. Speaking about the importance of hydrogen, Dr Parag Vyas, Managing Director, Panitek Power Private Limited said, "Hydrogen is incredibly important across the globe, influenced by the growing need to decarbonise. There are strong techno-economic reasons for hydrogen to be useful in making Ladakh carbon-neutral."
Hydrogen's potential to reduce emissions across sectors and in applications such as power generation, transportation and indoor heating in commercial and residential spaces was also a key area of focus at the session. Participants agreed that the use of green hydrogen, produced locally, could be a promising sustainable source of energy in Ladakh.
The session on 'Policy and Regulations' focused on how the legal and regulatory requirements, investment cases, financing structures, operational requirements, revenue stream, sharing and other elements that need to be considered to formulate an effective acceptable commercialization model for hydrogen in India. Hydrogen's potential as a clean fuel, energy storage medium and renewable energy enabler has captured the attention of energy sector players, governments, environmental advocacy groups, and users.
At the session's panel discussion, Anshu Bhardwaj, CEO Shakti Foundation said, "In order for hydrogen to be cost competitive with other energy sources, it will have to come down to a price of $2/Kg. We need to focus on R&D investments and not force the adoption of particular green technologies on the population."
'Setting up of Centre for Excellence in Hydrogen (Coe-H2)' was another technology session organised by TERI on September 3, 2021, under the International Climate Summit 2021. The focus of this session was on the urgency to build and enhance the capacity of the entire hydrogen value chain. Discussions between the panellists stressed on the shortage of qualified engineers who can install, monitor, operate and maintain integrated fuel-cells and hydrogen systems. To this end, the CoE-H2 will be a collaborative hydrogen competence centre aiming to address the aforementioned issues, established by joint efforts between government institutions and agencies, industry, research institutions and academia from both Norway and India.
In his keynote address at the session Mr. Cristian Valdes Carter, Director, Innovation Norway, India said, "To set up the Centre for Excellence in Hydrogen there is a need of support from the central as well as local government, businesses, researchers and the academia. It will require initiatives for different clusters of industries as well."
"India has a unique climatic condition, it has (favourable conditions for) solar and wind, which favours the generation of renewable energy and can help India become a leading hydrogen export hub," he said.