The total commitments made under the Paris Agreement were too little to limit global warming to 2 degrees Celsius, whereas scientists agree that limiting warming to 1.5 degrees Celsius is vital. Ajay Shankar says that recent developments give cause for optimism for the first time as the President of the USA has brought the USA back into the Paris Agreement and is providing leadership for a net carbon-neutral global economy. Also, India could set an example in the deployment of renewable energy installations as it is already leading the way with the dramatic increase in renewable energy generation in the last decade. Keep reading to know more about the latest developments.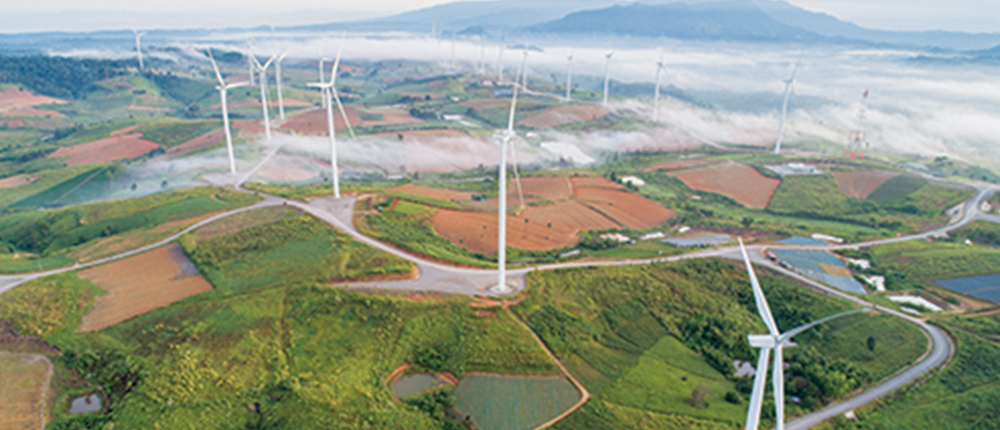 The Paris Agreement on Climate Change in 2015 was a landmark achievement with all countries agreeing to act to save the planet from the impending disaster of global warming. But within a year, Donald Trump became the President of the USA and took America out of the Paris accord. The total commitments made under the agreement were too little to limit global warming to 2 degrees Celsius, whereas scientists agree that limiting warming to 1.5 degrees is imperative. The actual achievements till COVID-19 hit the world were meagre. The prognosis for mankind appeared to be getting bleaker by the day.
But recent developments give cause for optimism for the first time. President Joe Biden campaigned for the Presidency with climate change as a major priority; one of his top four. As President, he has brought the US back into the Paris Agreement and is providing leadership for a net carbon-neutral global economy. Within the US he is positioning this transition as one which creates jobs and would aid faster economic recovery from the severe downturn caused by the pandemic. It is a key pillar of the massive infrastructure programme which he is trying to get through Congress. He has asked his Department of Energy to work out the implementation of his campaign pledge of having a fossil fuel-free electricity system in the US by 2035.
This big change in the US comes in the wake of public opinion reaching a critical mass in the developed countries of the West. The UK and France enacted national laws in the summer of 2019 setting the goal of becoming net carbon-neutral by 2050. California enacted a law in 2018 of having a zero-carbon electricity system by 2045 and this was followed by an Executive Order of having a carbon-neutral economy by 2045. The UK decided that from 2030 sale of fossil fuel cars would not be permitted. The development of artificial islands to harness wind power in the North Sea area is becoming commercially viable. An island off the coast of Denmark is at an advanced stage of planning.
One of the first things, President Biden did internationally was to hold a summit on Climate Change with all major countries participating including China and Russia. The major developed economies announced enhanced carbon reductions goals in the short term; the US announced that it would by 2030 reduce emissions by 50 per cent over its 2005 levels and the UK by 78 per cent by 2035 over 1990 levels and Germany by 65 per cent over 1990 levels. The Group of Seven (G-7) countries have now agreed not to fund any new coal-based power plants. The International Energy Agency (IEA) has said net carbon zero by 2050 requires that no new investments in fossil fuels should be undertaken. This is heartening. Reductions are not being back ended. This would make it easier for others to enhance goals. Limiting warming to 1.5 degrees may just be possible.
The decline in costs of renewable energy and storage over the last decade have been amazing. Wind and solar power are the cheapest ways of producing electricity by a wide margin now. Germany already gets 46 per cent of its electricity from renewables. In India, the price of solar power which in 2009 was over Rs. 16 per unit has come down to around Rs. 2.5 per unit. The price of battery storage has come down from $800 a kWh in 2013 to $100 a kWh now. The technology for lithium-ion batteries for use in cars has matured and costs have been coming down. The result is that the price of electric vehicles (EVs) has come down to such an extent that they are cheaper to use on a per km life cycle cost basis. The traditional idea that the consumer or the taxpayer must pay a substantial price for moving away from fossil fuels is becoming increasingly dated as far as electricity and transport are concerned. Once electricity supply can be undertaken without the use of fossil fuels and transport on land uses electricity and not fossil fuels, then over two-thirds of the economy becomes carbon free—a huge breakthrough. Today, this transition can be conceived as one which need not impose additional costs and may even result in savings.
Grid-scale storage of electricity would be essential for a carbon-free electricity system. Storage with scale for the entire grid is the major challenge globally. The results of last year's Solar Energy Corporation of India (SECI) tender for the supply of renewable energy with storage were very encouraging. The two successful bidders, one using pump storage and the other battery storage, quoted prices that were lower than from a new coal- based thermal plant. With this India became an early mover with grid storage in the world. India has also included batteries in its recently launched Production Linked Incentive (PLI) Scheme.
The proven mature technology for grid storage is pump hydro power. It would make sense for India to develop all feasible pump storage sites first. As these sites are with state agencies, one way of doing so with speed would be to seek private sector investment in a manner different from the traditional one which is anchored in a long-term contract for purchase of power at an agreed tariff, discovered in the market through a bid process or settled by the Electricity Regulatory Commission. The different approach being suggested is to invite bids for construction, maintenance, and availability of the pump storage plant with an annuity payment for, say, 40 years by a public agency after preparing Detailed Project Reports (DPRs). The new Development Financial Institution (DFI) could provide long-term fixed interest rate debt for these projects. The risks of water availability, demand, price over the long period would be fully mitigated for the private investor. Attractive price bids should be forthcoming. However, pump storage sites are limited in India as well as in the world. These can provide for grid storage in the earlier phase of the transition away from fossil fuels.
For grid-scale battery storage, new promising technologies in addition to lithium-ion, such as sodium- ion and liquid metal, are emerging and at attractive price points. A growing competitive global market would facilitate the deployment of new technologies as well as sharper movement down the cost curve as has already been seen with solar panels. This is where global commitments for net carbon zero would create the market and the scale for costs to go down and for the cheaper and more robust technologies to prevail in competitive markets. There have been legitimate concerns about the potential problems in scaling up the use of lithium-ion batteries due to the limited known reserves of the rare earths used in these batteries. Difficulties could emerge for the auto sector and even more so for grid storage. The hope is that with scale and competitive markets, scalable solutions would emerge.
Solar thermal is another storage technology, which is getting some more attention now. On the face of it, it is robust and easily scalable. Solar energy from the sun is focussed through large mirrors and stored in molten salt. When the sun is not shining this stored heat, energy is used to run a conventional steam turbine like the ones used in thermal plants. Materials for such plants including for manufacture of mirrors are in abundant supply. Scaling up of construction of these plants would result in more efficient designs and lower costs. Competitive markets with scale would make all the difference. India could invite bids for setting up a few such plants at sites with land and relevant site data being provided. NTPC, BHEL and other Indian players may find it easier to make a competitive entry in this segment. If costs come down with volumes, this could take care of grid storage needs on scale and be affordable.
With concerted action in major economies for grid storage, this decade could result in a breakthrough in costs and deployment. Once this happens, a fossil fuel-free electricity system can become a reality. As it begins to happen, hope on climate change would turn into confidence. India has the late mover's advantage if it acts with ambition on grid storage. As its electricity system must grow three to four times, it could avoid the cost of shutting down fossil fuel electricity capacities on the scale that developed countries would need to. Its announced target of 450 GW of renewable capacity is in any case far more than its Paris commitments. India is already well on its way to going well beyond its Paris commitments. But India would then need to stop commencement of new coal-fired thermal projects now. A recent TERI study shows that the share of renewables which is reaching 10 per cent now could go up to 40 per cent without adding to overall system costs.
In transport, the transition to EVs would take off with the creation of public charging stations; a process that has already begun in different cities in India. In India, a faster increase in the use of EVs is urgently required to mitigate the crisis of air pollution especially in North Indian cities. Fortunately, the costs structure now is such that it is cheaper to use EVs. They would gain market share rapidly. Heavy-duty trucks carrying goods on highways pose a challenge. The successful German trial offers a promising solution with an overhead electric cable in one lane of the highway providing electric traction to the heavy-duty vehicle as if it were a tram. The vehicle would need to be a hybrid so that it can run on diesel when it is off the highway. The Railways are in any case going in for full electrification as it is far cheaper using electricity rather than diesel for carrying goods and passengers.
Then there is the hydrogen economy. Green hydrogen made through electrolysis by using non- fossil fuel electricity offers a complete solution. It can be stored and transported. It can run automobiles and heavy-duty trucks. It can be used to generate electricity with utmost flexibility. India is setting up a national Hydrogen Mission. At present, costs are too high for large-scale deployment. But Japan and Europe, including their auto giants, are working to make this technology mature and robust. Hydrogen can also substitute for fossil fuels in manufacturing processes, such as steel and cement, thereby offering the hope that the use of fossil fuels in manufacturing could be brought down substantially. India could try and use its young talent to see if in some parts of the value chain of the hydrogen economy, costs can be brought down. The potential of cost reduction has been found to be far larger than earlier assumed going by the experience of solar panels and batteries over the last decade.
The key is movement down the cost curve on storage in this decade leading to large-scale deployment. Once costs come down it would be that much easier for developing economies to leapfrog into a fossil fuel-free economy straightaway rather than going the way of industrialized developed economies of first getting into a fossil fuel-based economy and then getting out of it. India could set an example in such leapfrogging as it is already leading the way with the dramatic increase in renewable energy generation in the last decade.
The article was originally published in the July 2021 issue of Terra Green magazine.