The book, released during WSDS 2019, has contributions by key stakeholders and sector experts on India's transition to low-carbon energy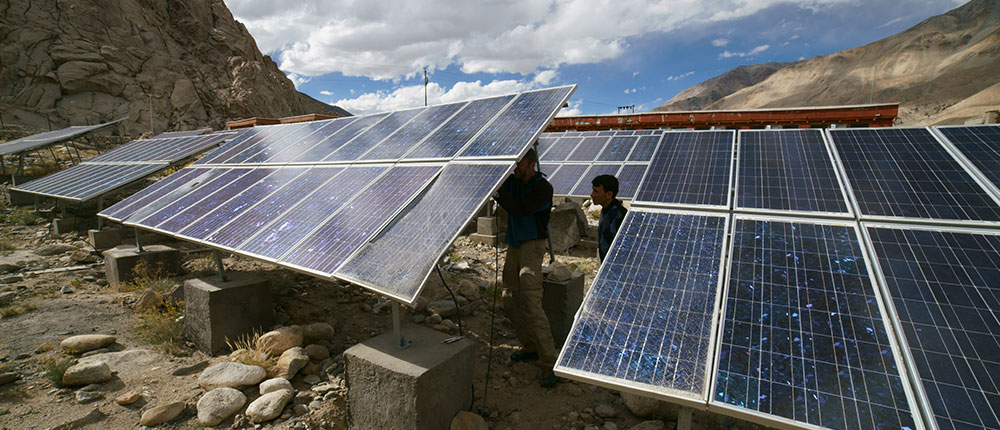 Highlights of the book
Given its scale, circumstances, rapid growth and commitment to sustainable development (e.g. 175 GW RE capacity target), India's energy transitions present tremendous opportunities but also challenges.
Seizing the opportunities can be achieved through a combination of integrated and timely policy frameworks, structural adjustments, and business strategies that can make transitioning to low-carbon energy both socially and economically desirable and feasible.
Energy transitions concern every sector and all stakeholders, as illustrated in this book. For the full potential of the transitions to be tapped, all stakeholders must work towards them together.
Buy-in from multiple stakeholders is an imperative of the energy transitions
India's energy demand and consumption will continue to rise in the decades to come. To ensure reliable, viable and sustainable energy for all, India is deploying one of the world's most ambitious renewable energy (RE) programmes (175 GW by 2022). This makes India a key country for global energy transitions as it can act as a pioneer – if successful – leapfrogging to a new paradigm of development and industrialisation.
The direction of travel is clearly towards a high RE system, with renewables now cheaper than coal in India, and potentially going beyond government objectives in the mid-term, with the National Electricity Plan 2018 considering 275 GW by 2027. Conditions are right for energy transitions, with many embedded opportunities. In order to seize these, several challenges need to be overcome.
As demonstrates this book, there is a plethora of options available, key actions, policies and finance mechanisms that can make it feasible for India to meet its rapidly rising energy demand with an increasing share of RE, limited coal-based generation investments, and high standards for affordability, reliability and minimal disruption in all the involved sectors. But the right policy and investment decisions need to be made now.
As shows this book, all sectors of the economy and society are concerned by energy transitions, from industry, to finance to government. Stakeholders must work together to bring to the table the new technologies, business models, demand-side measures, the low-cost and patient finance, coherent markets, policy frameworks and the cooperation that form the core of the integrated approach that will drive these energy transitions.
Digging deeper into the opportunities and challenges:
India has a clear orientation for its energy transitions in the short-term (2022 targets). However, 2022 is not an end in itself, and needs to be seen as a stepping stone towards a longer-term, affordable, reliable and clean system. Going beyond that will require structural and infrastructural adjustments, regulatory measure, long-term policies and a critical mass of key stakeholders supporting this orientation.
Sumant Sinha, Chairman and Managing Director of ReNew Power Ltd, lists down five key steps that India can take to enable these transitions. Hybridisation of solar and wind energy, development of robust ancillary markets to support the grid infrastructure, and increased investments in high-voltage transmission lines are the top three.
R R Rashmi, Distinguished Fellow at TERI, supports that the buy-in of multiple stakeholders and the establishment of effective frameworks of credible long-term objectives – and near-term policies – will move the needle in the transitions.
Mr Amit Kumar, Senior Fellow and Senior Director at TERI, argues that strengthening acceptability, reliability and affordability of options will be key in India – a price sensitive market – for large scale shifts and leapfrogging to happen.
Institutional challenges:
The first necessary transition that has already occurred is that RE is now cheaper than coal, when the wind is blowing and the sun is shining. But the cost-advantage of RE is not enough to ensure the transitions.
The challenges of the energy transitions are no longer incremental costs, but institutional: Greater coordination between institutions, markets, infrastructure behaviours and holistic policy needs to happen now in order to develop the right market and policy instruments that will propel the transitions.
Policy reforms that integrate India's energy policy with sector policies need to be implemented early on to drive the transitions. Nitin Prasad, Chairman of Shell Companies in India, says that government policies can provide level-playing fields for the adoption of lower-carbon options through measures, such as carbon pricing mechanisms.
New business models and facilitative regulatory regimes will be drivers of change:
Ajay Shankar, Distinguished Fellow and TERI, explains how tariff regulation can encourage distribution companies to buy solar energy at preferential tariffs as compared to electricity bought through power purchase agreements.
Innovative business models can bring down the cost of solar + storage to become cheaper than coal-generated energy. Saurabh Kumar, Managing Director of EESL demonstrates that technologies are just the starting point for energy transitions and that in fact, results come from business models tailor-made for the Indian context, with a vision focusing on the coherence of the transitions.
Anirban Ghosh, Chief Sustainability Officer of the Mahindra Group makes a case for the potential of new business models to accelerate the shift to electric mobility as well as making it affordable for end-consumers.
Sunil Mathur, Managing Director and Chief Executive Officer of Siemens Ltd., argues that the incumbent digitalisation of the world will inevitably alter business models, increasing benefits and savings for energy users.
Public-private partnerships will be central in these transitions.
Manoj Kohli, Executive Chairman of SB Energy – SoftBank Group, explains that in the finance sector, the onus of financing these transitions lies with the private sector, but depends on enabling frameworks created by the government to attract new investments in the sector. Achieving conditions that create a favourable environment for renewable energy financing goes through overcoming structural issues of the power sector first, which will come from appropriate policy tweaks.
Nitin Prasad says that government can provide infrastructural support for the development of new technologies and energy-efficient processes, based on which the private sector can then become the engine for growing and deploying these technologies and lower-carbon options.
Socio-economic and environmental benefits of the transitions:
Ensuring that the transitions happen with the least disruption to all sectors means utilising the existing coal capacity as a flexibility option, with due focus on environmental norms, as explains Rakesh Nath, former Technical Member of APTEL. Financial distress in the coal fleet does not favor transitions towards low-carbon energy, as significant financial losses could impinge on the capacity of the financial and corporate sectors to invest in the coming years, including in RE.
Energy transitions will bring about socio-economic benefits, such as reduced air pollution, better health, increased well-being, but also job creations, meaningful energy access and energy security. The monetisation of these benefits is significant and should be considered when undertaking cost-analyses of the energy transitions.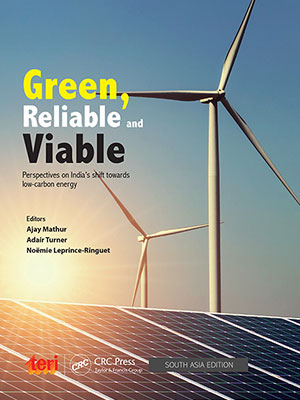 Buy book here
Contributors
Ashwini Dabadge (Prayas Energy Group); Shripad Dharmadhikary (Prayas Energy Group); Anirban Ghosh (Mahindra Group); Manoj Kohli (SB Energy – SoftBank Group); Amit Kumar (TERI); Saurabh Kumar (EESL); Sunil Mathur (Siemens Ltd); Rakesh Nath (former Member APTEL); Nitin Prasad (Shell India Companies); R R Rashmi (TERI); Hemant Sahai (HSA Advocates); Rachika A Sahay (HSA Advocates); A K Saxena (TERI); Ajay Shankar (TERI); Sumant Sinha (ReNew Power Ltd); Thomas Spencer (TERI); Sreekumar (Prayas Energy Group); Adair Turner (Energy Transitions Commission).
Editors
Ajay Mathur (TERI), Adair Turner (Energy Transitions Commission), Noëmie Leprince-Ringuet (TERI)