Auto-rickshaws or three-wheelers have become a crucial part of the mobility ecosystem in urban India. One of the most economical modes to travel, autos are popular within cities, particularly for the middle class for short and medium-distance trips within a city.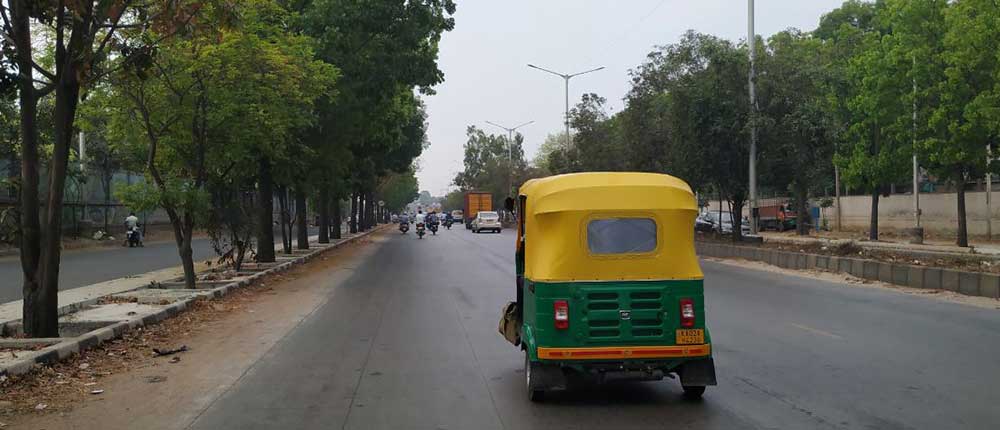 Autos primarily provide first and last-mile connectivity to public transport systems, like suburban railways, metro railways, and regional bus services as being an affordable and time-saving mobility option. Their utilization pattern, however, varies from city to city. While in metropolitan areas, auto-rickshaws act as a feeder to public transport systems, in smaller towns they serve as the main haul public transport. Similarly, in rural areas and semi-urban areas, they are often the only means of public transportation providing both individual and shared services.[1]
The auto-rickshaw industry has shown tremendous growth with currently 6.3 million total registered passenger auto-rickshaws in India (MoRTH 2017-18). Most of the auto-rickshaw drivers do not own their vehicle and ply on a daily rent basis. This is primarily due to the lack of financing options from the banks and/or the high cost of self-financing. Apart from the financing, lack of knowledge about the regulation further leads to financial exploitation of the drivers by the middleman. The dynamic increases in the prices of fuel are never taken into factor while determining the fares of the auto-rickshaw drivers.
A complete ban on auto-rickshaws during the lockdown
The COVID-19 pandemic, and subsequent lockdown, has impacted the health, livelihood, and wellbeing of people across all sectors. The spread of the coronavirus—characterized by its speed, scale, severity, and societal and economic disruption—has disproportionately impacted the lives of the poor and vulnerable communities. The mobility sector has also been severely hit by the nationwide lockdown.
The intermediate modes of transportation such as auto-rickshaws, being a critical player in the urban transportation system, also have a noticeable impact on the livelihood of the people working in the sector. These include operators, mechanics, drivers, manufacturers, among others – a lot of them living as migrants away from homes. Not only their livelihood in terms of daily earnings disappeared, but they also could not service the bank loan or any other form of private loans leading to financial distress. Even after the phase-wise lifting of lockdown, the regular users do not feel comfortable to return to usual travel on account of keeping a safe distance from the driver. Sharing rides with other passengers is a thing of the past now.
During the initial phase of the lockdown and after while ride-hailing services like Uber and Ola were being deployed for emergency services for healthcare workers, the use of auto-rickshaws was limited for informal transport of goods like fruits, vegetables, and groceries.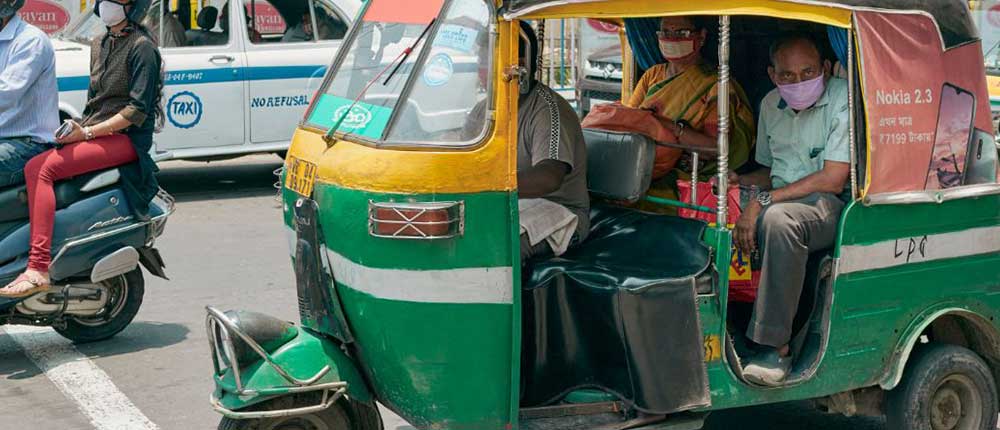 In some cases, the BPL ration card holders among the auto-rickshaw community could support their families to get adequate food but non-BPL cardholders could not even get minimal support[2]. Many NGOs and CSOs came to their rescue by arranging food packets and rations to the poor in many parts of India. Several auto-rickshaw owners even paid rent, for parking their vehicles during the lockdown[3]. Most of them are facing issues in repaying their loans and cooperative loans. Although a moratorium of two months for loan repayments was declared in March 2020, many had to resort to taking private loans.
Relaxations and un-lockdown
The movement of auto-rickshaws has been resumed in many cities with certain restrictions. These vehicles are sanitized making them safe for travel, with 1+1 seating, wearing masks, maintaining social distance, etc. as prescribed by regulatory authorities. However, the perception of fear among commuters for using auto-rickshaws as well as in drivers remains. According to a TERI study, the share of auto-rickshaws is expected to rise due to the inadequate provision of public transport in many cities. Travelling in auto also provides a single user or a small family a less chance of catching infection than in a bus or metro coach. However, due to additional expenses on regulatory measures—like sanitizing the vehicle after each trip, coupled with increased fuel costs—the profitability might decrease.
During the lockdown, the earning of drivers was adversely affected as they could earn only a fourth to half of their income before lockdown. The traffic enforcement and travel restrictions along with low demand resulted in shorter trips. So, an auto-driver could cover only around 30-40 km per day against 90-120 km per day pre-lockdown. In many cases, the auto-rickshaw drivers have to travel without passengers which accumulates dead kilometres without any earning. In the current crisis, some of the drivers even increased the prices to almost three times to improve their earnings causing hardships to the public. Many auto drivers also switched to other sources of livelihood such as delivering grocery, medicine, and other essential goods or other businesses like selling fruits and vegetables or relocated to their native villages.
Government relief for auto drivers
The Ministry of Road Transport and Highways extended the validity of fitness, permit (all types), driving license, registration, or any other concerned documents whose extension of validity could or not likely be processed due to lockdown and which have expired since February 1, till June 30. State governments decided to support auto-rickshaw and taxi drivers by providing one-time compensation to each of them who is an auto-rickshaw license holder ranging from Rs 5000 to Rs 10000. The Reserve Bank of India (RBI) has granted a moratorium of two months for loan repayments in March 2020.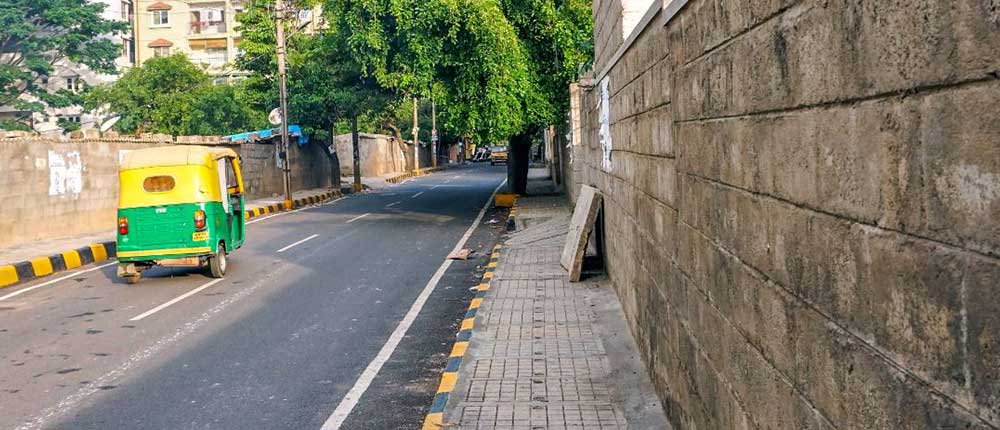 The impact on auto-rickshaw drivers and their desperation is also evident from increased traffic violations, ferrying more passengers than permitted, and charging abnormally high fares from the commuters in distress.
Road ahead
The transport experts suggest a multi-pronged and multidisciplinary approach for the revival of the auto-rickshaw industry. To overcome the fear of transmission, drivers should follow the prescribed norms scrupulously:
Auto-rickshaws would be the better option of travel particularly for single and family users.
Sensitizing auto drivers and community regarding social distancing measures,
Solutions like painted markings for maintaining the required distance on auto-rickshaw stands or parking areas, on footpaths and other pick and drop points will also be appropriate steps during current times.
The drivers should shield themselves from the passenger compartment by using isolation/segregation plastic sheets in for auto-rickshaws.
The digital payment system should be encouraged. The drivers could display their mobile numbers and also the QR code for e-payment in or outside the vehicle.
A reasonable price regime of fuel prices will keep the transport cost to sustain livelihood challenges.
As regulatory measures, auto-rickshaws may have dedicated lanes sharing with motor-bikes and designated pick up and drop off points.
The standard operating procedures or norms are needed to be put in place.
To strengthen the auto-rickshaw industry financing issues are to be resolved with the restructuring of loans and financial support for tiding over the current difficulties.
Providing health insurance for all is much more important than ever now.
Footnotes
[1] https://www.icra.in/Media/OpenMedia?Key=998cfed4-d542-4a89-adc1-1bfb88747adf
[2] Yourstory (2020, April 10): Coronavirus: Amid the lockdown, Namma Auto plans to better the plight of the auto rickshaw drivers
[3] Deccan Herald (2020, April 20): Coronavirus lockdown: Ban on vehicular movement lands auto rickshaw drivers in distress