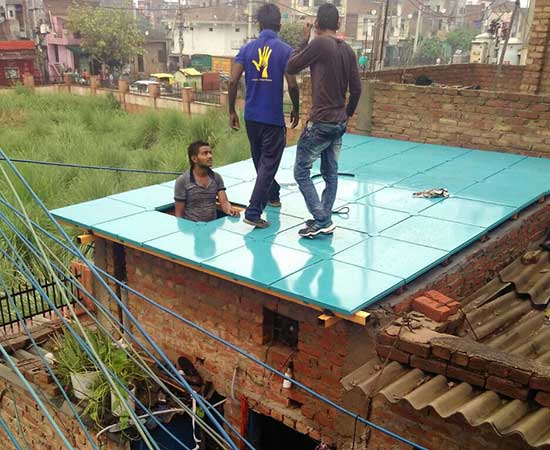 The growing instances of the impacts of extreme heat are a warning sign for what awaits us. The year 2015 saw massive heat related causalities across India, and Delhi was no exception to this. A year later, in 2016, the whole of South-Asia was reeling under persistent extreme heat conditions, and this has now become a yearly affair.
Given the impacts of extreme heat on human health and well-being, it is not just important to understand the spatial patterns of temperature across neighbourhoods and regions, but also the extent to which indoor temperatures vary when juxtaposed to outdoor temperatures. This is especially relevant to low-income neighbourhoods, which do not have access to active cooling mechanisms, and hence are exposed to greater variations in ambient temperature. To this effect, The Energy and Resources Institute (TERI) and Wageningen University and Research (WUR), as part of the Himalayan Adaptation, Water and Resilience (HI-AWARE) research, initiated a collaborative study to understand the extent to which heat conditions are experienced in the neighbourhoods of Delhi. Using a multipronged analysis, that was carried out during April-September 2016, the team monitored indoor and outdoor temperature trends across select low-income neighbourhoods in Delhi.
The initial results from this data point to interesting indoor temperatures variations based on the construction type and material used. Houses with high roofs were considerably cooler as opposed to houses with low roofs, with peak temperatures witnessing a difference of little over 6 degrees. Likewise, slum dwellings were exposed to the maximum indoor heat and houses with concrete and a layer of cement on top of it faced lesser indoor heat as opposed to houses with just a concrete layer on the top. Apart from this, we noticed that the greener pockets had lower indoor temperatures as opposed to heavily concretised localities. This substantiates the current understanding around the role green patches play in regulating the micro climate. These initial glimpses from our study reiterate the need for better spatial planning and specific policy interventions, such as Regional Heat Action Plans, which can result in climate proofing cities to a growing risk of extreme temperatures, reduce energy consumption, and alleviate heat stress exposure levels of the populace.
However, a lot can be done at the household level as well. Ensuring cross-ventilation, insulating roofs, using reflective paints (amongst others) can all be easily mainstreamed alongside larger city level heat action plans to tackle gruelling summers.
As a follow-up to this research, TERI and WUR in partnership with Mahila Housing Trust (MHT) and ReMaterials are experimenting with a unique roofing structure that has a potential to reduce indoor temperatures. This intervention is targeted towards slum/low income dwellings and works as an alternative for houses with corrugated cement sheets as roofing material.
The initiative is part of TERI's work under the HI-AWARE project.