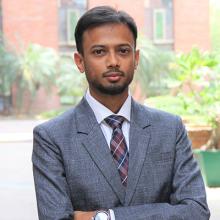 Mr Aniruddh Soni
Area Convenor, Centre for Biodiversity & Ecosystem Services
Aniruddh is the Area Convenor and Associate Fellow at the Centre for Biodiversity & Ecosystem Services (CBES), Land Resources Division, TERI. In his over five years of experience, Aniruddh has worked on diverse projects related to natural resources management, climate change, forest carbon finance, sustainable development, ecosystem services valuation and monitoring & evaluation. He is also proficient in spatial and non-spatial data analysis.
At present, Aniruddh is developing REDD+ (Reducing Emission from Deforestation and Forest Degradation) Carbon Finance Projects in Pench and Dudhwa Tiger Reserves of India. Before TERI, he worked with Ernst & Young as a Project Manager in designing and implementing projects related to environment, livelihood, and education.
He holds a postgraduate diploma in Forestry Management (Specialization – Environment Management) from the Indian Institute of Forest Management, Bhopal, an autonomous institute under MoEF&CC.
Email: aniruddh.soni@teri.res.in