Rethinking Packaging: Aluminium as Sustainable Packaging Solutionns in India - A Comparative Life Cycle Assessment Study
---
Background
The beverage packaging industry has been one of the fastest growing industries of CAGR of more than 5%. Easy access to hyper and super markets in the region has pushed up consumption of beverages. The South Asia and India in particular have witnessed robust growth of more than 20%. India consumes near to 20 billion packages out of which share of cans is very low. Around 8.7 billion PET water bottles were sold in 2018, and 29 billion units of plastic pouches in dairy sector. Such amount of material consumption inevitably leads to sustainability concerns. PET is not actually recycled but down-cycled for products that too may direct and indirect costs to environment. Other materials that are used for beverage packaging include glass, multi layered packaging and aluminum. The choice of the packaging material is largely driven by economics and the impacts along the production consumption stages of the product life cycle are often ignored.
Currently there are hardly any comprehensive environmental assessments to make informed choice by stakeholders that include consumers, policy makers, bottlers, scientific communities and civil society organizations. This calls for an integrated sustainability assessment of various materials being current used for carbonated and non-carbonated beverages packaging.
Objective
TERI is currently developing a framework using a life cycle assessment methodology to assess the environmental/ecological footprint of various packaging substrates used in India. The objectives the study is as follows
Mapping and comparison of the life cycle stages of various beverage packaging reference materials with that of aluminum based packaging.
Carefully designing the system boundary conditions and functional units.
Developing the detailed inventory of direct and indirect inputs at various stages for LCA.
Determine the potential environmental impacts under various established categories for reference and proposed packaging material.
Understanding the critical factor which causes significant environmental impacts of reference materials and the benefits that Aluminum scores over their reference counterpart.
Environmental costs estimation based on carbon prices associated with the carbon footprints of packaging alternatives.
Evaluating the potential social and environmental benefits that may help India achieve its various sustainability targets and commitments (important for messaging to policy community).
Organize workshops with various stakeholders across various regions in India.
Preparation of policy brief that will be launched during the WSDS 2022.
Sustainable Beverage Packaging Options in India - A Comparative Life Cycle Assessment Study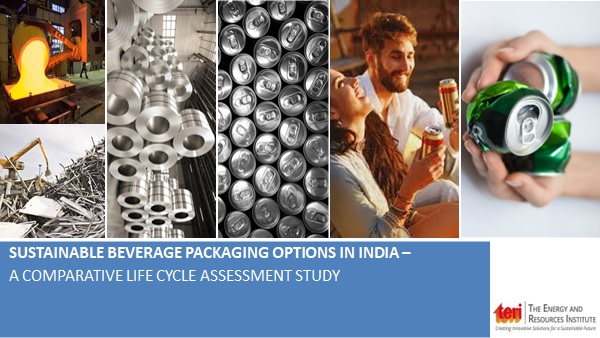 The goal of the study is to conduct a life cycle assessment (LCA) to analyse the environmental performance of single-use packaging products. The assessment compares small-to-medium size aluminium cans and bottles to other available alternative packaging options in the Indian market such as PET bottles, glass bottles, and multi-layer packaging (MLP) beverage cartons. A focus area of the study is on varying degrees of recycling rates of different substrates and refill rates.
The study has been commissioned by Ball Corporation and the primary intended application is to provide up-to-date and objective results on various sustainability parameters associated with different beverage packaging substrates.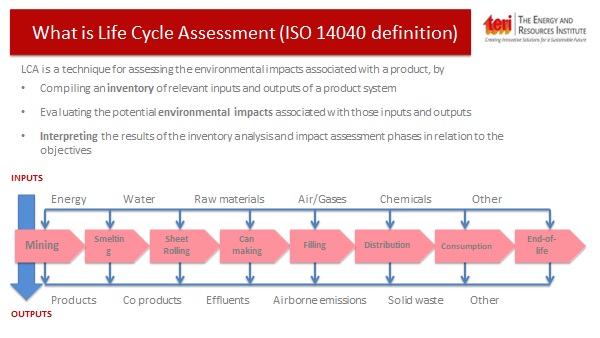 Expected outputs
The expected outputs of the above exercise include
A comprehensive LCA Report covering all the major packaging substrates including environmental Cost Analysis for different packaging options
Policy Briefs focusing on policy interventions that can encourage sustainable beverage packaging in India
Online articles, working papers that facilitates consumer awareness and insights to policy making community