Faster adoption of electric vehicles in India: A perspective of consumers and industry
---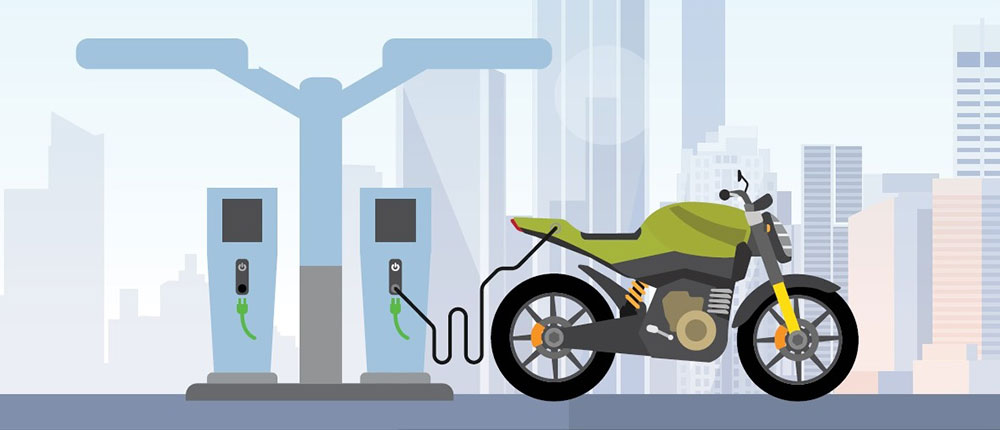 The report explores the role of electric vehicles towards the goal of sustainable mobility in India. Upon assessing the mobility needs and patterns in Indian cities, it was deduced that in the absence of adequate and reliable mass transit options, two-wheelers have a significant role to play in India's mobility. They not only provide an affordable and reliable means of transport but also as a mean of livelihood for millions of people in urban and rural areas of India.
The predicted growth of two-wheelers in India also puts light on its impact on local air pollution, national energy security, and global warming. As proven through modelled scenarios in this report, a phase-wise adoption of electric two-wheelers can mitigate these local, national, and global concerns to some extent. But in order to make a significant and sustainable impact, electric vehicles will have to be complemented with widespread charging infrastructure, green sources of energy, increased coverage of public transport systems and localization of the EV manufacturing in India.
Even after interventions by the National and State governments, the proportion of electric two-wheelers remains at a minuscule level of 0.001% of the overall two-wheeler market in India. The report, therefore, makes an attempt to understand this conundrum and develop enablers for the adoption of EV two-wheelers through primary customer surveys, interviews with industry executives, and real business case analysis.
Results
Consumers' Perspective - The online stated preference survey conducted in this study revealed that the electric vehicles are not looked upon as primary vehicle, and only used for short irregular trips. The current consumer's perspective is mainly because of concerns about limited range and lack of charging facilities. The anxiety about limited range gets further accentuated among prospective EV and ICE buyers. This finding necessitates the need for widespread charging facilities.
Feasibility of Charging Infrastructure - The feasibility study of public charging stations showed the running of public charging stations (PCS) as an expensive prospect due to large operational costs in terms of land rentals. The PCS becomes economically viable only at high tariffs for customers. However, the survey conducted showed that most vehicle users were not willing to pay more than the household energy rates for public charging.
Further analysis shows Battery Swapping Stations (BSS) as an unviable economic model. Besides being an unviable solution, BSS and battery standardization for BSS operations also has significant demerits. A standard battery will limit the product experience options for the customers and discourage innovation in battery technology advancement. The OEMs emphasize that integral battery design by them is crucial for optimal vehicle safety, reliability, and performance.
Industry's Perspective - As per discussion with various industry leaders, it is evident that the industry is supportive of enabling EV adoption and is continuously investing in EV research and manufacturing capabilities. EV technology is costly and is still evolving. Therefore there is a general concern that a forced adoption might not be sustainable. Moreover, the majority of the EV value chain lies outside India. The forced adoption might, therefore, result in the import of low-quality products leading to erosion of the industry's current global competitive advantage. This will pose a huge risk to millions of jobs supported by this industry and the GDP of India.
Recommendations
Achieving Critical Mass for EV
The higher upfront cost of an EV with ICE comparable performance is another major barrier. The higher scale of domestic production has the potential to reduce the upfront vehicle cost for customers. Achieving the critical mass for EV, therefore, becomes important for supply chain localization and economies of scale. Direct financial incentives, such as laid out in FAME II, are the right step towards achieving this critical mass. However, to enable a faster and sustainable adoption, specific use cases for which EVs are currently viable should also be focused upon. Use cases with the higher daily vehicle running such as commercial usage of electric two-wheelers for food & goods delivery shared rental services, etc. can specifically be targeted. For the personal use case cost-effective leasing and other financial products can be explored. Measures such as lower taxes, lower tolls, and special parking provisions can further aid the EV selling.
Making Charging Infrastructure Viable
To make charging infrastructure viable for initial low demand scenario, measures such as enabling real estate procurement at key locations at lower costs, capital subsidy, or interest subvention on capital expenditure should be considered. The minimum charging station requirements to be eligible for incentives as per the Ministry of Power guidelines should also be brought down. Support from state authorities and local DISCOMs for single-window approvals and providing power infrastructure to bear additional electricity load is also needed. The finalization of charging standards for all vehicle categories will be helpful in reducing demand uncertainty for the type of charging equipment and yielding higher utilization of charging infrastructure.
Local EV Manufacturing
Phase wise local EV manufacturing plan linked to financial incentives as laid out in FAME II is thus appreciated as the right path to mitigate this risk. Battery amounts to almost 40~50% of the EV cost. Localization of cell manufacturing will, therefore, help in reducing EV costs and achieving self- sufficiency to ensure a sustainable EV growth. A national-level strategy to secure critical raw material sources for cell manufacturing, and to incentivize local cell manufacturing through capital subsidy, favorable trade & FDI policies and investment models such as PPP are needs of the hour.