Energy access for livelihood promotion and other basic energy needs
---
The project provides enhancement of livelihood through solar power for the traditional loom owners and boatmen in Uttar Pradesh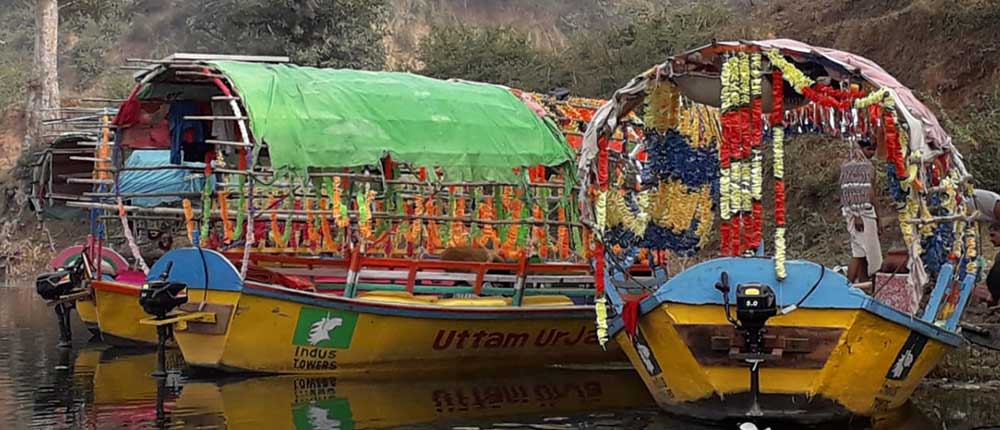 The process of introduction and increasing adoption of solar energy technology to improve livelihoods is a key component of this energy provisioning project under the Lighting a Billion Lives (LaBL) programme of TERI, supported by Indus Towers. The programme essentially seeks to develop and provide pertinent and customised technology solutions to end users.
Solar hybrid charging stations
In the past few years, TERI has started working with the fabled silk weavers of Varanasi to meet their power needs - especially for power looms - and provide uninterrupted power through lithium-based solar hybrid charging stations.
Varanasi, situated on the banks of the sacred river Ganga, in Uttar Pradesh in north India is known globally for its production of fine silk and Varanasi sarees. Its weaving clusters are also recognised by the Ministry of Micro Small and Medium Enterprise, Government of India.
Since 2017, TERI has installed 156 units of solar hybrid charging stations at the premises of weavers in a phased manner (2017-18: 52 units; 2018-19: 54 units; 2019-20: 50 units), with installations still underway. Each charging station can provide energy to run four power looms.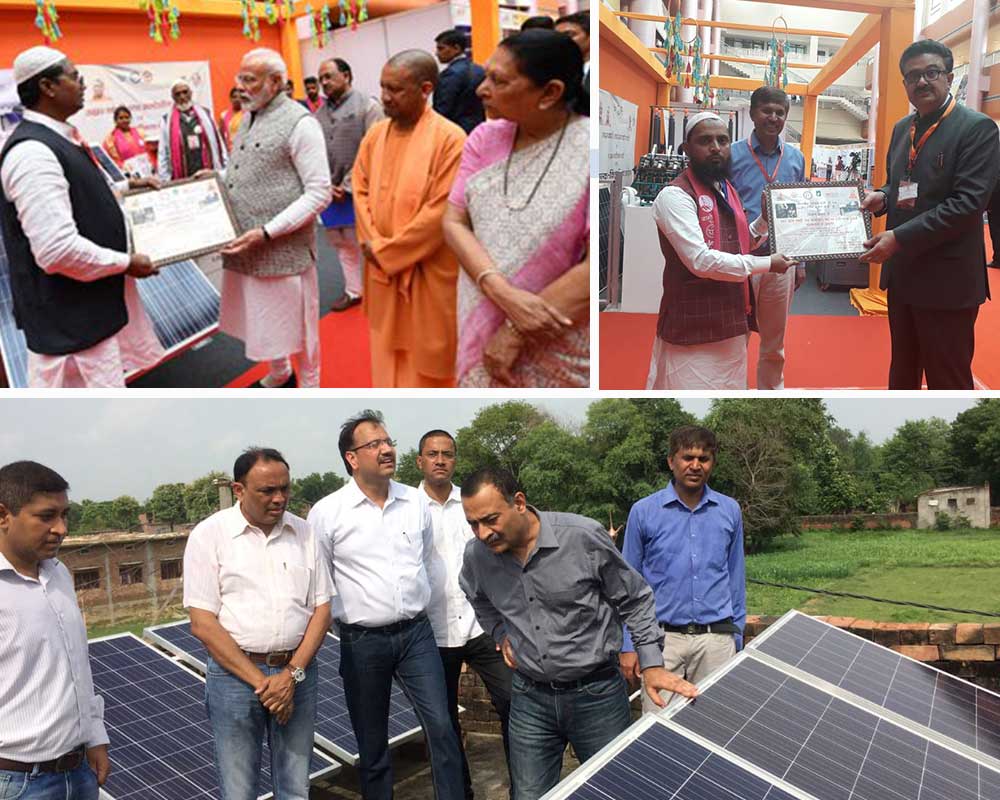 This hybrid system, designed with solar, grid and lithium battery as the order of power source priority, runs the power looms directly from solar energy during the day. Post-sunset, the grid is the prime source. In case of absence of both grid and solar power, the lithium battery carries enough back up to allow the power looms to operate for three hours.
To make the economics of solar hybrid charging stations acceptable to the weavers, the project was designed by TERI in a manner that they bear just 30% of the cost of installation. The rest is backed by the CSR fund of Indus Towers.
With this project, weavers have started experiencing a change in working conditions: uninterrupted power supply has eliminated the possibility of disruption in production and product quality, work hour management is far more efficient with fewer wasted hours due to power cuts, and with the disbanding of diesel generators used for power backup, the local environment is cleaner and less noisy. Most importantly, all of this contributes to higher income for weavers. With consistent funding support from Indus Towers, sincere efforts are being made for better outreach of the project in neighbouring areas as well.
---
---
---
Battery powered boat
The city of Varanasi stretches approximately seven kilometres along the western bank of the river Ganga. The riverfront has more than 80 ghats. The boatmen who ferry people from these ghats usually rely on diesel-operated motorboats or hand-rowed boats. Apart from being environmentally unsound and polluting, diesel-operated boats also severely impact the boatmen's daily net income. Under the TERI- Indus project, traditional boats are retrofitted with a trolling motor. Boatmen can rent batteries and recharge them at charging stations operated and managed by the boatmen's association. The retrofitted lithium-ion battery can be charged both by solar and grid power. The battery, which takes four to six hours to charge, is attached to a trolling motor connected to a propellor, which pushes the boat backward or forward. A single charge lasts two and a half hours, enough for a boat to complete two trips on a 10-12 kilometre stretch.
The costs of retrofitting traditional boats and costs associated with the charging centres are supported by Indus Towers under its CSR initiative. A local energy entrepreneur, selected by TERI, oversees retrofitting, installation, and the after-sales services required.
By June 2020, TERI had set up six centralised charging stations (2017-18: 4 stations; 2018-19: 2 stations) operated through solar/grid connected power. So far, 40 traditional boats on various ghats have been retrofitted to convert them to battery-powered boats and connected to the six centralised charging stations.
The boatmen too have started experiencing the advantages: there is no more heat, noise or fuel and lubricant residue. In the absence of a motor, battery powered boats do not contaminate a tourists' experience with unpleasant sights, sounds, or smell. The exercise has reduced the drudgery of boatmen and contributed to increasing their income. With the consistent financial support being received from Indus Towers, sincere efforts are being made to scale up of the project.
A similar model of battery powered boat has been replicated at the Mandakini river in Chitrakoot (Uttar Pradesh) too. With the help of four centralised charging stations (set up between 2019 and 2020) and retrofitting of 20 traditional boats, livelihood opportunities of boatmen have been strengthened.
---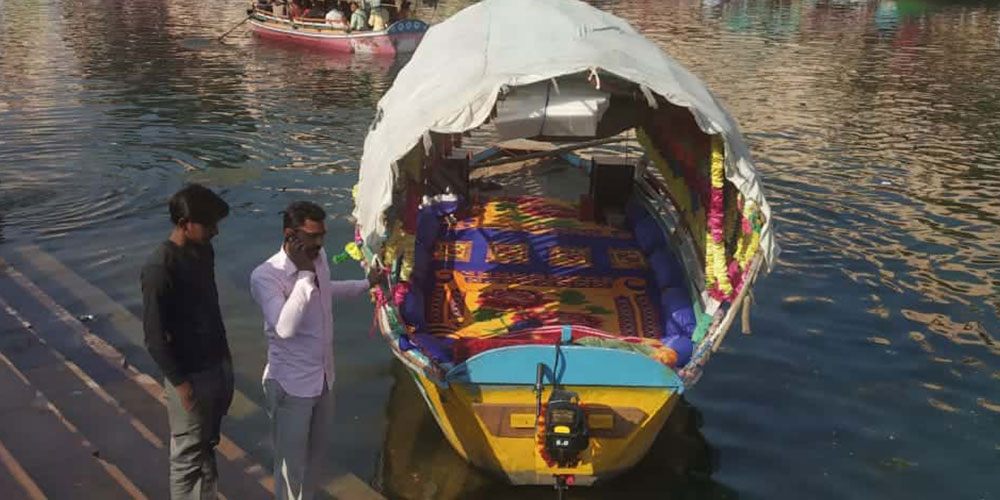 मंदाकिनी की अल्हड़ लहरों से लड़ने वाले अब सोलर नाव चलाते हैं
सौर शक्ति ने बदली चित्रकूट के नाविकों की ज़िंदगी। सोलर पैनल अब सिर्फ़ घरो के लिए नहीं बल्कि नाविकों के लिए भी फायदेमंद है।
---
---
---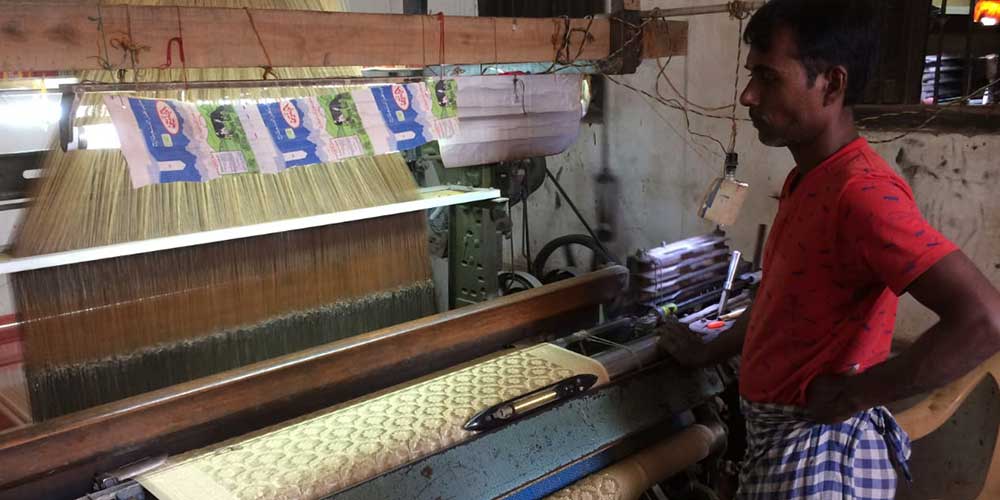 Powering the Ghats
Project team has developed a hybrid solar charging model that ensures continuous flow of electricity to the looms.
---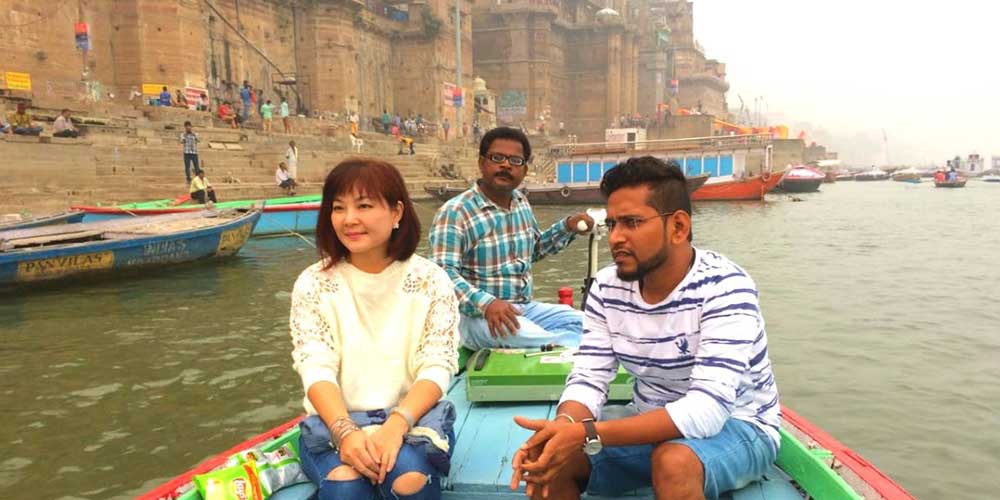 Banarasi Saris Powered By the Sun: TERI Helps 40 Boatmen, 400+ Weavers Go Green!
TERI engineers have developed a power back up, which takes a few microseconds to generate electricity.