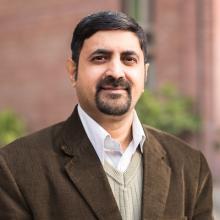 Dr Yogesh Gokhale
Area Convener of Centre for Forest Mgmt. & Governance; and Nutritional Security
Dr Yogesh Gokhale holds a doctoral degree in Botany from Mumbai University. He currently works as Senior Fellow with The Energy and Resources Institute (TERI), New Delhi. He has more than 15 years of experience of working on diverse aspects of natural resource management, monitoring, and evaluation of watershed projects and ecological assessments of various ecosystems in different parts of India.
He has extensively worked on people and forest interface issues regarding conservation of biological resources such as sacred groves in India for past several years. Some of his research topics include forest ecology, non-timber forest produce, medicinal plant conservation, community forestry, eco-development, and national and international biodiversity policy issues.
He completed his postdoctoral work at the Indian Institute of Science, Bangalore on biodiversity policy. Before joining TERI, he worked with the Ministry of Environment, Forest and Climate Change, Government of India, on the issues related to Convention on Biological Diversity.
At TERI, he is involved in a number of projects mainly related to natural resource management, carbon forestry, impact assessments, and biodiversity conservation. He has extensively published in national and international scientific journals, newspapers, and other media.