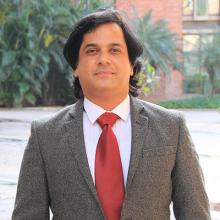 Dr Veeranna Channashettar
Associate Director, Environmental & Industrial Biotechnology
Dr Veeranna Channashettar is a techno-commercial industry interface with twenty years of experience in biotechnology, agriculture, soil science, environmental research and natural resource management. He has been associated with TERI since 2006 and has undertaken several research and commercial assignments for private/public sector oil companies and various pharmaceutical industries.
An expert in mass production and quality control of bio-fertilizers and bio-pesticides Dr Chhannashettar's areas of work includes remediation, reclamation and rehabilitation of hazardous waste contaminated sites and treatment of industrial effluents. Furthermore, his is also trained in bio-remediation of sites contaminated with petroleum hydrocarbons, pesticides, industrial wastes, and assessment of environmental quality of soil and water.
Dr Veeranna Channashettar has a PhD in Environmental Sciences from Amity University, Haryana and a Master's Degree in Agriculture Science from University of Agricultural Sciences, Bangalore, India.
Email: veerac@teri.res.in