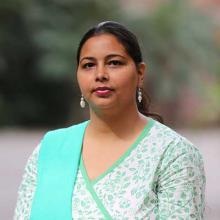 Ms Sonia Rani
Area Convenor, Sustainable Buildings (DELHI)
Ms Sonia Rani, BE (Environmental Engineering), M.Tech (Energy & Environmental Management, IIT Delhi), and MBA (Human Resource Management) is Fellow and Area Convenor (Sustainable Buildings) at The Energy and Resources Institute (TERI). With over10 years of experience in different streams of sustainable development, such as site management, building materials, water and waste water management, and solid waste management at both consultancy and policy levels, she is additionally actively involved in the field of research and development, policy formulation through project implementation, design and development of water/waste water treatment technologies, and resource efficiency measures at building/campus level.
Ms Sonia is further vigorously involved in technology development and dissemination in the field. In the capacity of project investigator, she has handled nearly 30 projects of varied nature and is passionately involved in various others projects in the capacity of technical team member (national and international).
Her recent engagements have focused on projects related to policy formulation and implementation. Towards this end, she is leading certain important projects, such as Mas-SHIP (Mainstreaming Sustainable Social Housing in India) and technology evaluation for green housing scale up in India (SHLC- Eco-cities).
Ms Sonia has closely worked with several ministries/government organizations/public sector undertakings / international organizations/corporate organizations on the themes of sustainable development and energy efficiency. In terms of outreach activities, Ms Sonia has keenly conducted several technical training programmes for National Building Construction Corporation, MP Tourism and United Nation Environmental Programme. She is also a regular faculty of the TERI-ITEC course on "Energy & Water Efficiency", annually organized by TERI.