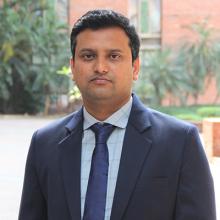 Mr Prasoon Singh
Fellow and Area Convenor, Center for Global Environment Research
Prasoon Singh is a Fellow and Area Convenor at the Center for Global Environment Research, Earth Science and Climate Change Division at The Energy and Resources Institute (TERI), New Delhi. In his over eight years of experience with the Government, private sector companies, corporates, non-governmental and not-for-profit research institutions, his work spans across areas related to water resources management, climate change, hydrological and hydrodynamic modelling, impact assessments, training and project management.
As a Senior Consultant with the National Disaster Management Authority (NDMA), Government of India, Mr Singh worked on managing Flood and River Erosion at the National Level.
A post graduate in Water Resources Management, Mr Singh is currently pursuing his PhD in Urban Hydrology from TERI School of Advanced Studies.