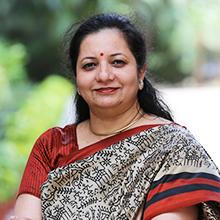 Dr Nupur Bahadur
Area Convener, TADOX Technology Centre for Water Reuse
Dr Nupur Bahadur is working as Fellow & Area Convenor, TADOX® Technology Centre for Water Reuse in Water Resources Division, The Energy and Resources Institute (TERI), New Delhi. She is R&D Water Professional with working expertise in the areas of Chemical Sciences, Nanotechnology, Material Science and Advanced Oxidation Processes (AOPs) towards Wastewater Treatment, Zero Liquid Discharge (ZLD) and Water Reuse. Also she is Vice-Chairman, International Water Association (IWA)-India and Programme Committee Member, Singapore International Water Week (SIWW) 2021 and 2022.
She obtained her Ph.D. in Chemistry from IIT Roorkee in 2005 working in the area of Photochemistry and Photocatalysis for pollution abatement. She is Inventor of TERI's novel technology called TERI Advanced Oxidation Technology (TADOX®) to treat Municipal Sewage and highly polluting Industrial Wastewater. Her technology intervention aims at resource & energy efficiency, sludge & cost reduction, point source pollution abatement in river cleaning programs like 'Namami Gange', non-point source and surface water rejuvenation and various Water Conservation and Water Reuse Programs of Govt. of India.
Her 21 years of professional experience involves, teaching & research from UG to Ph.D. courses, research guidance involving 17 PG and UG Dissertations/ Internships and ongoing 3 Ph.D. Thesis, Technology development, demonstration & transfer, policy intervention, consultancy, capacity building and Technopreneur roles. She has four Indian Patents filed and a registered Trademark to her credit and her twenty research publications in SCI International Journals have average Impact Factor 6.345, citations 754, h-Index 14 and i10-index 14 in Google Scholar.
Some prominent Awards received by her includes (i) Design & Manufacturing Technologies for 'Make in India' during IISF-2015, by the Ministry of Science & Technology, Govt. of India, (ii) VIWA-2018 Outstanding Women in Science (Chemistry) Award by Venus International Foundation, Chennai, (iii) Aqua Foundation's Excellence Awards-2019 for Development of Technology, (iv) STE Water Award–2019 for Technological Innovation in Wastewater Treatment and (v) STE Meritorious Award-2020 by Save The Environment Society, Kolkata for Excellence in Research, Academics and promoting social awareness among society.