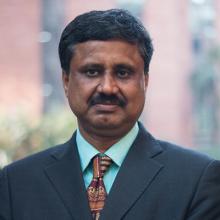 Mr Nitya Nanda
Associate Director, Resource Efficiency & Governance
Mr Nitya Nanda, Senior Fellow & Associate Director, Centre for Resource Efficiency and Governance, TERI, is a research professional with more than two decades of experience in research, consulting and teaching.
He has worked on international trade, investment, resources, environment and development issues - in particular on the political economy and the legal aspects of these areas. His work has covered issues and challenges in India and South Asia, and even in South-east Asian and African nations. He has been involved in around 40 research/consulting projects, and has been the principal investigator in around half of them.
Mr Nitya has around 120 research publications to his name, including 12 articles in peer-reviewed journals, 30 in other journals, 20 book chapters in edited volumes, 30 monographs/briefing papers, and 30 conference papers. He has authored two books and edited four volumes apart from writing several articles for newspapers and magazines. Currently, he is also the editor of TERI's flagship academic journal, the Journal of Resources, Energy and Development. Among his books, "Expanding Frontiers of Global Trade Rules: The Political Economic Dynamics of the International Trading System", Routledge, London & New York, 2008, received wide acclaim.