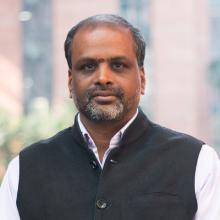 Dr N K Ram
Area Convener, Industrial Energy Efficiency and Sustainable Technology
Dr N K Ram is engaged with the Industrial Energy Efficiency Division of The Energy and Resources Institute (TERI) as a Senior Fellow. He is also the Area Convener of the Industrial Energy Efficiency and Sustainable Technology area of TERI.
With over 25 years of experience, Dr Ram specializes in renewable energy product development, deployment, and field demonstration. He is also an expert at conducting feasibility and pre-feasibility studies, and developing detailed project reports (DPRs) for renewable energy generation projects, training, and capacity building. Dr Ram has led technology development projects that involved developing efficient biomass conversion devices, for instance, biomass cooks stoves, gasifier for thermal applications for various end-use applications. Furthermore, Dr Ram has led projects on decentralised distributed generation and rural mini-grid systems under numerous schemes to develop linkages between energy and livelihood activities in rural areas.
He holds a Masters in Engineering with a specialization in Thermal Engineering from Delhi College of Engineering (DCE), Delhi University (DU) and a doctorate from the Energy and Environment Department, TERI School of Advanced Studies.
Email: nkram@teri.res.in