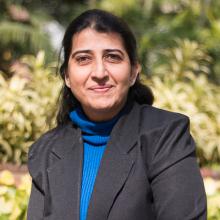 Ms Livleen K Kahlon
Associate Director, Environmental Education and Awareness
Ms Livleen has 20 years' experience of working with governmental and non- governmental organizations in the fields of environment research, outreach and conservation education. She joined TERI in 2002, and since then has been actively engaged in creating a niche for environment education both within the organization and outside. She has experimented and implemented several programs around basic education designs and innovative, multidisciplinary ideas for youth of all age groups. 'Catching them young' is the motto behind the activities designed under the banner of environment education at TERI and the focus is on channelizing focus of students towards sustainable development goals (SDGs). Science popularization is an important field of her interest and she is involved in design, delivery, and management of indoor and outdoor environment education programs through formal and non-formal teaching methods.
Ms Livleen is involved in several projects on Education for Sustainable Development (ESD), with schools and institutes of higher education. As a core competency she supports active engagement with youth to motivate them in acquiring 21st century futuristic skills. As an active member of her working group, she is involved in cutting edge research on Education for Sustainable Development (ESD) and has contributed in bringing out several books, newsletters, workbooks, manuals, films and other IEC material.
Prior to working with TERI she was with WWF-India, and NISCAIR (CSIR) in a similar capacity. She has a masters in botany from University of Delhi.