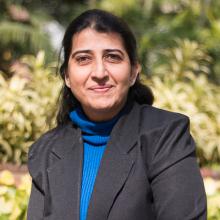 Dr Livleen K Kahlon
Associate Director, Environment Education and Awareness
Dr Livleen Kaur Kahlon joined TERI in May 2002, and is currently associated with the Environment Education and Awareness Division of the organisation as its Associate Director.
She is actively involved in strategic execution of various models of Education for Sustainable Development (ESD) to achieve transformative impact amongst several sections of the society. Experienced in spearheading research, outreach and conservation education, Dr Kahlon's core competency is in critical review and analysis of documents and reports related to environment education, youth empowerment and outreach, amidst popularization of scientific and environment topics. She has invested in communications related to EE (Environment Education) and conceptualized several stakeholders' dialogues related to GEC (Global Environmental Citizenship).
Prior to her stint at TERI, Dr Kahlon has worked with World Wide Fund for Nature (WWF-India) and National Institute of Science Communication and Information Resources (NISCAIR). With over two decades of experience, she has worked extensively in examining cross-cutting environment issues such as energy, waste, water, climate change, biodiversity, agriculture, and more in context with curriculum linkages, education tools, trainings and capacity building with a whole school approach and a multiplier effect.
Dr Livleen has completed over 100 projects in sustainability space and is a member of IUCN commissions (CEC & CEESP), International Expert Networks (ESD & RCE UNU), academic councils, and has been conferred with Institutional Roll of Honour and Study Scholarships.
With a doctorate in Environment Management from GGSIPU, Delhi and Masters in Botany from Delhi University, Dr Livleen is also an Adjunct Faculty at TERI School of Advanced Studies.
Email: kahlonl@teri.res.in