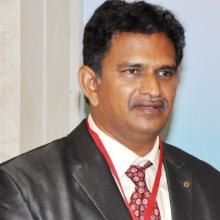 Dr G R Narasimha Rao
Director, Industrial Energy Efficiency
Dr G R Narsimha Rao is Senior Fellow & Director, Industrial Energy Efficiency division in Bengaluru.
He holds a degree in Mechanical Engineering and has done his Masters and Doctorate in energy systems. Dr Rao has more than 23 years of professional experience in international, multi-disciplinary and multilingual environments in Asia, Africa, Europe and South America. He has designed, supervised, analysed, and managed many energy and environmental projects and programmes, notably related to developing markets and the rational use of energy and renewable energy sources, and capacity building programmes.
In addition, he heads the list of accredited energy auditors published by the Bureau of Energy Efficiency (BEE), Ministry of Power, India. He is also specially trained in thermal power plant simulation software applications in Germany and has two patents to his credit.