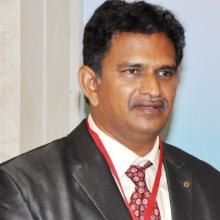 Dr G R Narsimha Rao
Director, Industrial Energy Efficiency
Dr G R Narsimha Rao is engaged with the Industrial Energy Efficiency Division of The Energy and Resources Institute (TERI) as its Director.
With over 28 years of experience in energy sector consulting in international, multi-disciplinary and multilingual environments, Dr Rao has been associated with TERI since 1996. Over the years Dr Rao has designed, supervised, analysed, and managed several energy and environmental projects and programmes related to developing markets and the rational use of energy and renewable energy sources.
Having led numerous energy efficiency and management projects for international agencies in more than 40 countries including developed, developing, and least developed countries, Dr Rao has extensively engaged with governments and stakeholders at the grassroots.
Dr Rao holds a Masters in Mechanical Engineering and a Doctorate in Energy Systems from Jawaharlal Nehru Technological University (JNTU) Hyderabad. A post-graduate in Environmental Management from Central University, Hyderabad, he is also trained in thermal power plant simulation software applications from Germany and has two patents to his credit.
Email: grnrao@teri.res.in