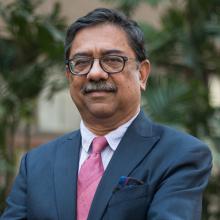 Mr Dipak Dasgupta
Distinguished Fellow, Earth Science and Climate Change
Dipak Dasgupta is an international economist with expertise in climate change, finance, agriculture, and macroeconomic policy. He is an expert to UN agencies, World Bank, and other national and international financial institutions, research networks and clean technology companies, and is on the Advisory Board of the Imperial College Business School on climate finance.
He was until recently founding Board Member of the Green Climate Fund (GCF), the largest specialized global climate change finance institution, representing India and the Asia-Pacific, and chair-facilitator of its Investment Committee. He was also a member of India's negotiating team on climate finance at the UNFCCC negotiations from 2011 to 2015. He is former Principal Economic Adviser to the Ministry of Finance, Government of India. He also established and headed the Climate Change Finance Unit at the Ministry.
Earlier, he worked at the World Bank for over 25 years as economist and sector manager in different operational regions and in its Development Economics research vice-presidency, and was also a member of its professional boards on economic policy and public sector governance. He was also lead economist for India and South Asia. He has experience of some 40 countries, both developed and developing, and led several large and complex development lending operations. He was also sometime adviser to the chairman and head of policy research at the Industrial Development Bank of India.
Mr Dasgupta has taught and lectured at think-tanks and universities around the world, and is principal author or editor of twelve books and over 100 articles. He was educated at Delhi and Cambridge universities. He received the Adam Smith Prize and medallion at Cambridge and the Amex Bank Review awards in international finance at Singapore.