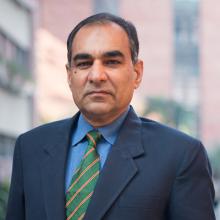 Dr Banwari Lal
Senior Director, Environmental & Industrial Biotechnology
Dr Banwari Lal is engaged with the Environmental & Industrial Biotechnology Division of The Energy and Resources Institute (TERI) as its Senior Director. With almost three decades of research experience in the field of microbial biotechnology, Dr Lal has been associated with since 1989.
In addition to his capacity as a Senior Director at TERI, Dr Lal also serves as the Managing Director of ONGC TERI Biotech Ltd (OTBL) - a joint venture of Oil and Natural Gas Corporation (ONGC) and TERI.
With his interest is Petroleum Biotechnology and an expertise in enhanced coal bed methane production and carbon sequestration, biohydrogen production, and detection and control of microbial induced corrosion in oil and gas pipelines, Dr Lal has developed three technologies namely "Oilzapper (for bioremediation of oil spill), "Microbial Enhanced Oil Recovery" and "Prevention of paraffin deposition in oil well tubing and flow lines".
Recognising his exceptional contribution to the field of research in microbial research, Dr Lal has been felicitated with several awards the Biotech Product & Process Development for Commercialization Award 2002 by Department of Biotechnology, Government of India; NEERI Award 2002 (Innovation in Environmentally Sound Technology) for development of Oilzapper; National Research Development Corporation Award 2005 for the invention 'Oilzapper'; and Tata Innovation Fellowship Award 2009-10 by Department of Biotechnology, Government of India, amongst others.
A member of numerous scientific communities constituted by the Department of Biotechnology, Government of India, and the Department of Science and Technology, Government of India, Dr Lal holds a doctorate in Microbial Biotechnology from the University of Rajasthan.
Email: banwaril@teri.res.in