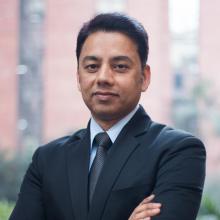 Mr Anshuman
Director, Water Resources
Mr Anshuman is enegaged with the Water Resources Division of The Energy and Resources Institute (TERI) as its Director.
With 25 years of experience working in the water sector, Mr Anshuman's expertise spans across areas such as integrated water resource management, water use efficiency, and water quality & quantity assessment. At TERI, he is involved in integrated water resources management (IWRM); water use efficiency; urban water supply & demand management studies; water audits; water conservation; watershed management; climate change and water security; provision of drinking water; resource evaluation and pollution load assessment; adequacy & efficiency studies of sewage & effluent treatment plants; regulatory legislations; and environmental impact assessment (EIA) studies.
Mr Anshuman is a member of several advisory committees including, CSIR Monitoring Committee for review of progress of FTT/FTC projects under Ecology, Environment, Earth & Ocean Sciences and Water (E3OW), CSIR Committee for Evaluation of Indo-German Projects; BIS Water Quality for Industrial Purposes Sectional Committee, CHD 13; Jury Member, Water Digest Water Awards, Organised by Water Digest and UNESCO; Committee for National Water Mission Awards 2021; Technical Advisory Committee (TAC) of National Institute of Hydrology (NIH) (Under Ministry of Water Resources, Government of India), among others.
He holds an M. Tech. in Energy & Environmental Management from the Indian Institute of Technology (IIT), Delhi.
Email: anshuman@teri.res.in