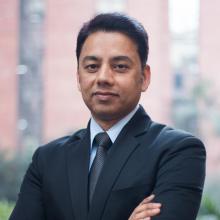 Mr Anshuman
Associate Director, Water Resources
Mr Anshuman joined The Energy and Resources Institute (TERI), New Delhi, in 2004. Prior to this, he was with the Shriram Institute for Industrial Research, Delhi.
Anshuman has been working in the water sector since the last 14 years and his expertise in the water sector lies in the areas related to integrated water resource management, water use efficiency, water quality and quantity assessments, where he has carried out several comprehensive research studies in context of the source (surface water, groundwater), issues (water scarcity, pollution, use efficiency, etc.), sectors (irrigation, domestic, and industrial), and stakeholders (Central/State Governments and local communities).
He has been a member of several advisory committees earlier and is currently a member of the Technical Advisory Committee (TAC) of the National Institute of Hydrology (NIH) (Under the Ministry of Water Resources, Government of India).
Anshuman has executed several related projects, presented several papers at national and international forums, and has several relevant national and international publications. He has a Master's in Technology in energy and environmental management from IIT-Delhi.