Women should be at the heart of decision-making on climate change, say women leaders helming environmental institutions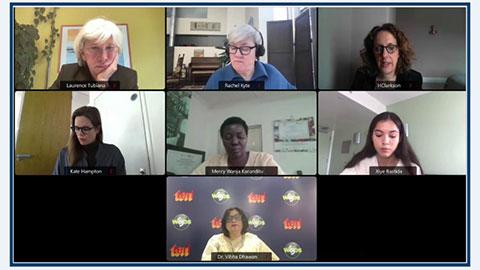 New Delhi, 18 February 2022: Women leaders helming climate and environmental institutions across the world asserted the need to ensure women's full and effective participation at all levels in issues relating to climate change, ecological balance and sustainability at a session on 'Women Leadership and Our Common Future' at the World Sustainable Development Summit in New Delhi on Thursday.
Taking part in the flagship event of The Energy and Resources Institute (TERI), Professor Laurence Tubiana, Chief Executive Officer, European Climate Foundation talked about the crucial interventions of women in addressing climate change. "Women are leading climate leadership at rebellious fronts and are putting pressure on governments, global leaders, and policy makers to take concrete steps towards climate change."
Professor Tubiana also emphasised the need for greater support for women battling the effects of climate change at the ground level. "Globally due to deforestation and urbanisation, women are getting more and more affected. The worst sufferers are pregnant women who have to deal with air pollution and other carbon emissions. We, therefore, need more and more women in the parliament and as policymakers, people who can relate with the issue and devise sustainable development policies which are safe for women."
Advocating the significance of women's participation in creating a sustainable future, Ms. Rachel Kyte, Dean, Fletcher School, Tufts University said, "Women are standing on a glass cliff. When a task seems difficult or complex, women in charge have the ability to convert it into success. We believe that gender representation in parliament, polices with diversity and an appetite for risk and resilience is crucial. Men must encourage women towards reciprocating vulnerability where they can look towards women for answers which they don't have. At our university, we are constantly opening doors for women through education."
Ms. Helen Clarkson, Chief Executive Officer, The Climate Group stressed the importance of education in helping women respond to climate change effectively. "Women are more productive and work better around climate change when they are educated. Education helps them understand their fertility cycle well, and the value of nutrition." Ms. Kate Hampton, Chief Executive Officer, Children's Investment Fund Foundation, too underscored the need to invest in the education of women. "We must invest in women and girls and keep them in schools…Women should be at the heart of decision making and, therefore, we must invest in women and girls." The discussion revolved around the barriers to leadership and empowerment for women, including structural barriers, institutional mind-sets, individual mind-sets, and life choices. The session was moderated by Dr. Vibha Dhawan, Director General, TERI and Mr. Shreyas Joshi, young professional at TERI.
Ms. Mercy Wanja Karunditu, Deputy Executive Director, The Green Belt Movement, said, "With the Green Belt Movement, we empower communities at the grassroots level. We hold leaders accountable, promote and lobby for women in the private sector to have them on board in leadership roles. We bring technologies that help communities to progress at the grassroots level. Sustainable development is not possible without good governance, forestation and technology." Ms. Xiye Bastida, Co-founder, Re-Earth Initiative, fittingly summed up the session, making a call for inclusivity in dealing with matters of the planet. "Youth runs the fastest but elders know the path" Ms Bastida added.
About TERI
The Energy and Resources Institute (TERI) is an independent, multi-dimensional research organization, with capabilities in policy research, technology development, and implementation. Headquartered in New Delhi, TERI has regional centres and campuses in Gurugram, Bengaluru, Guwahati, Mumbai, Panaji, and Nainital, supported by a multi-disciplinary team of scientists, sociologists, economists, engineers, administrative professional and state-of-the-art infrastructure.