We need to think of decarbonisation as a development strategy: Mr Suman Bery, Vice Chairman, NITI Aayog
---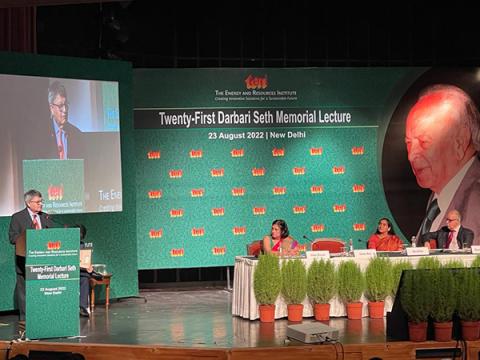 New Delhi, August 23, 2022: Emphasizing the need to think of decarbonisation as a development strategy, Mr Suman Bery, Vice Chairman, NITI Aayog, asserted the need for pathways towards development through decarbonisation to factor in uncertainty and resilience while delivering the Presidential Address at the 21st Darbari Seth Memorial Lecture in New Delhi on Tuesday.
"The focus on resilience calls for diversification in the manufacturing sector, energy import, raw material supply, in technology, capital and sovereign partnerships," said Mr Bery speaking at the annual lecture series conducted by The Energy and Resources Institute (TERI).
Integration of sustainability into the overall development strategy will need greater participation and role of the States as well as an investment push in which multilateral development banks can play a pivotal role, Mr Bery added. "Internationally India's economic diplomacy should aim to secure an adequate diplomacy space to follow a so called no-regret decarbonisation policy," said Mr Bery.
Delivering the 21st Darbari Seth Memorial Lecture, Dr Alka Mittal, Chairperson and Managing Director, Oil and Natural Gas Corporation (ONGC) Limited, underscored the imperative need to adopt responsible production mechanisms and use of resources. "India's goal of becoming net-zero by 2070 will happen when corporates become seriously committed to the targets and put our thoughts together not only to make maximum profits, but to make them in a responsible manner," Dr Mittal said.
Mooting the need to bring together standalone sectors, she added, "Now is the time to look at the holistic integration of industries such as coal, oil and gas and renewables under one single umbrella of energy industry. This would go a long way in harnessing more accessible, affordable, equitable and clean energy."
The annual lecture series was initiated by TERI in 2002 in memory of its founder and industrialist Darbari S Seth. Under his guidance, TERI emerged as one of the leading knowledge institutions in the field of sustainability and climate change.
The First Rajendra Kumar Pachauri Remembrance Event was also held on the same day, and Dr Erik Solheim, former UN Environment Executive Director and Under-Secretary-General of the United Nations, emphasised the need to take the cause of climate change to all stakeholders in his Global Leadership Address. "We scientists and politicians are failing if we cannot set out the climate and environment message in a way that doesn't attract the farmer in UP, fisherman in Norway, taxi driver in Los Angeles or hi-tech worker in Shanghai. We need to make the climate an issue for everyone." The focus in the 21st century, pointed out Dr Solheim, should be on uplifting people's lives while going green.
Talking about what science and sustainability might mean in terms of resources, Professor Padmanabhan Balaram, biochemist and Padma Bhushan awardee in his Science Leadership Address said, "Everything on the Earth as resource today was Earth's inheritance when it was born. With our present knowledge, present technology and present science, our resources are extraordinarily limited. Resources will lead the cause of more conflicts in the future."
Noting that the youth -- 1.8 billion between the ages of 18 and 24 -- has the greatest influence to affect change through their leadership, Ms Philo Magdalene, Youth Mentor, Protect Our Planet (POP) Movement, in her Youth Leadership Address said, "As the world ventures to evolve a new narrative of development that is sensitive to the global commons and the earth's ecosystems, empowering youth and trusting them to lead has come to be viewed as an option for the road ahead."
In his welcome address, Mr Nitin Desai, Chairman, Governing Council, TERI, noted that Mr Pachauri did not limit the work of TERI to producing reports and articles. "He realised the energy and resources future of this country depends on technology which are environment friendly," said Mr Desai. Dr Shailesh Nayak and Mr Nawshir H Mirza, Members of the TERI Governing Council emphasized on the vision and leadership of TERI Founders Mr Seth and Dr Pachauri.
Dr Vibha Dhawan, Director General, TERI in her vote of thanks, underscored the visionary role played by Dr RK Pachauri in making TERI an institution that put forth the possibility of a different path of development through sustainability and renewable energy.
About The Energy and Resources Institute (TERI)
The Energy and Resources Institute (TERI) is an independent, multi-dimensional research organization with capabilities in policy research, technology development, and implementation. Headquartered in New Delhi, TERI has regional centres and campuses in Gurugram, Bengaluru, Guwahati, Mumbai, Panaji, and Nainital, supported by a multi-disciplinary team of scientists, sociologists, economists, engineers, administrative professionals, and state-of-the-art infrastructure.
For more details, contact:
P Anima: animap@teri.res.in
Sumit Bansal: sumitbansal@teri.res.in