TERI and Cadmus launch Project I-SMART to accelerate rooftop solar installations
---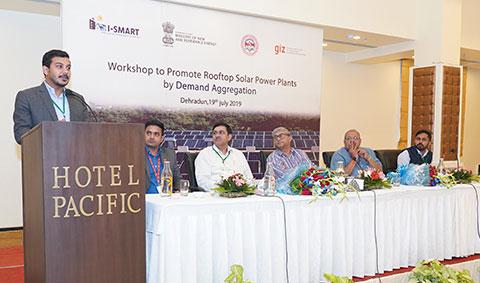 The initiative aims to aggregate demand for 1,000 MW rooftop solar systems across four states and two UTs including Uttarakhand
Dehradun, July 19, 2019: The Energy and Resources Institute (TERI) and US-based CADMUS group launched the Indian Solar Market Aggregation for Rooftops (I-SMART) program today in Dehradun, Uttarakhand at the workshop held to promote Rooftop Solar Power Plants.
The program was held in the presence of Additional Secretary, Energy and Director Uttarakhand Renewable Energy Development Agency (UREDA) Captain Alok Shekhar Tiwari.
The event also witnessed participation from Abhinav Jain, Advisor GIZ; A K Tyagi, Chief Project Officer, UREDA, Department of Renewable Energy Uttarakhand; Anand Upadhyay, Fellow, and Arpo Mukherjee from TERI.
The program is supported by the Ministry of New and Renewable Energy (MNRE) and the Deutsche Gesellschaft für Internationale Zusammenarbeit (GIZ) GmbH. I-SMART aims to accelerate the rooftop solar market in India. As per recent reports, India has achieved close to 4 GW out of its 40 GW rooftop solar target by 2022.
Different state government officials, chairmen of RWAs (resident welfare associations), dean of universities, industry association representatives, in-charge of ashrams, rooftop solar installers, bankers and others were also present at the event.
During the meeting, the Chief Project Officer, UREDA AK Tyagi, stated, "As of March 2019, total rooftop solar installed capacity in Uttarakhand is about 18 MW. With about 300 days of sunshine per year, the state has excellent potential for rooftop solar deployment. I-SMART team will leverage its experience in solar market development to increase the rate of rooftop solar installations in the state. I-SMART will also work with UREDA to fulfill their plan of adding more than 28 MW of rooftop installations by September 2020."
At the event, the Project Manager I-SMART & Fellow, TERI Anand Upadhyay, said "The I-SMART team will work to ease and increase the pace of rooftop solar adoption among the residential, government, and commercial & industrial (C&I) sectors. Apart from reducing electricity bills, the promotion of rooftop solar sector would create new jobs and will subsequently lead to economic, social and environmental progress in the state."
He further added, "The project team has already studied and analyzed more than 270 buildings across Uttarakhand to identify their potential for rooftop solar systems. In addition to achieving energy independence, this demand aggregation programme will empower the state government to focus on environment conservation and reducing carbon footprint."
Associate Fellow TERI Arpo Mukherjee, commented that the project team aims to achieve this at the grassroots level via digital and social campaigns. Under this programme, a team of volunteers, called Solar Friends, would be trained to carry out door-to-door outreach activities to raise public awareness across the state.
He also added, "Anyone interested in setting up a rooftop solar PV power plant can visit http://ismartsolar.in and register an online request for rooftop solar installation. This platform eases the process of installation by connecting solar vendors with consumers."
As per TERI, the demand aggregation efforts under I-SMART project have been launched successfully over the last two months in Dadra and Nagar Haveli, Daman and Diu, Gujarat, and Jammu & Kashmir. I-SMART is also going to be implemented in the state of Himachal Pradesh."
TERI also has a successful track record of implementing consumer demand aggregation for rooftop solar among more than 6,000 individual households in Surat, Gujarat and more than 100 RWAs in Dwarka, New Delhi achieving a cumulative implementation of over 70 MW rooftop solar capacity.
About TERI
The Energy and Resources Institute (TERI) is an independent, multi-dimensional organisation, with capabilities in research, policy, consultancy, and implementation. It has pioneered conversations and action in the energy, environment, climate change, and sustainability space for over four decades.
About Cadmus
Cadmus is an employee-owned consultancy committed to addressing complex challenges by applying diverse skills and experiences in a highly collaborative environment. Cadmus brings the technical expertise and additional bandwidth required to help government and private-sector clients successfully navigate the complexities of solar PPA projects and make informed business decisions about renewable energy investments.
For further details, please contact:
TERI: Arpo Mukherjee, M: 9650359969, E: arpo.mukherjee@teri.res.in
Anand Upadhyay, M: 9811914995, E: anand.upadhyay@teri.res.in