School children interpret the idea of sustainable development at GRIHA Council's Nukkad Natak competition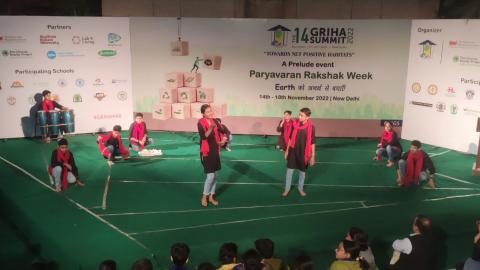 New Delhi, November 18, 2022: Five days, 45 schools, 450 students. The Nukkad Natak competition, conducted as part of the Paryavaran Rakshak Week by the GRIHA Council as a prelude to its annual flagship event -- the GRIHA Summit 2022 -- brought together school children from across the country to creatively interpret the ideas of sustainable development and protecting the planet.
The competition held on the theme of 'Earth Ko Anarth Se Bachaye' was conceptualized as a platform for school students to showcase their understanding of the concept of sustainability.
"The concept of sustainability if instilled in children at a young age will play a significant part in helping them grow into responsible citizens," observed Mr Sanjay Seth, CEO, GRIHA Council.
"Students have the potential to contribute in creating an enabling ecosystem to meet the challenges of environmental degradation brought on by unbridled development," he added.
The Paryavaran Rakshak programme was started in 2019 in a bid to make people conscious about environmental issues. The objective of the Paryavaran Rakshak programme this year was to sensitize children and empower them as individuals by making them aware of the concepts of sustainability, informing them about environmental rights and the need to make the planet greener. In addition, the event aimed to mobilize students and volunteers as 'Young Paryavaran Rakshaks' who will create awareness about sustainable development.
The GRIHA Council received more than 50 entries from schools across the country for the Nukkad Natak competition. More than 45 schools were shortlisted and around 450 students from various states such as Himachal Pradesh, Uttrakhand, Uttar Pradesh, Gujarat, Telangana, Bihar, Tamil Nadu, Odisha, Rajasthan and New Delhi performed at the event.
Mr Nupin Anand, faculty member at the Saai Memorial Girls School, New Delhi, who lead the team of performers from the school to the Nukkad Natak competition, said, "It was a great experience for our school that we got an opportunity to perform at such a level where students learn lot of things which will help them in their future."
Abhinav Ranjan, a standard 9 student Delhi Public School, Patna said the competition and the platform were a "brilliant experience for raising important issues." Jury member Mr Puneet Kad, a media and marketing consultant, and advisor Environmental Security Force, observed, "The most important and difficult thing about Nukkad Natak is teamwork, and the participants have put up brilliant performances that show tremendous effort."
The event also aimed to raise awareness among students on how they could make their schools green and also help it achieve a green rating. The GRIHA Council had developed a rating system 'GRIHA for Existing Day Schools' where schools can evaluate their environmental performance across India.
The three best performances from the competition will be chosen, and trophies and total cash prizes worth 2,00,000 INR will be distributed among winners and participants at an award ceremony to be held during the 14th GRIHA Summit. The prime event partners for the event were Lab4Living, Sheffield Hallam University, Lab 4 Living; INDO- Global Social Service Society; The Climate Reality Project; Sundaram Multi Pap Limited and, The Energy and Resources Institute (TERI).
Lab4Living and Sheffield Hallam University's Art & design Research Centre have developed Playponics to create hydroponic playground gardens for schools in India. The whole structure was made using bamboo and low-cost products. Play equipment such as swing sets, roundabouts and barrel runs were put up at the venue.
About GRIHA Council
Green Rating for Integrated Habitat Assessment (GRIHA) Council is an autonomous, not for profit society established to promote and administer the development of sustainable buildings and habitats in India through the GRIHA rating. GRIHA has been acknowledged as India's own green building rating system. The tool evaluates reductions in emission intensity through habitats. GRIHA is a part of mitigation strategy for combating climate change in India.