Need to internationalize LiFE through G20 and other global platforms: TERI policy brief
---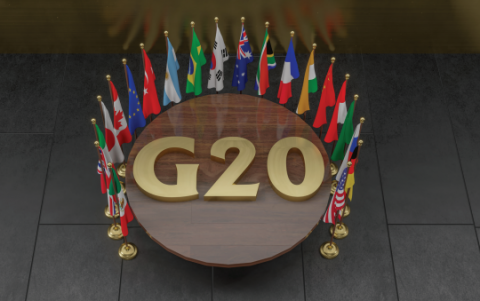 New Delhi, November 11, 2022: With India set to assume the G20 Presidency next month, a new policy brief from The Energy and Resources Institute (TERI) to be launched at the ongoing COP27 in Sharm el-Sheikh, underscored the need to internationalize Lifestyle for Environment (LiFE) to emphasize the imperativeness of sustainable consumption especially in G20 countries and the European Union.
Calling for a lifecycle approach to mainstream frameworks on sustainable consumption and production, the policy brief on 'Internationalizing Lifestyles for Environment: Messages for G20', produced as part of the SDG Charter component of the Act4Earth initiative launched at the World Sustainable Development Summit in 2022, observed that the focus so far has been on upstream and mid-stream components, such as resource efficiency and circular economy. A lifecycle approach will bring into focus consumption of goods and services along with extraction of resources, production and disposal.
The policy brief has evolved composite indices on consumption in sectors such as food, transport, residential, and waste management in G20 countries and the European Union. "SDG 12 relating to sustainable production and consumption is the heart of the challenge of global sustainability and climate change. TERI's research in this area highlights some international comparisons of sustainability. It also points to directions for technology and policy innovation, including promoting change in people's behaviour and values," said Dr Prodipto Ghosh, Distinguished Fellow, TERI.
Among G20 entities, according to the metrics developed in the brief, India has the highest score in the Lifestyles and Consumption Index, while the United States has the lowest. India has the highest score—and thus the lowest consumption—for all four consumption sectors -- food consumption, transport, residential sector, and plastic waste generation.
The authors of the brief also suggest policy, market and social instruments for internationalizing LiFE. "Through G20 leadership, India can push for improvements in the Sustainable Development Goals global indicator framework for stronger reporting of downstream indicators of resource value chains involving not just end consumers but also indicators on responsible advertising," noted Dr Shailly Kedia, Associate Director and Senior Fellow, TERI.
The knowledge document, which has been compiled based on research and stakeholder consultations, identifies key hooks for internationalizing LIFE, added Dr Kedia. "These hooks include: G20 Forum, global indicator framework for sustainable development goals, Subsidiary Body for Scientific and Technological Advice (SBSTA) of United Nations Framework Convention on Climate Change and the United Nations General Assembly," she said.
Noting that demand, including lifestyle choices, drives supply, the policy brief underscores the importance of focussing on downstream components – end consumers and disposals, and linkages across resource value chains. "Currently, the lifecycle approach to waste management is primarily focused on addressing the production side of waste generation, largely leaving out practices related to sustainable consumption of goods and services and disposal. Consumers need to be encouraged to adopt waste management practices, which can be catalyzed through enabling policy environment. However, severe data restrictions hinder this process, as seen in G20 countries outlined in this policy brief," said Dr Suneel Pandey, Director and Senior Fellow, TERI.
Based on the concept of sustainable development, the policy brief also proposes a working definition of sustainable lifestyles as "individual consumer choices and attitudes towards the consumption of goods and services to further human well-being, spur innovations, while minimizing ecological footprint and waste so as to promote intragenerational and intergenerational equity for sustainable development".
To access the policy brief, click here
About TERI
The Energy and Resources Institute (TERI), based in India, is an independent, multi- dimensional research organization with capabilities in policy research, technology development, and implementation. An innovator and agent of change in the energy, environment, climate change and sustainability space, TERI has pioneered conversations and action in these areas for nearly five decades. Headquartered in New Delhi, it has centres in six Indian cities, and is supported by a multi-disciplinary team of scientists, sociologists, economists, engineers, administrative professional and state-of-the-art infrastructure.