India at COP27: In need of investors' confidence to achieve climate financing goals
---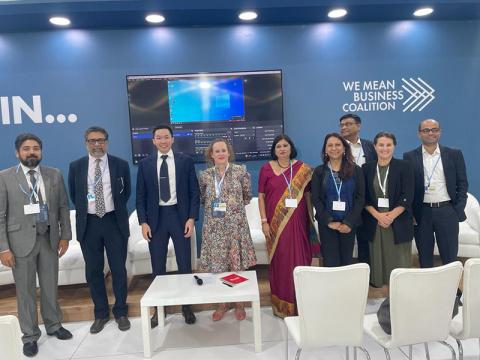 India is one of the most vulnerable countries to the impacts of climate change, ranking 7th out of 181 according to the Global Climate Risk Index 2021.
According to CDP India data, the financial impact of climate-related risks to Indian companies was estimated at Rs.2843 billion whereas climate-related opportunities were cited at Rs.31281 billion in 2022. The numbers have drastically changed in 2 years.
New Delhi, November 11, 2022: The United Nations Climate Change Conference (COP27), on Wednesday, November 9, 2022, opened with a key theme dedicated to climate finance to improve the financial commitments in alignment with the Paris Agreement goals. Public funds alone will not suffice to curb the challenges of climate change. While India is ranked high on the list of most vulnerable countries to climate impact, it is also increasingly prioritizing addressing the challenges. In this context, CDP India and TERI jointly organized a panel discussion where Financial Institutions (FI's), the investor and capital markets community and the industry players came together to look at how to scale up the flow of climate finance by leveraging corporate sustainability disclosures. Amongst many things, the need for an enabling policy environment as well as accelerating corporate sustainability disclosures was highlighted. The latter would not only improve transparency but specifically lead to 'smart' capitalism.
In a major strategic move, the Security and Exchange Board of India (SEBI) has mandated Business Responsibility and Sustainability Reporting (BRSR) for the top 1000 listed companies based on market capitalization from the year 2023. In the same light, the Reserve Bank of India has recently released a Discussion Paper on Climate Risk and Sustainable Finance which recognizes that climate change is increasingly becoming a source of financial risk for banks globally. Ahead of the annual climate summit, India said that "what gets measured gets done". More clarity, however, is needed on the definition of climate finance for developing countries to accurately assess the extent of finance flows for climate action. The increased alignment of global and national frameworks is seen as an important step to support the evolving dynamics of capital markets thereby mobilizing private sector investments to help reduce carbon emissions and impacts thereof.
Delivering the keynote at the panel 'Building Investor confidence for enhancing climate finance by leveraging global and national frameworks on corporate sustainability disclosures', Dr Vibha Dhawan, Director General, TERI highlighted the nascent stage of ESG which corporates are still trying to unravel. "I am glad to share that Indian corporates are increasingly understanding and showing interest in the framework, and in how it will be helpful to build their business. There is an interest in having an ESG academy to train people on reporting. Therefore, corporates can play an important role by disclosing and measuring how far they have achieved in the next cop summit."
Commenting on the alignment of disclosure frameworks, Ms Mardi Mc Brien, Director of Strategic Alliances, ISSB emphasized the importance of CDP's announcement at COP27 to incorporate ISSB climate-related disclosure standards into the framework for the 2024 cycle. "The decision will improve the consistency of climate-related information for investors and reduce the disclosure burden on entities through an alignment of requirements. This announcement sends a clear signal to the global market ahead of finance day at COP27 that CDP and ISSB are responding to market demand for effective, consistent climate disclosure."
Giving an on-the-ground perspective, Mr David Wong, APAC Deputy Director GFANZ gave insights on how to move forward after disclosing. "Initially we focused on disclosures but now we are looking into transition planning and attaining net zero, creating transparency, and setting GHG reduction targets." While there is a lot of momentum, challenges, according to him, are that no large FI in Asia pacific has committed to net zero. "In the transition planning, the role of FIs getting involved is much more important. We need to focus on the implementation strategy and how to engage your stakeholders. We need to work on how to monitor our progress."
Looking at the hard-to-abate sectors like steel and cement, Mr Prabodha Acharya, Chief Sustainability Officer, JSW Group emphasized: "It's very important to disclose the right information so that the investor has confidence, targets should be interim and practical and not selling dream targets of Net Zero. JSW Group raised 2 billion dollars from sustainability-linked finances. Transparency is very important in reporting which organizations should focus on to gain investor confidence."
Connecting the threads, Prarthana Borah, Director CDP India, emphasized: "Disclosure is the first step to environmental action". "There was a 40% increase in the disclosures by corporates in the Indian context. The private sector has begun to respond, now it's time for the FIs and think about mobilizing it. We should be working on analysing data to bring more corporates towards disclosure in driving climate action. Scope 3 emissions were 11 times higher in comparison to scope 1 and 2 for India. To meet these commitments, investors and financial institutions require environmental disclosure from the companies in their portfolios so that they can understand and manage their financed environmental impact."
The session successfully addressed the need for mobilizing capital for dealing with climate urgency, whilst highlighting the criticality of the sustainability disclosures in raising climate finance. Efforts, however, need to gather greater momentum. Although in the past few years, an increase in awareness and policies has helped navigate the transition towards a greener tomorrow, there is no denying that Indian FIs need to catch up to enable banks to operate and develop a sustainable finance ecosystem. The policy framework developed in the country is of equal importance. In addition to this, a collective urge to make a sustainable change will make a real difference. Greater public awareness, information sharing, and constant research and development would help to boost the confidence of investors to be at the precipice of creating a real shift.
About TERI
The Energy and Resources Institute (TERI), based in India, is an independent, multi- dimensional research organization with capabilities in policy research, technology development, and implementation. An innovator and agent of change in the energy, environment, climate change and sustainability space, TERI has pioneered conversations and action in these areas for nearly five decades. Headquartered in New Delhi, it has centres in six Indian cities, and is supported by a multi-disciplinary team of scientists, sociologists, economists, engineers, administrative professional and state-of-the-art infrastructure.
About CDP
CDP is a global non-profit that runs the world's environmental disclosure system for companies, cities, states and regions. Founded in 2000 and working with more than 680 investors with over $130 trillion in assets, CDP pioneered using capital markets and corporate procurement to motivate companies to disclose their environmental impacts, and to reduce greenhouse gas emissions, safeguard water resources and protect forests. Over 14,000 organizations around the world disclosed data through CDP in 2021, including more than 13,000 companies worth over 64% of global market capitalization, and over 1,100 cities, states and regions. Fully TCFD aligned, CDP holds the largest environmental database in the world, and CDP scores are widely used to drive investment and procurement decisions towards a zero carbon, sustainable and resilient economy. CDP is a founding member of the Science Based Targets initiative, We Mean Business Coalition, The Investor Agenda and the Net Zero Asset Managers initiative.