India can achieve 30% of variable renewable energy generation by 2030 at no extra cost: ETC India report
---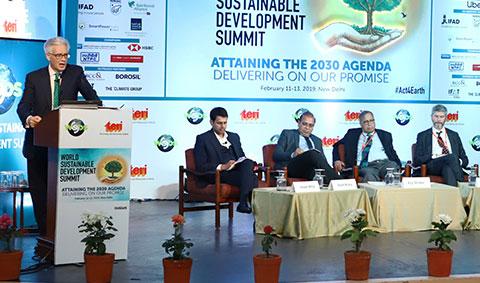 Potential to reach 45% zero carbon generation, including hydro and nuclear
...while more than doubling electricity consumption
...and not raising consumer costs
New Delhi, February 13, 2019: A reliable, economically competitive and environmentally sustainable electricity system is the cornerstone of a modern society. With an aim to accelerate India's transition to renewables while moving towards a cleaner and cost-effective electricity system, The Energy Transitions India (ETC India) today released its key findings across three latest technical reports on the side-lines of The World Sustainable Development Summit held in New Delhi today.
Commenting on the release of the reports, Dr. Ajay Mathur, Director General, TERI said: "We knew that renewables were cheap in India, but there were concerns that balancing their intermittency would raise consumer costs. This need not be the case: a high renewables system is cost-effective".
Lord Adair Turner, Chair, Energy Transitions Commission, said, "the learning rate on technologies like lithium-ion batteries is quite phenomenal. This will be a game changer for the integration of variable renewables into the Indian grid".
Mr David Nelson, Executive Director - Energy Finance, Climate Policy Initiative, said, "India needs a comprehensive policy strategy for increasing the flexibility of the power system to accommodate cheap variable renewables. We need a "Power System Flexibility Mission" ...".
By 2030, ETC India projects that the cost of wind and solar will be between 2.3-2.6 Rs/kWh and 1.9 - 2.3 Rs/kWh respectively, while the cost of storage will have fallen by about 70%. Even considering the additional costs required to balance the variability of renewables, the study projects that a grid with 30% variable RE generation is cost-effective as compared to a moderate RE system and does not raise costs for Indian consumers. Considering other renewables, hydro and nuclear, the share of zero carbon generation can be even higher, at 45%, while the share of coal falls to almost 50%.
To balance the variability of renewables, the study highlights that increasing the flexibility of the electricity system is an urgent, complex and substantial challenge: if not addressed, the transition to renewables will stall. An integrated approach to flexibility is required. This should combine shifting demand patterns to match RE production; adapting the operation of the dispatchable fleet; and deploying storage technologies.
The Energy and Resources Institute also released a book, 'Green, Reliable and Viable: India's Shift Towards Low-Carbon Energy' on Energy Transitions in India. The book brings together the valued perspectives from key stakeholders from the power, mobility, agriculture and energy efficiency sectors, amongst others, offering their views on the challenges that lie ahead, and the solutions and next steps to move India forward on the decarbonisation pathway. The book illustrates that energy transitions concern every sector and all stakeholders, and that Indian corporates and industrialists are already thinking strategically about them. Through its 14 chapters, the book explores how given its scale, circumstances, rapid growth and commitment to sustainable development, India's energy transitions present tremendous opportunities but also challenges. It suggests that seizing the opportunities can be achieved through a combination of integrated and timely policy frameworks, structural adjustments, and business strategies that can make transitioning to low-carbon energy both socially and economically desirable and feasible. Unleashing the full potential of the transitions will require all stakeholders to work together.
The technical reports and book are available here:
About the Energy Transitions Commission India
The Energy Transitions Commission India (ETC India) launched by The Energy and Resources Institute (TERI) on the sidelines of the World Sustainable Development Summit (WSDS) 2018. It is a unique, high-level, multi-stakeholder platform on energy and electricity sector transitions in India. In the first year of inception, ETC India will focus on policy, research and outreach on decarbonising the power sector. It brings together a diverse group of individuals from the energy and climate communities: investors, energy companies, industry disruptors, equipment suppliers, energy-intensive industries, non-profit organizations and academicians.
It is the first country-specific Commission and acts as a model for other emerging economies as they seek to move to renewable energy sources.
About TERI
The Energy and Resources Institute (TERI) is an independent, multi-dimensional organisation, with capabilities in research, policy, consultancy and implementation. It has pioneered conversations and action in the energy, environment, climate change, and sustainability space for over four decades.
The institute's research and research-based solutions have had a transformative impact on industry and communities. Headquartered in New Delhi, it has regional centres and campuses in Gurugram, Bengaluru, Guwahati, Mumbai, Panaji, and Nainital, supported by a multidisciplinary team of scientists, sociologists, economists and engineers, and state-of-the-art infrastructure.
About CPI
With deep expertise in policy and finance, CPI works to improve the most important energy and land use practices around the world. Our mission is to help governments, businesses, and financial institutions drive growth while addressing climate risk. Our services include analysis, the design and implementation of new financing solutions, and convening.
About the Energy Transitions Commission International
The Energy Transitions Commission (ETC) was convened to help identify pathways for change in our energy systems to ensure both better growth and a better climate. This is inspired by the work of the New Climate Economy. The Commissioners bring a remarkable range of viewpoints and extraordinary depth of experience. They include incumbent energy companies, industry disruptors, investors, equipment suppliers, non-profit organizations, advisors, and academics. What they share is a progressive attitude to reforming the energy system. The Commission is chaired by Lord Adair Turner, and co-chaired by Dr. Ajay Mathur.
For further information, contact:
TERI:
Pallavi Singh - pallavi.singh@teri.res.in
Aastha Manocha - aastha.manocha@teri.res.in

Edelman:
Mehak Arora: Mehak.arora@teri.res.in
Swati Sharma: swati.sharma@edelman.com

CPI:
Felicity Carus: felicity.carus@cpilondon.org