Green is the only way to grow: 7 ideas for Budget 2020
---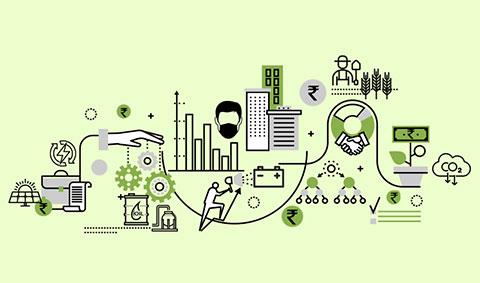 New Delhi, January 13, 2020: Resource efficiency, waste management and decarbonisation of the economy need to be the key drivers of India's green strategy because this is now the only viable path, capable of creating growth, new enterprises and a cleaner environment. As the government prepares to roll out the Union Budget on February 1, 2020, TERI suggests key allocations and policy signals that will take India ahead on this path.
---
Suggestions for high allocations:
1) Kisan Urja Suraksha evam Utthaan Mahabhiyan (KUSUM): The KUSUM programme, through the innovative approach of selling excess electricity from solar panels (when it not being used for running the irrigation pump), is transforming both electricity supply in rural areas as well as provides an additional entrepreneurial revenue scheme for farmers. This programme should be enhanced by increasing the allocation for each of its components.
Furthermore, a new component should be added which focuses on providing support for creating water markets. For example, a farmer may buy water from a neighbouring farmer with a solar pump, and not invest in water pumping him or herself. However, to enable this, piping and metering between farmers are essential. TERI suggests that partial support for this piping and metering infrastructure, along with directions to banks to provide loans for such infrastructure would enable the generation of water markets, the efficiency of water usage, and minimisation of groundwater pumping.
2) Pradhan Mantri Ujjwala Yojana: Since its launch in 2016, the UJJWALA programme has been extremely effective in reaching out to rural and marginal households and connecting them to the liquid petroleum gas (LPG) supply system. However, for households to benefit from the smokeless kitchens through replacement of biomass use by LPG, it is important that LPG cylinders are used and refilled. In-depth surveys have indicated that the buying power of BPL households and the long-time in refilling cylinders is a constraint to achieving the benefits of smokeless kitchens.
TERI proposes that small cylinders could be made available at ₹300 per cylinder to BPL households, with the balance cost to be met by subsidies. Moreover, all households should be provided with two cylinder connections so that reliable LPG supply is available, and households can move away from biomass with the confidence that LPG will always be available for BPL households, the second cylinder could be provided free-of-cost.
3) National Clean Air Programme: The NCAP has been effective; we have noticed that the air pollution levels in Delhi, during the non-peak periods, did not increase in 2019, as compared to 2018, despite unfavourable meteorological factors such as low airspeed in 2019 than in 2018.
TERI recommends the additional funds/resources could be utilised for reducing industrial pollution (which would lead to large-scale growth in pollution control equipment designing and manufacturing enterprise) and in the creation of outsourced facilities for mechanised collection of road dust, and for large-scale production of tiles and blocks from construction and demotion debris.
TERI suggests that the support for setting up of plants to utilize construction material waste is provided in the form of viability gap funding, with a view that they become competitive and viable in the short term.
4) Aggregation of Energy Efficiency Equipment demand in Small and Medium Enterprises (SME) Clusters: The Perform, Achieve, and Trade (PAT) programme of the Bureau of Energy Efficiency (BEE) has been extremely successful in enabling large industries to become world-class in energy efficiency. However, this benefit has not been exploited by SMEs where the lack of skilled manpower has been a major constraint.
TERI proposes that allocation may be provided to enable aggregation of energy efficiency demand in SME clusters. The programme could enable local organisations to aggregate demand of energy-efficient equipment and supply and maintain these equipment, with payments being made over a period of time, and each payment being less than the savings obtained by the SME enterprise due to the lower energy bill.
The transactions should be on a commercial basis, with the allocation enabling aggregation of demand and supply of energy-efficient equipment. This would enhance the profitability of the SMEs and create local enterprises that could provide these services.
5) Viability Gap Funding for Grid-connected Battery Installations: Solar electricity, at less than Rs.2.5 per kWh, is the cheapest electricity that is available in India, but only when the sun is shining. However, peak demand occurs in the evening and at night when lighting and home air conditioners are switched on. Consequently, there is growth in both solar energy and coal energy – leading to undesirable double investment. TERI's analyse indicates that with performance increases and economies of scale, the price of batteries to store solar energy produced during the day, would fall, and electricity from solar storage at night would be competitive with electricity from coal between 2024 and 2027. It is now essential to jumpstart this market. The Central Electricity Regulatory Commission (CERC) has already issued draft regulations regarding the bulk procurement of electricity through real-time competitive processes. This provides the right signal for battery storage to be set up to provide solar electricity during high demand hours at night.
TERI proposes that the Union Budget may create a Viability Gap Fund for a limited amount of grid-connected battery storage to be set up so that it can competitively provide stored solar electricity at peak hours during the night. This would build up the economies of scale necessary for a price reduction of batteries to competitive levels, and also provide the technical and human experience for managing electricity systems with integrated battery storage.
6) Creation of a Bio Fertilizer Mission: Chemical fertilizers are over-utilised, leading to poor soil quality, and leaching of fertilizers into underground water aquifers. The enhanced used of biofertilizers, through blending with chemical fertilizers, would improve India's soil health, as well as reduce the price that a farmer pays for fertilizer, especially if the biofertilizer is provided in nano-forms. A much lesser amount of nano-bio fertilizers, impregnated on chemical fertilizers, would be needed as compared to chemical fertilizers alone. It is also possible to dissolve this in water, and spray it on leaves, rather than broadcast it on the ground. The lower cost of the fertilizers (including the cost of spraying water-mixed nano biofertilizers) provides lower costs to the farmer, lower environmental damage, as well as reduces imports, and need for enhancing the domestic manufacturing capacity of chemical fertilizers.
TERI proposes an allocation for a National Bio Fertilizer Mission, which supports extension and education of farmers on the benefits of nano biofertilizers, and produces information and field trials for greater acceptance of biofertilizers.
7) R&D Support for Zero-Carbon Technologies in the Steel and Cement Sectors: Cement and steel production capacity in India is expected to triple by the mid-2030s; current technologies for both these industries will lead to unavoidable CO2 emissions. The plants that are set up now would have a productive life of 30-40 years, and it is expected that they would be subject to CO2 emissions reduction requirements during that period. Consequently, the development and installation of low or zero-carbon technologies would provide an opportunity to avoid stranded assets, as well as to supply such technologies to countries (in Africa) where these facilities will be set up in the future.
The developed countries and China have already established these facilities and do not have any urgent need for low/zero CO2 emissions technologies. On the other hand, the least developed countries are still not at the point of rapid growth of these sectors. In other words, India is more-or-less the only country that faces the issue of technology investments today (and during the coming decade) in these sectors which could become stranded assets in the future. It is, therefore, necessary for the Indian steel and cement industries to invest in developing technologies for low/zero CO2 emissions process.
TERI suggests that allocation is made for promoting R&D of low/zero CO2 emissions technology for the steel and cement sectors. The resources could be provided to research institutions working with the private sector in these areas. This would encourage joint development and investment by the corporate sector.
Suggestions for enabling policy approaches
A) National Plastics Recycling Fund: The Government could create a National Plastics Recycling Fund, which is financed from the sales of plastic products and provides resources for the collection of plastic wastes, and recycling of plastic waste. The existing waste management rules of Ministry of Environment, Forests and Climate Change (MoEFCC) already require Extended Producer Responsibility (EPR) in the management of plastic waste. However, it is very difficult to specifically link a particular plastic waste to a particular manufacturer of plastic products; and EPR initiatives have floundered on issues of financial responsibilities and cost-sharing.
TERI suggests that the creation of a National Plastic Recycling Fund would provide the institutional measure to enable the collection of plastic waste and their recycling. This could create new enterprises and would enable plastic waste to be effectively removed because of the monetary benefit to the waste collectors and recyclers.
B) Introduction of a Resource Efficiency Policy: The Environmental Protection Act provides the legislative framework to enable enhanced resource efficiency and recycling of wastes. This enabling legislation could be used by various Ministries to require greater resource efficiency and recycling. It may be pointed out that the Ministry of Electronics and Information Technology (E&IT) is currently in the process of utilizing this framework to enable resource efficiency and waste recycling in the electronics sector.
The government could signal its intention to bring out a Resource Efficiency Policy (or a Circular Economy Policy), during 2020-21. The MoEFCC has prepared a draft Resource Efficiency Policy, which is currently undergoing public consultation.
Suggestions for GST Council
There are other areas/sectors that TERI wishes to highlight, but need to be addressed through the GST Council:
A) Promotion of sales of high-efficiency heating and cooling appliances: TERI suggests that the GST on high-efficiency equipment (4 or 5 star) should be kept in the lowest GST bracket and that less efficient equipment (1 or 2 star) kept in the higher GST bracket. The process would send a signal about the intention of the Government to promote energy efficiency, and would be revenue neutral as well.
B) Promoting Low Emissions Vehicles: BS-II and BS-III vehicles currently account for approximately 40% of the vehicular pollution in Delhi. Even though personal vehicles that are used in Delhi are limited to a life of 15 years, and commercial vehicles to a life of 10 years, it would be many years before the high emitting vehicles are removed from the system.
TERI propose that buyers willing to move from BS-II and BS-III vehicles to newer BS-VI vehicles could be provided with either exemption from GST for the new BS-VI vehicle purchase or a lower GST rate. The upfront price benefit would accelerate the early retirement of BS-II and BS-III vehicles, which would substantially improve the air quality in urban areas.
About TERI:
The Energy and Resources Institute (TERI) is an independent, multi-dimensional organisation, with capabilities in research, policy, consultancy and implementation. It has pioneered conversations and action in the energy, environment, climate change, and sustainability space for over four decades.
The institute's research and research-based solutions have had a transformative impact on industry and communities. Headquartered in New Delhi, it has regional centres and campuses in Gurugram, Bengaluru, Guwahati, Mumbai, Panaji, and Nainital, supported by a multidisciplinary team of scientists, sociologists, economists and engineers, and state-of-the-art infrastructure.
For further information, contact:
TERI – Aastha Manocha: aastha.manocha@teri.res.in
TERI – Dhawal Trivedi: dhawal.trivedi@teri.res.in
Edelman – Rakhi Aurora: rakhi.aurora@edelman.com