Green growth measures being put in place to reduce of GHG emissions in shipping sector: Union Minister Mr Sarbananda Sonowal at WSDS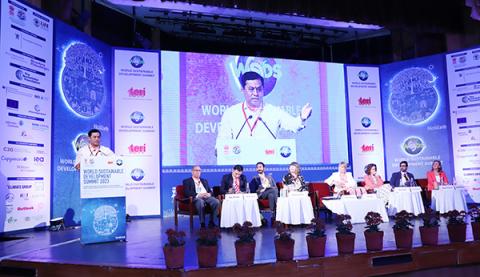 New Delhi, February 23, 2023: Underscoring the imperative need to green the energy and resource intensive shipping sector, Mr Sarbananda Sonowal, Union Minister for Ports, Shipping and Waterways, speaking at the World Sustainable Development Summit (WSDS) in New Delhi on Thursday, said that multiple pollution mitigation measures are being put in place in major ports to enable the reduction of Greenhouse Gas emissions in the Indian shipping sector by 30 per cent by 2030.
Among the measures adopted are mechanised mode of dry bulk handling and conversion of diesel RTGs to electric hybrid RTGs, the Minister added.
"About 99% of the energy demand from coastal shipping sector is presently met by fossil fuels. According to the International Maritime Organization, any unchecked measures will take emissions associated with shipping sector to anywhere between 50% and 250% by 2050 in comparison to 2008 emission levels," said the Minister at the session on 'Instruments and Leadership for Inclusive Green Growth.' He noted that initiatives such as the National Centre of Excellence in Green Port and Shipping, a collaboration between the Ministry for Ports, Shipping and Waterways and The Energy and Resources Institute (TERI), will play a transformational role in meeting the 2030 targets.
Mr Sonowal emphasized the need to develop a roadmap for greening the shipping sector in India, as well as to reduce pollution intensity and evolve strategies to introduce renewable energy and green hydrogen in the shipping sector.
Giving a perspective from Norway, Ms Gina Lund, Governor, Agder County, highlighted the practical challenges of putting sustainable development into practice, especially when the universally accepted goals and the legitimate local and individual interests are in conflict. "Sustainability is most impactful at the local level. In our country, the lack of political coherence and conflicts between local and national interests is a major challenge. One of my main responsibilities is to ensure municipalities comply with national politics and legislations set by Norwegian government and Parliament," said Ms Lund.
She observed that Norway's surplus renewable energy capabilities are attracting space intensive businesses, but it, in turn, is also putting a heavy burden on the country's natural areas as well as the housing sector. "We have developed several tools to bring a balance between growth and the protection of the environment," she said.
Elaborating on the initiatives taken by Finland to make growth inclusive and green, Ms Terhi Lehtonen, Deputy Minister, Ministry of Environment for Finland, said "In Finland we have set in legislation a target to be climate neutral by 2035 and carbon negative soon thereafter. Our electricity generation is already 85 per cent CO2 emission free and this year should rise to about 95 per cent." Ms Lehtonen asserted that greening the energy sector alone will not be enough, but a commitment to circular economy is essential. "Redesigning consumption and production require rethinking both policy and business models," she added.
Ms Helen Clarkson, CEO, The Climate Group, focussed on the need to bring in state and regional governments into the emission reduction discourse. "One of the networks we bring together is the Under2 Coalition which involves state and regional governments from around the world. It is the coalition with the greatest potential for emissions reduction."
Identifying finance as the key barrier faced by state and regional governments, Ms Clarkson added, "Facilitating climate finance and diversifying fiscal base for green growth should absolutely be a top priority. Capacity building should be top of the agenda to deliver the transformational change needed." She added that both the national and sub-national finance ministries need to increase their capacity with instruments such as green budgeting, and carbon tax and pricing."
Observing the need to bring social inclusion back into the heart of climate finance, Mr Kartikeya Desai, Founder, Desai & Associates, said, "It is absolutely possible to tackle adaptation financing by leveraging the principles of social finance. India is the country best positioned to do so." Drawing attention to the need for financial models to enable green transitions, Ms Kathleen McGinty, Vice President and Chief Sustainability Government and Regulatory Affairs Officer, Johnson Control, said "We have never been better situated to figure out how we mobilise the financial resources but the question is what are the best models, what are the best ideas for this."
Suggesting measures that could be part of the Green Development Pact, Mr Jagjeet Singh Sareen, Principal, Dalberg Advisors observed that the pact should bring G20 members together on a climate competitiveness framework or principles. "Our recommendations on climate finance would be to expand the scope of climate finance and make climate smart transition of the financial sector overall. Also, let's build infrastructure which enhances our resilience rather than enhancing the resilience of the infrastructure we have already built," said Sareen.
Taking part in the session, Mr Abhinav Singh, Director, Amazon India said, "Addressing climate change requires a virtuous cycle. It starts with a bold commitment, goes on to investment, and then deliberate actions. It is required not just by the organisation or the government, but all levels of society."