'Good' air days are increasing, need people's participation for clean air: Prakash Javadekar
---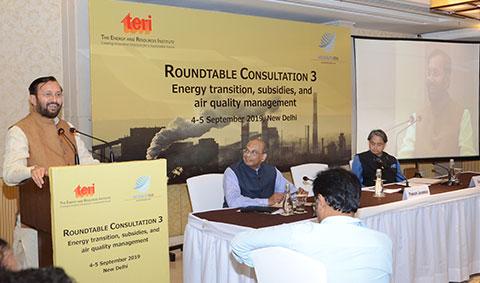 At a two-day roundtable consultation co-organised by The Energy and Resources Institute (TERI) and AirQualityAsia (AQA), TERI presented recommendations to strengthen National Clean Air Programme (NCAP)
September 6, New Delhi: Honourable Union Minister of Environment, Forest and Climate Change, Prakash Javadekar in his inaugural address of the third roundtable said, "During the months of October-November, biomass burning has reduced by about 30% and we're closer to feasible and viable solutions such as farmer subsidies to address biomass burning in Punjab and Haryana. The immense magnitude of the problem can not be solved by the government alone; people will have to participate in public campaigns for clean air in India."
"Compared to the air quality of Delhi in 2016, the number of days in 'good' and 'satisfactory' categories has increased from 108 to 159. And bad days have reduced from 246 to 206 in 'poor' and 'very poor' categories," emphasized the Union Minister.
The discussions on September 4-5 were part of the Third Roundtable Consultation focused on energy transitions, subsidies, and air quality management to strengthen National Clean Air Programme. The two-day discussions brought together a diverse group of stakeholders for providing answers to India's challenge of poor air quality. The NCAP was launched in January 2019 to mitigate air pollution, monitor particulate matter (PM) levels, and build public awareness towards air pollution across the country.
Hopeful to find blue skies in Delhi in his lifetime, Dr Shashi Tharoor, Member of Parliament, Lok Sabha, and Board Member, AQA, said, "Like anti-tobacco and polio campaigns, mass mobilisation is essential to tackle air pollution and clean air should be made a politically salient issue. We must recognise that the consequences of air pollution are not limited to purely environmental concerns, it is a national health issue that can derail the development story of India." AirQualityAsia (AQA) is an international air quality advocacy group working to help legislators implement the clean air.
Voicing disappointment over the limited discussions on air quality in Parliament, Tharoor said that there should be more people in the political space, at all levels, talking about the hazards of air pollution. He expressed that the National Clean Air Programme is a welcome step to combat air pollution, but it must be rolled out effectively by political consensus to comprehensively bring down air pollution levels.
Dr Ajay Mathur, Director General, TERI in his remarks said, "We are subject to a wide variety of air pollutants like dust coming into Delhi NCR from neighbouring regions. In North India, biomass burning, in households and fields, is one of the factors responsible for poor air quality in Delhi. Addressing air pollution makes sense for our health as well as the country's productivity. As we look at the future, moving from biomass burning to LPG is a win-win situation to address both indoor and outdoor air pollution."
Mr. Sumit Sharma, Director, Earth Science and Climate Change Division, TERI said that the recent analysis of air quality data shows a directionally positive movement, but many measures need to be taken to strengthen the NCAP. He suggested a ten-point agenda towards it:
Initiate regional (state level) assessments
Assessment and control of secondary pollutants (e.g. ozone and secondary particulates)
Track PM2.5 constituents to assess progress
Leverage co-benefits of air quality improvement and climate change mitigation
Prioritise NCAP actions for early improvements in air quality
Developing business models for crop burning, emission trading, fleet modernisation
Use existing low-cost models for forecasting and spatial mapping of air quality
Control Short-lived climate pollutants (SLCPs) to complement efforts for climate change mitigation
Use technology to strengthen enforcement
Enhance central and state budgets for control
He further added that by enforcing these measures, the ambition of NCAP can be raised from its current levels of 20-30% reduction in particulate concentrations.
In an earlier session on energy transitions, Smt Meenakshi Lekhi, MP, New Delhi emphasized on localized renewable energy solutions to tackle air pollution. Emphasizing that solving air pollution needs a systems approach, she said, "Producing clean energy from organic solid waste can give us dual benefits of better waste management and clean air." "We will need trained manpower on a sustained basis for tackling air pollution across India," pointed out Dr. Mukesh Sharma, Professor, Indian Institute of Technology Kanpur at the panel discussion chaired by Shri Gaurav Gogoi, MP, Assam.
Speaking on behalf of the Confederation of Indian Industry (CII)'s initiatives to tackle the problem of crop residue burning in Punjab, Ms. Seema Arora, Deputy Director General, shared "for the first time, about 80% farmers have adopted alternate technologies to manage crop residue under a pilot project in Ludhiana and Patiala districts. There was zero stubble burning on 12,000 acres of farmland in villages adopted in Punjab by the initiatives. "As an industry, we have technology and solutions for making stubble burning issue history in our country while making the farming more sustainable," she further added.
Prashant Gargava, Member Secretary, Central Pollution Control Board of India highlighted, "With an ambitious but achievable target, NCAP has a clear roadmap for implementation. The CPCB has its own certification agency to promote indigenous manufacturing of air quality management infrastructure. Apart from the current list of 102 cities, we are planning to set up 1500 more monitoring stations in cities and towns to monitor air pollution levels. He stressed that NCAP needs more legal teeth, on the issue of non-compliance, such as enforcing mandatory regulations."
About TERI
The Energy and Resources Institute (TERI) is an independent, multi-dimensional organisation, with capabilities in research, policy, consultancy and implementation. It has pioneered conversations and action in the energy, environment, climate change, and sustainability space for over four decades.
The institute's research and research-based solutions have had a transformative impact on industry and communities. Headquartered in New Delhi, it has regional centres and campuses in Gurugram, Bengaluru, Guwahati, Mumbai, Panaji, and Nainital, supported by a multidisciplinary team of scientists, sociologists, economists and engineers, and state-of-the-art infrastructure.
For further information, contact:
TERI – Dhawal Trivedi: dhawal.trivedi@teri.res.in
Edelman – Rakhi Aurora: rakhi.aurora@edelman.com