Global Coalition of Energy, Industry and Finance Leaders Calls for Economic Stimulus to be Invested in the Economy of the Future
---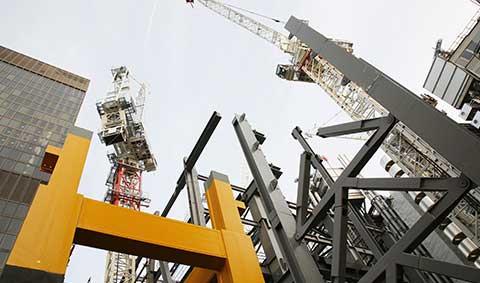 The Energy Transitions Commission highlights 7 key priorities to help the global economy recover while building a healthier, more resilient, net-zero-emissions economy
New Delhi, 6 May 2020: The Energy Transitions Commission, a global coalition of leaders from across the energy, industry, finance and civil society sectors, today outlined some key priorities to both support economic recovery from today's crisis and underpin the energy transition required to avoid climate crises in the future.
The COVID-19 crisis has dramatically demonstrated the unpreparedness of the global economy to systemic risks, despite early warnings from scientists. CEOs, Chairpersons and Senior Executives from 40 organisations, including BP, Dalmia Cement, Iberdrola, Envision, Heathrow Airport, HSBC, Orsted, Schneider Electric, Shell, SNAM are amongst those calling upon governments "to spend economic stimulus packages wisely and invest in the economy of the future".
In a statement released by ETC, "As of May 5, 2020, there have been more than 250,000 COVID-19 related deaths globally and this deadly toll has not yet been stopped by emergency measures. It has also brought the world economy to a standstill, provoking an abrupt fall in GDP and in international trade. In this unprecedented crisis, the first priority is to protect populations and urgently reinforce health care systems. The abrupt economic downturn also called for immediate economic crisis response, leveraging monetary and fiscal stimulus to protect businesses, jobs and households from collapse. As countries start to emerge from emergency, efforts are progressively turning to economic recovery.
Today, we call on governments of the world to spend economic stimulus spending wisely and invest in the economy of the future. We come from global organisations across the energy, industry, finance and civil society sectors. Our companies and organisations have been impacted by the economic downturn. We are acutely aware of the imperative to support corporates shaken by the crisis and restart the global economy fast. We are also committed to learn the lessons from the COVID-19 crisis, which has dramatically demonstrated the unpreparedness of the global economy to systemic risks, despite early warnings from scientists.
Our companies – and many others around us – have the ambition, the technologies and the skills to build a healthier, more resilient, net-zero-emissions economy, that drives sustainable economic prosperity. The Energy Transitions Commission, of which we are members, has defined some key priorities to help the global economy recover while building this better economy. Governments have the choice, the power and the responsibility to build it faster with us".
The Energy Transitions Commission outlines seven key priorities for the next wave of government stimulus to boost economic recovery while building a healthier, more resilient, net-zero-emissions global economy:
Unleash massive investment in renewable power systems – With demand for electricity growing fast due to electrification, the renewable energy sector constitutes the biggest investment opportunity of the next decade and has the potential to create more than 17 million jobs globally by 2030 while providing cheaper power to households and businesses (Source: IRENA). Governments should accelerate investment in renewable power generation, flexibility provision and grid infrastructure. They can achieve it by de-risking private investment through competitive auctions for renewable power generation, enabling investment in transmission and distribution grids, and fast tracking the planning process on shovel ready projects.
Boost the construction sector via green buildings and green infrastructure – A massive investment plan is needed to revitalise the economy and get people back to work. This spending should go to investments required in key energy and energy-using sectors by 2030 to put the global economy on path to low-carbon energy systems – evaluated to US$50 trillion (Source: NCE). The construction sector can initially be boosted by focusing on energy retrofitting of currently empty public buildings, then on retrofitting of commercial and residential buildings, as well as on energy-efficient new builds in urbanising countries. Beyond buildings, major infrastructure projects focused on new energy networks, low-carbon transport, digital and urban development would stimulate the economy and improve quality of life in developed and developing countries.
Support the automotive sector while pursuing clean air – During lockdown, urban populations have experienced first-hand and in a dramatic way what clean air looks like. Meanwhile, the automotive sector has been severely hit by the global economic standstill. Both urban populations and automotive manufacturers would benefit from incentives such as car-scrapping and purchase subsidies, with greater support for electric vehicles and a rapid phase-out of support for internal combustion engines vehicles. Direct financial support to car manufacturers could also be subject to setting a phase out date for ICE production (ideally in the early 2030s for two/three-wheelers and passenger cars) and focused on investments needed to shift to electric mobility.
Make the second wave of government support to businesses conditional to climate commitments – The second wave of economic support from governments will be focused on rebuilding national economies. It should incentivise the transition to more sustainable and resilient business models to strengthen each country's economic fabric ahead of future climate-related shocks. Climate conditionalities should focus on medium term targets so as not to slow down recovery and may need to differ between corporates and SMEs. They should include clearly defined decarbonisation targets for 2030, in line with an objective of net-zero emissions by 2050, an obligation to disclose climate-related financial risks from 2021, and investment plans demonstrating how new investments will contribute to the companies' emissions reduction trajectory. In heavy-emitting sectors such as automotive, aviation and energy-intensive manufacturing, specific commitments could be developed in line with sectoral low-carbon transition requirements.
Provide targeted support to innovative low-carbon activities – Stimulus packages should champion the development and early deployment of innovations which have the potential to drive the competitiveness of national economies and reduce greenhouse gas emissions. This is the case of zero-carbon hydrogen production, low-carbon fuels for the shipping and aviation industry, low-carbon materials (like green cement or green steel), circular business models (in particular used materials collection and recycling activities), digital solutions for system and energy efficiency, among many others. Government can support this new economic sectors through continued innovation support focusing on early stage development and industrial-scale deployment, financial support mechanisms such as loan guarantees to de-risk and lower cost of capital for early deployment, and new regulations like fuels mandates or lifecycle emissions regulations to create demand at scale for new products.
Accelerate the transition of the fossil fuels industry – As the world progresses towards a lower-carbon economy, demand for fossil fuels is likely to shrink. This combined with the unprecedented fall in oil and gas prices over the past month has opened a window of opportunity for governments to accelerate the transition of the fossil fuels industry. For major energy importers, this represents a key opportunity to remove any remaining fossil fuels consumption subsidies, made unnecessary in a period of low prices, and to increase fossil fuel taxes without triggering significant consumer price increases. Those reforms could provide a useful source of fiscal revenues in a period of high countercyclical public spending. For oil and gas producing countries and coal-rich economies, fiscal stimulus could usefully be invested in an early phase-out of the least competitive assets, the diversification of their economy, and supportive measures for workers and regions which will be impacted by the transition.
Do not let carbon pricing and regulations spiral down – In the wake of the COVID-19 crisis, carbon prices and carbon regulations which are already in place might find themselves under renewed attack. The ETC encourages governments to stand firm: stimulating demand across multiple sectors of the economy will be more effective for economic recovery and have more lasting economic effects than deregulation. Although carbon prices and regulations might be perceived by some as a cost today, they are essential policy tools to build a resilient economy and lessen the risks of major climate-related economic crises in the coming decades.
Member quotes:
Dr. Ajay Mathur Director General, The Energy and Resources Institute & Co-Chair, Energy Transitions Commission
"India's targeted fiscal and financial sector measures aim at shielding vulnerable households and firms from the adverse economic impacts of the COVID-19 pandemic. These measures, which include food and cooking gas supplies to lower-income households, wage support to low-wage workers, three-month moratorium on loans repayments, as well as insurance coverage for frontline health workers, provide a survival net for the most vulnerable sections of Indian society. Obviously, more is needed - and given the limited fiscal capacity, we hope that next steps would provide additional support, especially for the revival of the small and medium scale industrial sector which is the backbone of the economy, as well as the largest source of job creation in the country, and for enhancing investment in opportunities that create jobs, sustainable livelihoods, and spur economic growth".
Laurence Tubiana, CEO, European Climate Foundation
"All the evidence we have suggests people want cleaner air... after months of worrying about our lungs, it would be crazy to pump money into dirty businesses. What the commission clearly identifies is that there is another way. Not only do renewable energy, electric cars and the host of new clean technology we have at our fingertips make health sense, they also make economic sense and will create thousands of new jobs. It's time we embrace the economy of the future, not dirty ones of the past".
John Holland-Kaye, CEO, Heathrow Airport
"Aviation will be fundamental to the economy recovering. But we must take the opportunity to build back better, cutting carbon from flying so that we tackle the greatest long-term challenge we face. There is one big thing aviation must do in the 2020s –scale up its use of Sustainable Aviation Fuel. By creating the right incentives and regulation, and investing its own funds, the Government can help make low-carbon fuels commercial and kick-start a whole new industry. This will give the UK a global lead in a sunrise sector while also helping to level up the country by investing in areas that have the industrial skills and infrastructure that will be needed".
Carlos Sallé, Senior Vice-President of Energy Policies and Climate Change, Iberdrola
"The immediate priority for all is to effectively tackle the health crisis and support vulnerable members of our society, whose incomes have been specially hit.
As we look to the future, it is important to remember that the climate crisis remains the biggest threat to society. This threat has been reinforced by the arrival of COVID-19. Scientists have warned that an increase in pandemics is another collateral effect of climate change, as current human activity trends show an acceleration in the loss of biodiversity, weakening a natural barrier that reduces the risk of Zoonotic diseases.
In face of this challenge, aligning fighting against climate change with recovery stimulus packages is a "win – win" situation : this will create sustainable jobs, due to the competitiveness of low carbon technologies, which will help to re-energize the economy, in a more resilient way, through the reduction of collateral effects, like extreme weather events, increase of temperature, reduction of air pollution, preservation of biodiversity (that leads to a reduction of future pandemics), etc.
We have the scientific recommendations, the economic resources, the technology, the skills, and the knowledge that we can create a better world. Now is the time to deliver. What are we waiting for?"
Pierre-André de Chandelar, Chairman & CEO, Saint Gobain
"Energy efficiency is core to energy transition. Today, too many buildings such as homes, schools, hospitals, for example, around the world are highly inefficient. Governments should earmark a significant portion of their recovery plans to energy retrofitting the housing and construction sector. Besides helping to reduce greenhouse gas emissions, such a large-scale retrofit would provide health and well-being, numerous jobs and stronger social cohesion"
Martin Lindqvist, President and CEO of SSAB
"The Covid-19 pandemic is affecting our societies and our lives and is threatening to bring us into a global recession. Now is the time to act. If we take the right measures, we have a unique chance to solve both the crisis affected by the pandemic and the climate crisis at the same time. The way we rebuild the economy will have consequences for what technical leaps and business models we make possible for the coming decades."
Andreas Regnell, Senior Vice President of Strategic Development, Vattenfall
"Vattenfall is heavily affected by the Corona crisis, particularly through the steep decline in electricity price. We nevertheless stay committed to our strategy of making it possible for our customers to live fossil free lives within one generation. We will do our upmost to keep our investments in fossil free technologies on a high level. In this context we believe that the 7 priorities brought forward by the ETC provides an excellent platform for a strong and green recovery from the Corona crisis".
About the Energy Transitions Commission
The Energy Transitions Commission (ETC) is a global coalition of leaders from across the energy landscape (energy producers, energy-intensive industries, technology providers, finance players, environmental NGOs) committed to achieving the Paris climate objective of limiting global warming to well below 2°C and ideally as close as possible to 1.5°C. Our work combines analysis to define how that objective can be achieved, and engagement with public policymakers, industry initiatives, and individual companies, to encourage and energise action which will ensure change pathways are implemented and targets achieved.
Cover letter and the list of signatories:
http://www.energy-transitions.org/sites/default/files/COVID-Recovery-CoverLetter.pdf
Read the full ETC recommendations:
http://www.energy-transitions.org/sites/default/files/COVID-Recovery-Response.pdf
For press information please contact:
Caroline Randle, Communications Manager, Energy Transitions Commission. Telephone +44 (0)7796 140461, email: caroline.randle@systemiq.earth
Edelman – Rakhi Aurora: rakhi.aurora@edelman.com