Experts at multi-stakeholder dialogue emphasise the need to understand the complex nexus of climate change, migration and gender
---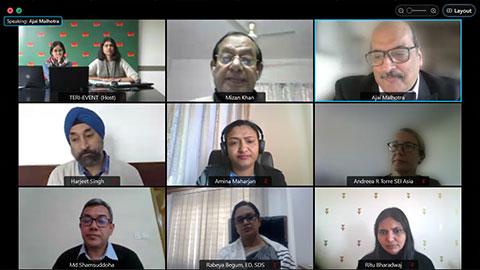 February 9, New Delhi: The need to unpack the nexus between climate change, gender and mobility in all its complexity and create social protection mechanisms and policies to tackle the issue was underscored by researchers and experts at a multi-stakeholder dialogue organised by The Energy and Resources Institute (TERI) in collaboration with the Climate Action Network South Asia (CANSA) on Wednesday in New Delhi.
Devastating effects of climate change – floods, glacial lake flood outbursts, droughts and cyclones -- have triggered widespread displacement in the South Asian region. The Internal Displacement Monitoring Centre had reported internal displacement of nearly 10 million people in the region in 2019 as a result of sudden onset events.
The discussion on 'Engendering Climate Induced Migration: Perspectives from Asia' chaired by Mr Ajay Malhotra, former Ambassador and Chairperson of the Advisory Committee to the United Nations Human Rights Council, and Distinguished Fellow, TERI, focussed on the ways to integrate human rights and gender analysis into national, regional and global policy frameworks in order to respond to climate and environment induced migration challenges in South Asia.
Mr Malhotra emphasised the need to have a methodology to incorporate grassroots perspectives to policy on climate change and migration, and factor in gender considerations into the framework.
Mizan R. Khan, Deputy Director, International Centre for Climate Change and Development, Bangladesh, and Programme Director of Least Developed Countries University Consortium on Climate Change, said it is imperative to build local-level adaptations to climate change across border areas. "Otherwise, borders tend to become ghettos." Prof Khan pointed out: "It has taken years to bandwagon human rights and climate change." Migrations triggered by climactic conditions, he said, were "violations of developmental rights."
The project 'Engendering Climate Induced Migration' was initiated by TERI along with CANSA as part of Stockholm Environment Institute's Strategic Collaborative Fund Phase 2 programme to foster an understanding of climate induced migration through a human rights and intersectionality approach.
Speaking at the discussion, Dr Andreea Raluca Torre, Research Affiliate, Stockholm Environment Institute, emphasised the need to understand the concept of 'vulnerability' in research as well as policy making. "The correlation between climate change and mobility is not straightforward, but complex and dynamic, and rooted in pre-existing conditions," noted Dr Torre. She observed that socio-economic as well as historical and cultural conditions are intrinsic to climate migrations. The intersectional approach challenges the one size fits all strategy of developing solutions, she adds.
Dr Amina Maharjan, Livelihoods Specialist on Migration for the International Centre for Integrated Mountain Development, Nepal, asserted the need to step out of silos and work with greater synergy between stakeholders. Dr Mini Govindan Fellow, TERI, shared case studies from Uttarakhand where women have been at the receiving end of climate induced migration. Ritu Bharadwaj, Senior researcher, International Institute for Environment and Development, made distinctions between 'sudden' and 'slow' onset climate events and their impact on vulnerability, displacement and women. "Not enough research is done yet on the impact of slow onset events such as drought and sea-level rise on vulnerability and women," she noted. Mr Harjeet Singh, Senior Advisor, CAN International and Strategic Advisor - Global Partnerships, Fossil Fuel Non-Proliferation Treaty Initiative, asserted the need for learning from the experiences of other countries and develop a pro-active way of looking at migration.
About TERI
The Energy and Resources Institute (TERI) is an independent, multi-dimensional research organization, with capabilities in policy research, technology development, and implementation. Headquartered in New Delhi, TERI has regional centres and campuses in Gurugram, Bengaluru, Guwahati, Mumbai, Panaji, and Nainital, supported by a multi-disciplinary team of scientists, sociologists, economists, engineers, administrative professional and state-of-the-art infrastructure.
For details, e-mail:
P Anima: animap@teri.res.in
Sumit Bansal: sumit.bansal@teri.res.in