Experts emphasize the need to institutionalize green budgeting at workshop held in Puducherry
---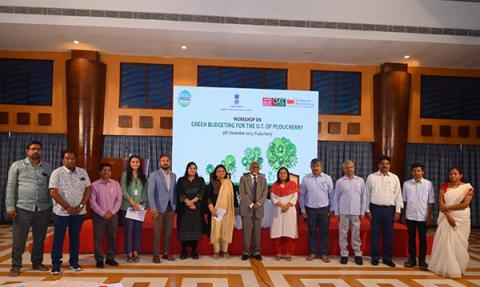 Puducherry, December 9, 2022: The significance of green budgeting as a policy innovation that can aid in mainstreaming sustainable development across government departments was underscored by experts at a 'Workshop on Green Budgeting for the Union Territory of Puducherry' jointly organized by the Puducherry government's Department of Science, Technology and Environment, Finance Department, and the New Delhi-based The Energy and Resources Institute (TERI) in Puducherry on Friday.
The workshop was attended by more than 50 government officials in charge of budget-making decisions from the departments of finance, labour, agriculture, police, tourism, higher education, public works, women & child welfare, health, planning, local administration, planning and research, rural development, town planning, and others. Experts asserted that green budgets can be a useful public finance tool for systematically mapping and tracking allocations, outlays, expenditures, and policies.
Delivering the keynote address at the workshop, Dr A Muthamma, Secretary of Department of Science, Technology and Environment, Government of Puducherry, underscored the need for reorientation within existing schemes to better factor in environmental sustainability. Observing the impact of extreme weather events on agricultural yields and farmers, she implied that environmental concerns affect social domains as well.
Emphasizing the need to institutionalize green budgeting, Dr Prodipto Ghosh, Distinguished Fellow, TERI, said, "Green budgeting is an evolving process which is based on the rationale that as public policy objectives evolve, budget lines should factor in improving environmental quality as well."
Speaking at the workshop, Ms P Priytarshny, Director, Department of Science, Technology and Environment, emphasized that policy innovations such as green budgeting are becoming more important in the backdrop of worsening environmental and climate change impacts.
Giving an orientation presentation on green budgeting, Dr Shailly Kedia, Senior Fellow and Associate Director, TERI, emphasized that innovations within existing schemes are important. She outlined the six pillars of green budgeting which include mainstreaming; resource allocation; planning, coordination and innovations; transparency and accountability; evaluation and monitoring; and policy signals.
The mechanism of green budgeting follows a bottom-up process for identifying components of schemes that contribute to environmental sustainability. It aligns with the strategic priorities of the state as well as the environment-related Sustainable Development Goals related to areas of climate, water, energy, ecosystems, and responsible consumption and production. Green budgeting seeks to mainstream sustainable development by involving all departments through budgeting exercises and enhances transparency and accountability of budgeting processes.
Talking about the introduction of the green budget concept in Bihar, Mr Vivek Tejaswi, Deputy Director, Asian Development Research Institute (ADRI) emphasized that Bihar's experience can enrich the green budget pathway for Puducherry. Speaking at the workshop, K Kalamegam, environmental engineer, DST&E, Puducherry, outlined the need to circulate the pro-forma for green budgeting.
About TERI
The Energy and Resources Institute (TERI), based in India, is an independent, multi- dimensional research organization with capabilities in policy research, technology development, and implementation. An innovator and agent of change in the energy, environment, climate change and sustainability space, TERI has pioneered conversations and action in these areas for nearly five decades. Headquartered in New Delhi, it has centres in six Indian cities, and is supported by a multi-disciplinary team of scientists, sociologists, economists, engineers, administrative professional and state-of-the-art infrastructure.