Economic strategy to climate action cannot be myopic, says Union Minister Smriti Irani at Davos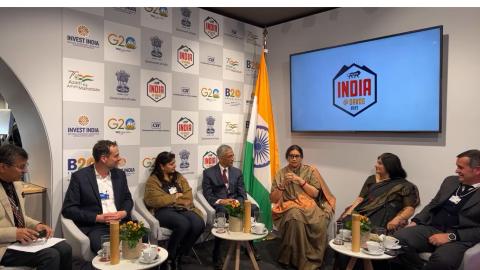 Davos, January 19, 2023: Underscoring the need to prioritise sustainable living and make consumption climate friendly, Ms Smriti Irani, Union Minister of Women and Child Development of India, said 'Lifestyle for the Environment – LiFE' individualizes responsibility towards climate action. The Minister was speaking at a fireside chat organised by the Ministry of Commerce and Industry, and Invest India in association with The Energy and Resources Institute (TERI) at the annual meeting of the World Economic Forum (WEF) in Davos on Thursday.
Observing that circular economy is not a new strategy, but a way of life in India, Ms Irani said, Mission LiFE -- which was introduced by Prime Minister Mr Narendra Modi at COP26 in Glasgow -- makes individual action central to the global effort. "Prime Minister Modi's agenda of LiFE needs to be looked at in the finer details of the ethics he is trying to propagate," she said at the session on 'Circular Economy: The Path to a Sustainable Lifestyle'.
Emphasizing that the economic strategy to climate action cannot be myopic, Ms Irani said, "The best way to show that we mean business is by fulfilling the commitment to climate action finances. Can we start computing the damage when you delay climate action finance?" she asked. Noting that the impacts of climate change on women and children are yet to be factored and accounted for, she said, "We are so focussed on the solutions that we have not addressed the foundations of this challenge: What is the disaster impact on women and children?" She asserted the need to create a framework for first-responders, civil society actors as well as businesses in the event of climate change disasters.
Noting that circular economy will feature as a central theme in India's G20 agenda, Mr Parameswaran Iyer, CEO, NITI Aayog, pointed out that the concept will complement LiFE well. "LiFE exhorts individuals and communities to see how they can make a difference. It will trigger demand from industry and corporations. If you can demand environmentally friendly, sustainable products that will stimulate the market, it will lead to policy changes," said Mr Iyer.
The fireside session moderated by Mr Rajendra Ratnoo, Joint Secretary, Department for Promotion of Industry and Internal Trade, Ministry of Commerce and Industry, Government of India, brought together thought leaders and global business heads to discuss mainstreaming sustainable consumption and lifestyles.
Taking part in the session, Dr Vibha Dhawan, Director General, TERI, observed that circularity as a concept is engraved in the DNA of every Indian. "Nothing is waste material until it is wasted. The idea is not about throwing things away, but about bringing them back into the cycle," said Dr Dhawan. She effectively illustrated the idea of circularity when she drew attention to how EV batteries which are discarded after use can actually be reused for solar energy.
Pointing out that public-private partnerships are the need of the hour to scale up the idea of circularity, Ms Vaishali Nigam Sinha, Chief Sustainability Officer, ReNew Power, said, "Education leads to sensitisation which leads to responsible citizens. It is a very important part of the LiFE programme; we are signatories of LiFE through a climate education programme. As private players who are working on the ground, it is our responsibility to take it to the community."
Mr Cyril Garcia, Global Sustainability Services and Corporate Responsibility Head and Member of the Group Executive Board, Capgemini Group, said that there is a social demand for circularity. Drawing attention to the criticality of resources, he emphasized the need for political will at the global and country level to make specific frameworks that work for each geography.
Observing that circularity as a concept calls for systemic changes, Mr Christian Kaufholz, Head, Community Engagement and Impact ‐ Resource Circularity, WEF, said, "We are definitely not where we have to be when it comes to circular economy and time is running out. While we see pockets of innovation, we do not see the fundamental systems change." Mr Kaufholz added that circularity demands a new way of thinking. "It is across industries, and systemically, we need to find opportunities for radical innovation and reinvent business models," he said.
Watch the proceedings here:
About TERI
The Energy and Resources Institute (TERI), based in India, is an independent, multi- dimensional research organization with capabilities in policy research, technology development, and implementation. An innovator and agent of change in the energy, environment, climate change and sustainability space, TERI has pioneered conversations and action in these areas for nearly five decades. Headquartered in New Delhi, it has centres in six Indian cities, and is supported by a multi-disciplinary team of scientists, sociologists, economists, engineers, administrative professional and state-of-the-art infrastructure.
For more information, contact:
P Anima – animap@teri.res.in
Sumit Bansal – sumit.bansal@teri.res.in