Climate education is key to climate action: Experts at COP27
---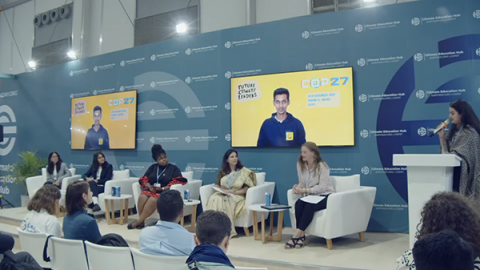 Sharm el-Sheikh, November 14, 2022: With On Gender Day at COP27 in Sharm el-Sheikh, Egypt, Evergreen Story and The Energy and Resources Institute (TERI) organized a Side Event on 'Future Climate Leaders- Role of Youth in Climate Change Discourse: Inspiring solutions from Local to Global Level' by hosting young women-led initiatives working in the space of climate education from a host of countries and regions ranging from India, Turkey, Cameroon, Egypt, Nigeria and the European Union.
CLIMATE CHANGE represents one of the most controversial and least understood threats to human and economic well-being. Yet, it also presents a clear and present opportunity for action, especially from the most affected, vis-a-vis the youth. Throughout history, generations of youth have catalyzed change. To accelerate environmental sustainability, we need to hear youth's perspectives and capitalize on their energy and ideas. We urgently need to de-jargonize climate change discourse and provide thought-leadership and inspiration among youth to accelerate climate action and foster skills for climate action.
Against this background, Evergreen Story and TERI organised this event at COP27 to showcase solutions and engage in a global discussion to derive on ground leverage of climate education and youth action from a local to global level.
Inaugurating the session Mr RR Rashmi, Distinguished Fellow and Programme Director, Earth Science and Climate Change, TERI said, "Youth have always been the pioneers of change. At all levels in societies, at all phases in history it is the youth who have inspired change."
In his special remarks Dr Alue Dohong, Vice Minister of Environment and Forestry, Indonesia through his representative Mr Krisdianto, noted "Climate education plays a key role in climate action through raising awareness about harmful effects of climate crisis and showcasing solutions to engage and co-develop solutions together."
Noting that climate change education plays a key role in understanding and addressing the issue better, Ms Arzu Onsal, Vice President of the Climate Change Office, Ministry of Environment, Urbanization and Climate Change, Turkey, said, "To achieve 1.5 degrees and SDGs we need to change our skills, values and attitudes. Therefore, education has a key role for achieving green transformation in societies."
The Future Climate Leaders is a first-of-its-kind initiative engaging Indian students in the age group of 14-18 years to inspire, enable and motivate youth to take climate action and to build their skills and leadership essential for future careers in sustainability. The FCL program engages with more than 40 schools in the New Delhi NCR area, reaching out to more than 60,000 young minds. The program is designed to equip youth with tools for measurable carbon reduction and adopt local solutions, leading to sustainable lifestyles.
The FCL program was conceived through an intense collaboration between New Jersey and New Delhi and Evergreen Story and TERI's serendipitous meeting of minds. Anvi Fenn and Anya Fenn, Co-Founders of Evergreen Story, said, "As Indian-origin high school students in the US, we have been most impressed with how aware and conscious our peers in India are about climate change. We hope to bring learnings from the FCL program back to high schools in the US and develop a global collaboration amongst youth from across the globe to build a sustainable and green future."
The Session at COP27 also saw the launch of the FCL Climate Rockstar Podcast, a series of candid conversations with young Indian climate leaders taking positive climate actions. Launching the podcast, Ms Joanne Manda, Senior SDG Investment Advisor, Sustainable Finance Hub, UNDP noted, "We are looking at a new generation of world leaders and business people who have a much stronger sense of custodianship for the environment compared to the generation before, and such creative collaborations will lead us into a better future."
The session included high-level discussion to reflect on the crucial role of youth in addressing the climate crisis, and key initiatives of countries and independent organizations in empowering youth and the education sector to take an active role in climate action.
Ms Solla Zophoniasdottir, Learning Services Orchestrator, EIT Climate KIC, noted, "We really focus on how our capability building can enable activated citizens, and educated climate change makers both in terms of the actual participants themselves but also the teachers and trainers."
Emphasizing that time for action is now, Ms Vidhu Kapur, Associate Fellow, TERI-Principal Investigator, Future Climate Leaders Program, noted, "With our awareness of the menace of the climate crisis, it is time to apply the knowledge and take action in tackling climate change at individual and community levels at national and global levels. India has the necessary framework to implement programs on climate action."
Ms Aurélie Kalenga, Communications Manager, African Climate Reality Project, said, "We believe that Climate education is absolutely essential if we want to build a bigger youth movement where young people are equipped with the skills as well as the knowledge to take the lead and be part of the policies and solutions at all levels."
Observing that climate change is one of the most important issue affecting the youth, Mr Malhar Kamble, FCL Climate Rockstar, said, "I have learned through my experience that the environment is not a subject you can study about in classrooms. You need to experience and feel the environmental issues to understand it better."
Ms Ashima Gulati, Executive Director, The FCL Program, noted, "We need systemic efforts and multi stakeholder and cross sectoral collaborations between ministries of Environment and Education to ensure effective climate change education for supporting our young students to foster sustainable living and upskill for future careers in sustainability. "
The session also had a young student from the Delhi pilot joining virtually as a speaker from India to share his experiences and learnings from the FCL Program. An award winning short film "African Voices for Africa's Forests" that explores gender, indigenous rights, and restoration solutions in Cameroon was also screened at the session.
Closing the session, Dr Livleen K Kahlon, Associate Director, Environment Education and Awareness, TERI, said, "Future Climate Leaders program is about promoting awareness on creating a balance around consumption patterns so that our needs overshadow greed, and we change our attitude and behaviour towards sustainability-driven actions. This program directs the exuberance of youth to promote choices for a better and greener tomorrow."
About TERI
The Energy and Resources Institute (TERI), based in India, is an independent, multi- dimensional research organization with capabilities in policy research, technology development, and implementation. An innovator and agent of change in the energy, environment, climate change and sustainability space, TERI has pioneered conversations and action in these areas for nearly five decades. Headquartered in New Delhi, it has centres in six Indian cities, and is supported by a multi-disciplinary team of scientists, sociologists, economists, engineers, administrative professional and state-of-the-art infrastructure.
About Evergreen Story
Evergreen Story (EGS) is an audio storytelling platform with a sustainable heart. Co-founded by Indian-origin twin sisters Anya and Anvi Fenn in New Jersey, EGS integrates storytelling and climate action. EGS is on a mission to record, preserve, and share humanity's stories and use the medium of storytelling to support the environment by planting a fruit tree with a needy farmer for each story recorded and published. EGS has published thousands of oral stories from India and the diaspora, intending to pay tribute to our shared human spirit of perseverance and progress. Evergreen Story's founders sponsor tree saplings from their savings. To date, they have sponsored 50,000 fruit trees, of which 12,000 have been planted in 2021.