Bamboo can be a game-changer if used as a bulk material in housing for all: Suresh Prabhu
---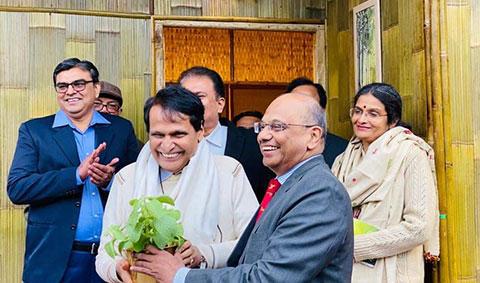 In the run-up to the 11th GRIHA Summit, a bamboo cottage titled Venu Kutir will be on display at the India Habitat Centre till December 22
New Delhi, December 16, 2019: On the side-lines of the 11th GRIHA Summit, GRIHA Council is exhibiting a cosy and comfortable living space made of bamboo at the India Habitat Centre. The bespoke structure aptly titled Venu Kutir is a 240-sqft cottage that has been inspired by the form of a bird's nest, and has been designed by JURIAN Sustainability Services LLP and built using bamboo by Thane-based JANS Bamboo Products Private Limited. It was inaugurated by Suresh Prabhu, Hon'ble Member of Parliament, Rajya Sabha, on December 16, 2019, in the presence of Dr Ajay Mathur, DG, TERI, Sanjay Seth, Chief Executive Officer, GRIHA Council, Dr. Alka Bhargava, Additional Secretary, Department of Agriculture Cooperation & Farmers Welfare, Ministry of Agriculture & Farmers Welfare, Krunal Negandhi, Director, JANS Bamboo Products Pvt. Ltd, and Sanjay Karpe of the Konkan Bamboo and Cane Development Centre (KONBAC). The exhibit will be on display from 9.30 am–5.30 pm, until December 22, 2019.
Talking about the use of bamboo in building an aesthetic cottage, Prabhu said, "Venu Kutir shows that bamboo has caught the imagination of one and all. Bamboo is a miracle crop — it regenerates itself, its shoots are edible, and now it is being used to build high-end houses. What more could we ask for? Imagine if bamboo is used to build low-cost, affordable houses as a part of the housing for all, it would be a game-changer. It can help everybody, not just farmers. We can work on the National Bamboo Mission with a missionary zeal to transform our economy, stop deforestation, and create a new culture of living in harmony with nature because that is the way to live."
Harping on bamboo's potential for construction purposes in the days to come, Seth said, "The use of steel, concrete, aluminium and glass in construction ends up negatively impacting the atmosphere through the release of GHGs during its production as well as construction. In contrast, bamboo emits oxygen during its production and selected species of Indian bamboo sequesters up to 200 MT of carbon dioxide per hectare per year. Hence, bamboo is one of the most sustainable and environmentally friendly materials to build a structure with a negative carbon impact, and it can become the go-to material for sustainability."
The cottage has been designed by JURIAN Sustainability Services LLP using bamboo as the staple material. The flexibility of bamboo and its strength, and freedom from GHG gas emissions are some of the features highlighted by cosy and comfortable living space with an attached bathroom making it self-sufficient. Talking about Venu Kutir, Negandhi, who has been using bamboo as a sustainable and viable option to build bespoke structures across India and the world, said, "Since many years, bamboo is used as a construction material in our country either for temporary construction or structure for poor. In this case, we are demonstrating that the bamboo can be used to build a durable, aesthetically beautiful and contemporary structure suitable for the likes of today's millennial population. This has been achieved by training farmers to get into bamboo farming, adopting scientific farming and harvesting practices, age-grading bamboo and treating it using state of the art treatment facility created by KONBAC."
From being called a poor man's timber to its perceived use for building small and temporary huts, to its use for scaffolding, bamboo has come a long way over the years. Bamboo is a strong natural material and its tensile strength matches that of steel (mass/weight ratio). It is easily available structural material, and also one of the fastest renewable natural resources available on our planet today. It is light and easy to transport, and the bamboo structures can be made earthquake resistant due to the inherent flexibility available in the material and its design thereof. Bamboo not just lowers ambient energy, but also provides ample visual and thermal comfort," said Seth. And the best part about the bamboo structure is that it has been built without wasting energy or using water and generating hardly any waste, and these alone take its sustainable quotient many notches up.
Talking about his partnership with GRIHA Council, Negandhi said, "By building this structure here in collaboration with GRIHA Council, and putting it up for display, we are not only demonstrating one of the most sustainable and environmental friendly structure, but also highlighting the salient features of using a carbon negative material and how bamboo is an icon of sustainability amongst all the floral species in the world."
Negandhi added that bamboo structures like the Venu Kutir have both — aesthetic beauty and durability — and are suitable for use in different building applications such as resorts, institutions, banquets, pavilions, clubhouse, beach-front structures, farm houses, landscape elements, schools, community centres, exhibit areas, etc.
About GRIHA Council: GRIHA Council is an independent, not for profit society jointly setup by The Energy and Resources Institute and the Ministry of New and Renewable Energy, to promote and administer Green Rating for Integrated Habitat Assessment (GRIHA).
About GRIHA Summit: To cater to the current issues of sustainability and to integrate the best practices adopted worldwide, GRIHA Council in association with the UNSW, Australia, is hosting its flagship event, the 11th GRIHA Summit from December 17-18, 2019 with the theme "Approach to Integrated Sustainability". The Summit shall serve as a platform to deliberate innovative technologies and solutions which shall help in creating robust mechanism for developing sustainable solutions for the benefit of the entire community. (www.grihaindia.org/grihasummit)
For further information, contact:
TERI – Shilpi Singh: shilpi.singh@teri.res.in
Edelman – Rakhi Aurora: rakhi.aurora@edelman.com