Around 18,000 sq. km of water bodies in India can generate 280GW power through floating solar PVs: TERI study
---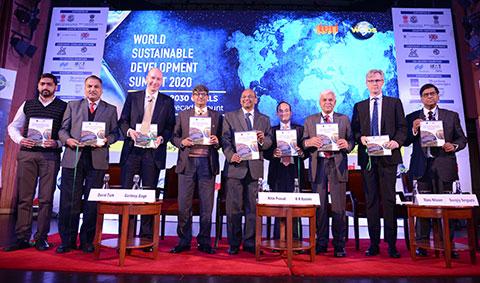 With 57 GW, Maharashtra has the largest potential to create solar energy through floating solar photovoltaics or 'floatovoltaics', according to the study
New Delhi, February 18, 2020: A new report by The Energy and Resources Institute (TERI) has found that India's reservoirs have 18,000 sq. km of area with the potential to generate 280 GW of solar power through floating solar photovoltaic (PV) plants.
The report 'Floating Solar Photovoltaic (FSPV): A Third Pillar to Solar PV Sector?' has been produced by TERI, as part of the Energy Transmission Commission (ETC) India. ETC India is a research platform based in TERI, New Delhi. It is the Indian chapter of the global Energy Transitions Commission, which is co-chaired by Lord Adair Turner and Dr. Ajay Mathur, Director General, TERI.
The findings of the report, which was released during the recently held World Sustainable Development Summit 2020, have the potential to help in planning out the strategies for achieving overall capacity addition in solar energy in India. The report has calculated the potential for floating solar photovoltaics (FSPVs), or 'floatovoltaics', on the basis of 30% of the water surface area of the country's medium and large reservoirs.
The report provides state-wise details of floating solar potential in the form of a web-based interactive tool called India Floating Solar PV-Tool, which has also been developed under this study. According to its findings, the state of Maharashtra has the most potential and can generate 57891 MW of electricity through solar PV installations on 3173 sq. km of water surface area in reservoirs.
At present, ground-based installations form 93.1% of India's grid-connected solar PV sector. The installation cost of utility-scale solar PV in the country has reduced by 84% between 2010 and 2018, making India the country with the lowest installation cost for utility scale solar PVs.
However, solar PV deployment is quite land intensive and scaling up projects requires large chunks of contiguous land parcels, which has its own set of challenges. In order to keep the pace of development commensurate with India's national targets for solar capacity additions, alternatives such as floating solar need to be explored and established. It is estimated that the global annual capacity addition from floating solar may rise from the 1.314 GWp in 2018 to 4.6 GWp by 2022. Presently, China is the leading international market followed by Japan and South Korea for floating solar. India also has very bright prospects to develop FSPV projects due to availability of large water bodies in the country.
Dr Ashvini Kumar, Senior Director, Renewable Energy Technologies, TERI, said, "This report is an excellent initiative opening up alternatives for solar capacity additions. Preliminary data analysis indicates a huge potential of 280 GW with a certain coverage of water surface area. Maharashtra, Karnataka and Madhya Pradesh are the top three states in terms of potential for installations of FSPV."
Dr Ajay Mathur, Director General, TERI, said, "Floating Solar PV could be a potential option for accelerating solar power deployment in the country, which would ultimately help in achieving NDC goals. It is time to look for bringing a conducive policy framework to encourage tapping this potential."
About TERI
The Energy and Resources Institute (TERI) is an independent, multi-dimensional organisation, with capabilities in research, policy, consultancy and implementation. It has pioneered conversations and action in the energy, environment, climate change, and sustainability space for over four decades.
The institute's research and research-based solutions have had a transformative impact on industry and communities. Headquartered in New Delhi, it has regional centres and campuses in Gurugram, Bengaluru, Guwahati, Mumbai, Panaji, and Nainital, supported by a multidisciplinary team of scientists, sociologists, economists and engineers, and state-of-the-art infrastructure.
For further information, contact
TERI - Aastha Manocha - aastha.manocha@teri.res.in
Edelman - Rakhi Aurora - rakhi.aurora@edelman.com