Agriculture, forest and river conservation, domestic water use efficiency key to India's water security: Prakash Javadekar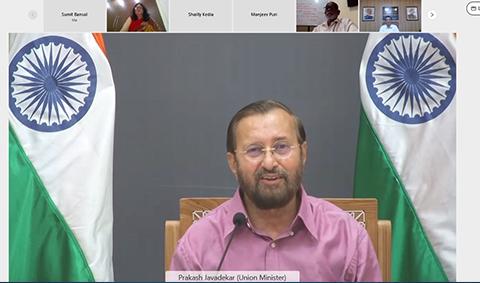 June 4, 2021, New Delhi: Giving an overview of key challenges and solutions in water resource management in India, Mr. Prakash Javadekar, Hon'ble Minister for Environment, Forests and Climate Change highlighted the need to augment rivers which are a perennial source of water. He was speaking on the eve of the World Environment Day, during a virtual curtain raiser event of TERI's annual conference The World Sustainable Development Summit, scheduled to be held in February 2022. The event deliberated on the theme of 'Sustainable, Equitable and Resilient Water Use'. TERI also released a study on sustainable groundwater management in Lucknow city and announced the launch of a major public campaign on water, in partnership with Editorji, the digital media platform led by Mr. Vikram Chandra.
Adding that most major rivers originate in forests, Mr Javadekar said that the government has spent nearly Rs. 40,000 crore through CAMPA mechanism towards conservation of forests. He urged the states to use the money given by the Finance Commission for improving tree cover and water resources for the intended purpose. Lauding the Ken-Betwa project, the Minister said that interlinking of rivers is also an important concept that helps to transfer water from overflowing rivers to deficit ones. Speaking about the domestic sector, Mr. Javadekar said, "50-60 % water in domestic use can be saved. Aerators need to be used. Every housing society needs to have provision for rooftop rainwater harvesting. Water wasted through reverse osmosis (RO) should be used for gardening purpose. The government is setting new criteria for buildings to have dual piping system, separating drinking water from reused water which can be used solely for flushing purposes."
Giving an overview of the policy perspective, Mr. Bharat Lal, Additional Secretary & Mission Director, Jal Jeevan Mission, Ministry of Jal Shakti, said the government has so far covered 22% of the rural households, i.e., nearly 7.50 crore rural households with 'assured water supply' through tap water connections ensuring quantity, quality and regularity of service. He spoke about 50 % representation of women and weaker sections of society in gram panchayats and paani samitis to ensure equitable access and community-led management of water. Talking about the urban sector, Mr Lal said, "Fecal sludge management needs attention. It is currently transported over long distances, treated or untreated, released into water bodies, causing public health risks. Water being used as carrier of fecal sludge is inefficient use of water. We need localized, decentralized solutions for treating fecal sludge"
Underlining the serious implications of India's depleting water resources on its agriculture sector, Dr Vibha Dhawan, DG, TERI, said, "India must review its current trend of producing water intensive crops. We need to develop crop varieties which are resilient to heat and water stress. This, along with wide adoption of technologies that enhance water use efficiency in agriculture is a need of the hour"
The event included a panel discussion including Dr. Yasmin Ali Haque, UN Resident Coordinator (a.i.) and UNICEF Representative, India, Mr. Ayyappa Masagi, Water Literacy Foundation, Ms. Amla Ruia, Aakar Charitable Trust, Ms. Nafisa Barot, Utthan, environment journalist Ms. Bahar Dutt, and Mr Shresth Tayal, Senior Fellow, TERI.
Speaking about his experience at the grassroots, Mr. Ayyappa Masagi said, "Attitude is the main problem in water management, be it of people or government. Water has to be conserved at four levels- surface, subsoil, deep soil and groundwater". He emphasized on both rainwater harvesting and reuse of greywater which is particularly neglected in the water conservation discourse.
Ms. Amla Ruia spoke about her experience of seeing improved incomes in rural households in Rajasthan, where she has mobilized rural communities for conserving rainwater through a large number of check dams.
Dr. Yasmin Ali Haque lauded the government's efforts towards bringing gender equity in water management. "Five women in every village being trained to test quality of water as part of the paani samitis, under the Jal Jeevan Mission is a great initiative", she said.
Underlining the need to prioritize local solutions based on local wisdom, particularly for rural women, Ms Nafisa Barot said, "Their cry is for encouraging and restoring traditional rainwater harvesting resources and structures that can give them control, equity, justice -- and the dignity of being responsible for local resources and for local lives which depend on them". She added that instead the government's focus remains on capital-intensive schemes, which are dependent on massive infrastructure, completely outside the control of village committees.
"We should move away from an anthropogenic view of water and realize it supports vast amount of biodiversity in our country. We also need think of many freshwater species that need to be protected", said Bahar Dutt.
Giving an urban perspective, Mr. Shresth Tayal, the Principal Investigator of the Lucknow groundwater study, said rainwater harvesting may not be the main solution in dense cities, hence a more scientific groundwater audit should be conducted for them.
The Lucknow groundwater study reveals that during pre-monsoon the city is overdrawing groundwater nearly seventeen times more than the combined recharge from rainfall and Gomti River into the groundwater system. At this rate, by 2031, the groundwater table in the key localities of central Lucknow is projected to further decline by about 20-25 meters from the current levels. This study was conducted by TERI in collaboration with the Department of Geology, University of Delhi. The study was sponsored by Uttar Pradesh Groundwater Department, Lucknow with support from The World Bank.
Key highlights of the study are as follows:
72 percent households in Lucknow use groundwater.
Almost 90 percent of multistory housing societies and 70 percent of commercial users comprising hotels, hospitals, schools, offices and malls are dependent on groundwater.
Almost all the surveyed societies in central, north and east Lucknow are extracting groundwater through private borewells. 60% of these borewells are more than 200 feet deep.
Atleast 25% of commercial users also reported that since the drilling, they have increased the depth of their borewells by almost 100 m, due to lowering of water table in their area.
Use of overflow bell to indicate the filling of water storage tank is not popular among the citizens
64% of households reported about the use of water purifier, of which 3/4th are reverse osmosis (RO) systems.
"The total contribution of groundwater to the economy of Lucknow can be estimated to be about Rs. 8400/- crore, which is almost 1/3rd of city's GDP. If we include indirect contribution from the food service industry, tourism and other services to the city's GDP, it has the potential to influence the entire economy of the city", said Shresth Tayal.
About TERI
The Energy and Resources Institute (TERI) is an independent, multi-dimensional organization, with capabilities in research, policy, consultancy, and implementation. It has pioneered conversations and action in the energy, environment, climate change, and sustainability space for over four decades. The institute's research and research-based solutions have had a transformative impact on industry and communities. Headquartered in New Delhi, it has regional centers and campuses in Gurugram, Bengaluru, Guwahati, Mumbai, Panaji, and Nainital, supported by a multi-disciplinary team of scientists, sociologists, economists and engineers, and state-of-the-art infrastructure.
For more information, contact
TERI – Shweta Singh; Shweta[dot]singh@teri[dot]res[dot]in