Workshop on "Vision 2030: Accelerating Net Zero Transition of Public Transportation Systems in the City of Kolkata ."
A K Saxena, Narayankumar Sreekumar, Balaji Raparthi
---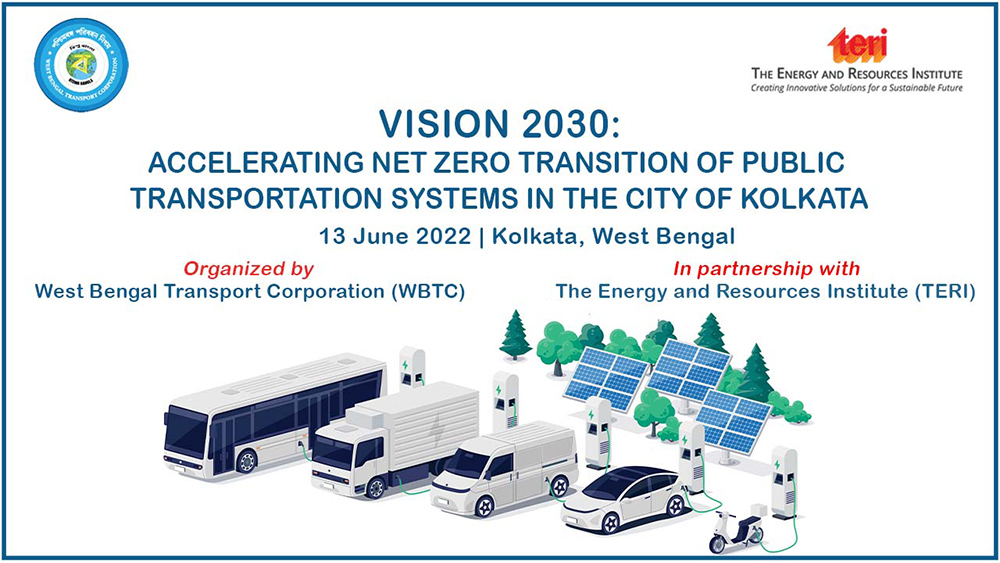 Mobility is a central and highly valued feature of human society. Indeed, mobility is essential for the productive functioning of economies and the ability of individuals to access the opportunities they need to thrive. However, even as various mobility options proliferate - expanding accessibility for many - there is growing concern regarding the long-term sustainability of the transportation systems. This is because not only do they have a substantial physical footprint but also require enormous public and private investment, consume significant energy resources, have infrastructure vulnerable to climate change impacts and are a significant contributor to anthropogenic greenhouse gas emissions and local air pollutants, and impose many other negative externalities. While these issues apply to all modes of transport, the most commonly used public vehicles are the ripest for disruption, specifically in developing countries. According to one of the Intergovernmental Panel on Climate Change (IPCC) reports on Climate Change 2014, almost 21% of GHG emissions come from the transportation sector.
Over 90% of the fuel used for transportation in India is petroleum-based, which primarily includes gasoline and diesel. Therefore a widespread transition to electric cars, buses, and trucks – increasingly powered by clean renewable energy would benefit the lives and health of masses across the nation.
Kolkata, the capital of the state of West Bengal and one of the largest metropolitan cities in India has recorded the highest amount of particulate matter (PM) and NOx emissions per 0.1 million vehicular population despite having a lesser number of on-road vehicles as compared to other metropolitan cities in the country. As per World Air Quality Report, 2021, Kolkata is the 60th most polluted city in the world having the most toxic ultrafine particulate, which was nearly 12 times above the limit set by the World Health Organization (WHO). To tackle this challenge, the West Bengal Transport Corporation (WBTC) with support from the Government of West Bengal has already implemented several measures in-order to electrify the city's public transportation systems through the induction of 130 city electric buses (both under FAME 1 & 2) as on date, installed public charging stations, in addition to formulating a comprehensive Electric Vehicle Policy for the state recently, with a significant focus on public transport electrification in the city.
However, there are multifaceted challenges envisaged by the WBTC in terms of electrification of public transportation systems in Kolkata which include induction of electric buses, and electrification of ferries. Selection of appropriate technology based on specific segments, innovative procurement, and business models, availability of power infrastructure, etc. are some of the major bottlenecks in transitioning towards clean and sustainable mobility at the city level.
Against this backdrop, The Energy and Resources Institute (TERI) in partnership with WBTC is developing a long-term visionary roadmap for achieving a net-zero transition in public transportation in Kolkata by 2030. In this direction, TERI in collaboration with WBTC organized an inception workshop to unlock the enormous potential of e-mobility transition opportunities in the state, which will attract different stakeholders in the value chain.
Hon'ble Minister in Charge, Transport, Urban Development & Municipal Affairs and Housing Department, Government of West Bengal and Mayor of Kolkata, Shri Firhad Hakim, launched the study in the presence of senior officials of the transport department, WBTC, vehicle manufacturers, and demand aggregators.