Webinar on 'Interactive discussion forum on Nanotechnological solutions for CoViD-19 & Future Pandemics
Dr Reena Singh
Online
---
Nanobiotech@DBT is organizing a webinar on 'Interactive discussion forum on Nanotechnological solutions for CoViD-19 & Future Pandemics' on May 1, 2020 from 3:00 PM - 4:00 PM .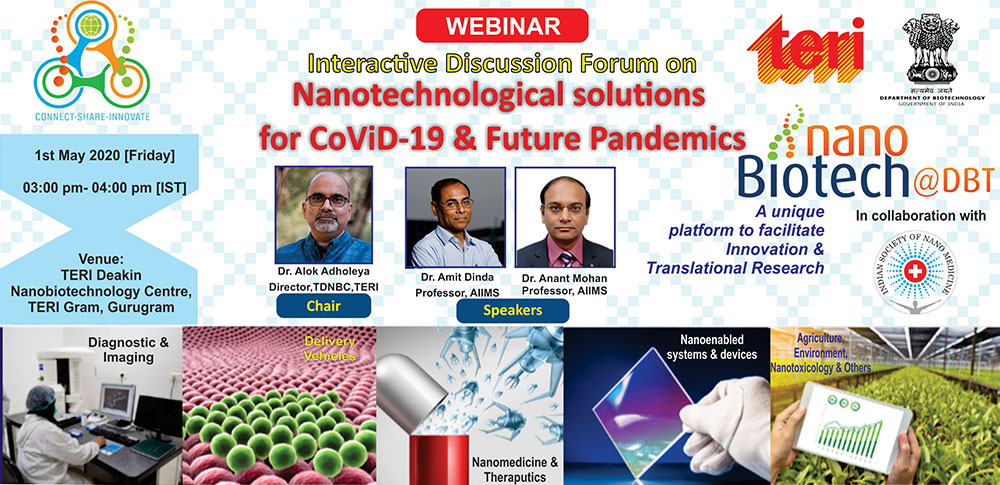 Key discussion points
How nanointerventions could help?

Personal Protective Equipment (PPEs)
Disinfectants
Diagnostics
Anti-viral drugs, vaccines
Any other

What effective measures can be taken to handle the present crisis and future prepardness?
Key recommendations to be submitted to the govenment
On 1st May 2020, 3:00 PM - 4:00 PM
Aim
This forum aims to discuss on topics related to disease pathobiology, diagnosis, and management of CoViD-19 and such infectious diseases that can help nano-scientists with non-medical expertise in understanding the logistics of the disease and help them in exploring nanotechnology based interventions in different areas related to the disease prevention, cure and management.
Speakers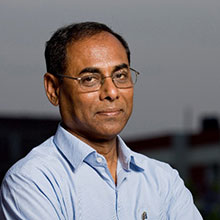 Dr Amit K Dinda Professor-Incharge, Division of Renal & Transplant Pathology, Department of Pathology, All India Institute of Medical Sciences, New Delhi
Dr Amit K Dinda is officer in-charge of Division of Renal and he has keen interest in experimental pathology with interdisciplinary research in immunopathology, tissue engineering, cancer biology and Nanomedicine. He is actively working in the area of application of Nanotechnology in Medicine and Nanotoxicology. His laboratory has developed nanoparticle based oral gene delivery system and nanoadjuvant for developing single shot booster free vaccine, development of novel nanocarriers for Amphotericin B, technology for delivering 4 anti-tubercular drugs in one nanoparticle, macrophage targeted siRNA delivery system for reversal of Atherosclerosis plaque, combined chemo and photothermal therapy for superficial bladder cancer and study of long term fate and toxicity of gold nanoparticle. Visiting Professor in Albert Einstein Institute of Medical Sciences, New York 2004 -5, Visiting Professor University of New South Wales, Australia 2008. He is Founder Secretary of Indian Society of Nanomedicine (ISNM), Ex-President of Indian Society of Renal & Transplant Pathology, Ex-Vice President of Society for Tissue Engineering and Regenerative Medicine (India) (SABOI), Ex-Vice President, Electron Microscopy Society of India (EMSI), Fellow, and Electron Microscopy Society of India (EMSI).
He has published more than 300 papers in peer reviewed journals and holds 8 Indian Patents.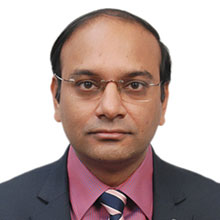 Dr Anant Mohan Professor, Pulmonary Medicine and Sleep Disorders, AIIMS, New Delhi
Dr Anant Mohan is currently working as a Professor in the Department of Pulmonary Medicine and Sleep Disorders, All India Institute Of Medical Sciences , India. His research interests includes Pulmonary Medicine and Sleep Disorders. He /she is serving as an editorial member and reviewer of several international reputed journals. Dr. Anant Mohan is the member of many international affiliations. He/ She has successfully completed his Administrative responsibilities. He /she has authored of many research articles/books related to Pulmonary Medicine and Sleep Disorders.
Chair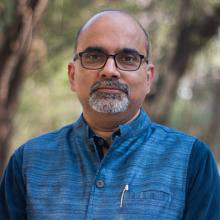 Dr Alok Adholeya Programme Director, Sustainable Agriculture, TERI
Dr Alok Adholeya leads the team on mycorrhizal research, micropropagation technology, Nanobiotechnlogy and plant tissue culture and molecular biology. Dr Adholeya's career has been largely devoted to finding and developing ways to harness the power of microbes, particularly mycorrhizae, to increase the productivity of crop plants and to restore degraded and industrial overburden lands.
Dr Adholeya has chaired numerous advisory committees on agriculture and bioremediation and is an invited speaker at many international forums. Currently, he chairs a major Task Force on Biological Agents in the Department of Biotechnology (DBT), Ministry of Science and Technology, Government of India, besides being member of the Nanobiotechnology Taskforce in DBT. His work has been published in over 170 research papers in reputed national and international journals and he is also a member of the editorial boards of many of these journals. He has guided 22 doctoral students and many masters' students to date and has been an Honorary Professor of Deakin University, Australia since March 2010.
Many awards and honours have come his way, such as the Young Scientist Award in 1999, and the Biotech Product and Process Development and Commercialization Award 2004 by the Ministry of Science and Technology, Government of India.
Dr Adholeya is a Ph.D from the Department of Microbiology, GB Pant University of Agriculture & Technology, Pantnagar and Jiwaji University, Gwalior, India and a Post-Doctoral Fellow at United States Department of Agriculture, Philadelphia, USA. He also worked as director, Product and Technology Development in Mycorrhizal Applications, Oregon, USA, between 2014 and 2017.