Webinar on 'Greening Economic Recovery in India'
Ms Shailly Kedia
Online
---
The COVID-19 crisis has shown that growth must be both inclusive and sustainable in the long term. Recently, the Prime Minister announced a Rs. 20 lakh crore special economic package for 'Atmanirbhar Bharat' or 'self-reliant India' which would better integrate India with the world. The package provides an opportunity to take much awaited steps to green the economy in sectors that have the maximum impact on sustainable development. Sustenance and sustainability both have to be cornerstones of economic recovery as India responds this crisis.
---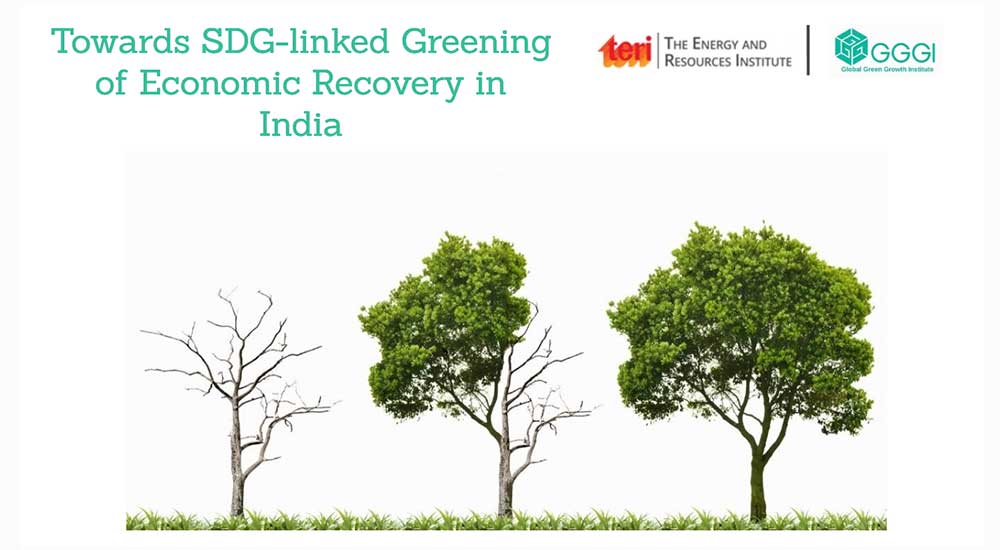 ---
In this background, The Energy and Resources Institute (TERI) along with the Global Green Growth Institute (GGGI) organised a webinar on 'Greening Economic Recovery in India', on 14th May. The discussions brought in perspectives ranging from direct support interventions, restructuring existing programmes and schemes, to skilling and knowledge management for economies to remain green, and addressing demand and demographic issues. Such programmes include MGNREGS and programmes related to MSMEs. Merely giving dole-outs without any fundamental reforms will not work, there is a need to deep dive into thematic aspects such as sectoral interventions, financing, technology collaborations and regulatory/ policy alignments that support a green recovery.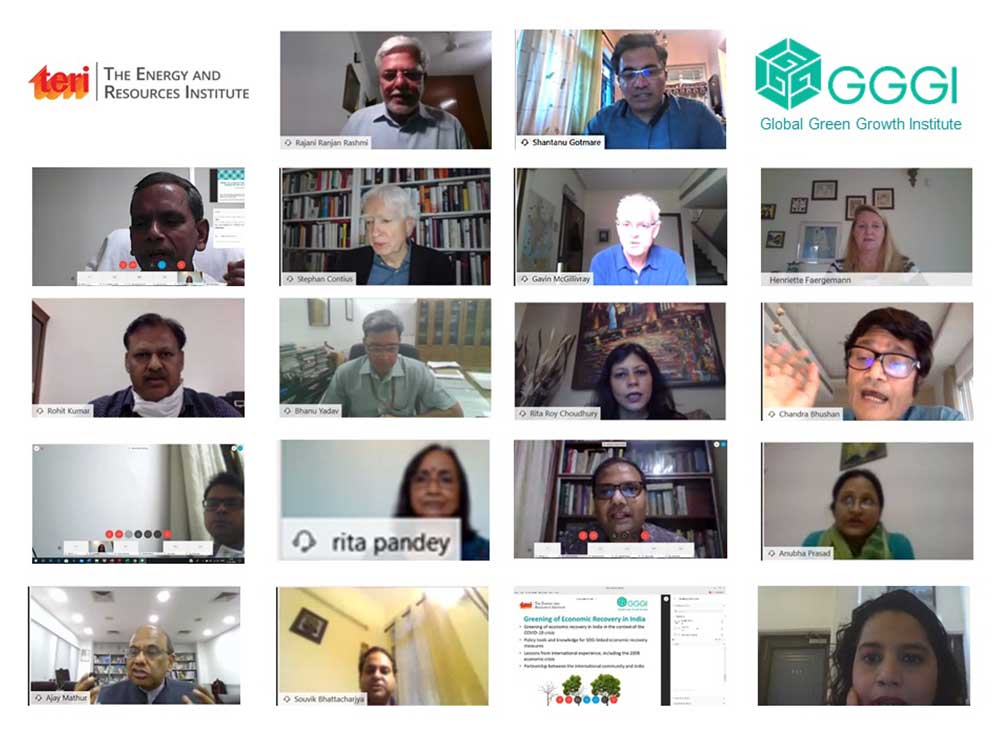 Speakers at the webinar highlighted that this crisis should also be leveraged to make more fundamental changes in processes of decision-making at the policy level such as better inter-agency coordination by factoring in sustainable development goals in state and national budgeting. Responses from various stakeholders in a questionnaire exercise by TERI and GGGI revealed that responsible industries in both large industry and MSME sectors need stronger recognition. Participants felt that most of the policy announcements so far focused on relief and short-term measures and not so much on medium and long-term recovery measures.
The discussions and perspectives from the webinar will go on to inform the discussion brief 'Towards SDG-linked Greening of Economic Recovery in India' being prepared in TERI. See the complete webinar below.
---
Agenda
Event chairs
Mr R R Rashmi (Distinguished Fellow and Programme Director, IPAD, TERI)
Mr Shantanu Gotmare (India Country Representative, GGGI)
4:00 PM - 4:05 PM
Welcome Remarks
- Dr Ajay Mathur (Director General, TERI)
4:05 PM - 4:08 PM
Chairs' Remarks
4:08 PM to 4:10 PM
Framing Presentation
- Ms Shailly Kedia (Fellow, TERI)
4:10 PM - 4:30 PM
Keynote Address (4-5 minutes each) -

- Mr Ram Mohan Mishra (Secretary, NCSC and Former Special Secretary of Ministry of Micro Small and Medium Enterprises, Government of India - GOI)
- Mr Stephan Contius (Commissioner for the 2030 Agenda, German Federal Environment Ministry)
- Mr Gavin McGillivray (Head, UK Department for International Development, India)
- Ms Henriette Faergemann (Counsellor, European Union Delegation to India)
4:30PM - 4:55 PM
Thematic Address (4-5 minutes each) -

- Mr Rohit Kumar (Joint Secretary, Ministry of Rural Development, GOI)
- Mr Bhanu Pratap Yadav (Joint Secretary, Ministry of New and Renewable Energy, GOI)
- Ms Rita Roy Choudhury (Assistant Secretary General, Federation of Indian Chambers of Commerce & Industry – FICCI)
- Mr Rajive Chawla (Chairman, Integrated Association of Micro, Small & Medium Enterprises of India)
- Ms Seema Arora (Deputy Director General, Confederation of Indian Industry – CII)
4:55PM - 5:15 PM
Panel Discussion (2-3 minutes each) -

- Mr Abhishek Acharya (Joint Director, Department of Economic Affairs, Ministry of Finance, GOI)
- Mr Chandra Bhushan (President & CEO, International Forum for Environment, Sustainability and Technology - iFOREST)
- Mr K Narayana Rao (President-Corporate Relations, GMR Group)
- Mr Pankaj Sindwani (Chief Business Officer, Tata Cleantech Capital)
- Dr Rita Pandey (Professor, National Institute of Public Finance and Policy)
- Dr Ashish Chaturvedi (Director-Climate Change, Deutsche Gesellschaftfür Internationale Zusammenarbeit - GIZ)
- Ms Anubha Prasad (National Coordinator - PAGE India, United Nations Environment Programme)
- Mr Bhasker Tripathi (Principal Correspondent, IndiaSpend)
5:15 PM - 5:25 PM
Key Takeaways and Ways Forward by Chairs
5:25 PM - 5:30 PM
Vote of Thanks
- Mr Souvik Bhattacharjya (Associate Director, CREG, TERI)
---
Organizers