Webinar on "Coastal Ecosystems: sustainable livelihoods and protection from climate change"
Ms Pallavi Singh
Online
---
Discussions at the webinar will focus on planning, governance and possible ways to mitigate imbalances in coastal ecosystems to enhance their resilience and improve coastal livelihoods sustainably.
---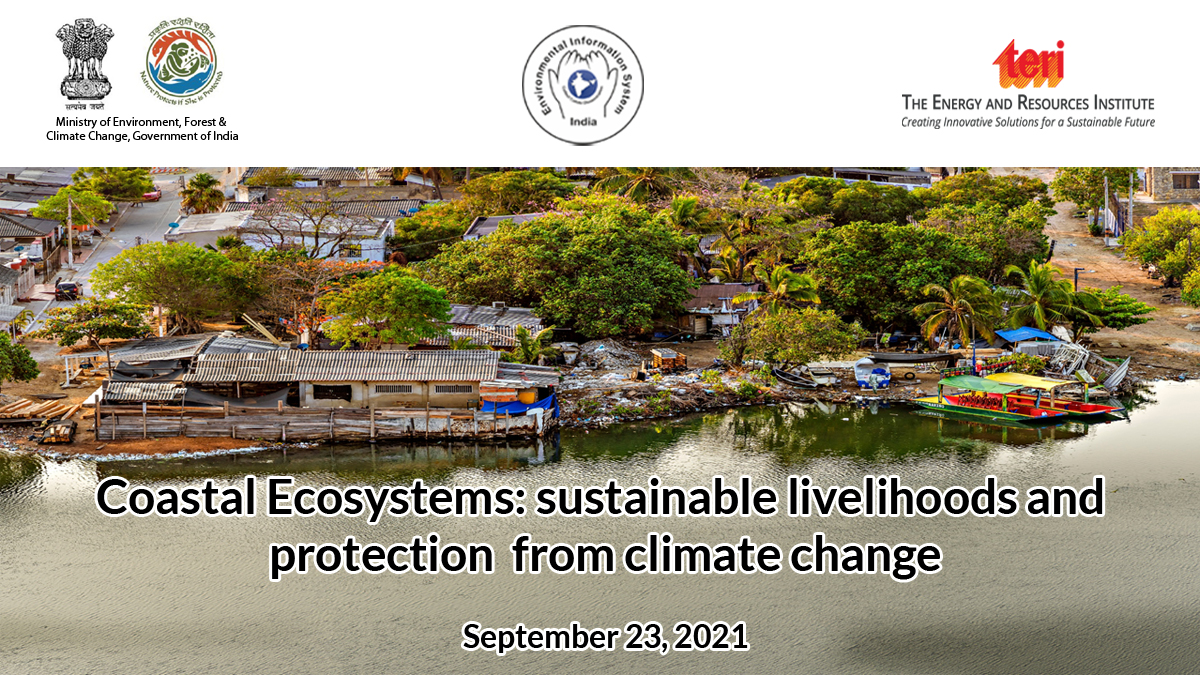 On 23 September 2021, 11:30 AM - 01:00 PM IST
The Energy and Resources Institute (TERI) with the Ministry of Environment, Forest and Climate Change (MoEFCC), Government of India is organising a webinar on "Coastal Ecosystems: sustainable livelihoods and protection from climate change" on September 23, 2021 from 11:30 AM - 1:00 PM. The webinar aims to discuss how restoring ecological balance by including ecological considerations into coastal planning and governance can both enhance the resilience of coastal ecosystem and increase the diversity of coastal livelihoods. Discussions at the event will also focus on-
Adopting the principles and practices of Integrated Coastal Management while aiming at sustainable development goals.
Discussing case studies/success stories of Union territories/Coastal Cities to mitigate climate change.
The coastline supports several economic activities that are vital for India's economy like oil & gas, ports & harbours, power plants, fishing, tourism and mining that keep affecting our coastal ecology and environment. At the same time, it is important to note that Indian coastal stretches are well endowed with highly productive ecosystems that support coastal human population in numerous ways, ranging from alleviating their poverty by offering a variety of coastal resources, to protecting them from natural and man-made hazards like erosion, cyclones, storm surges, tsunamis, pollution etc. It is but natural to adopt an approach that balances between development and environmental wellbeing. However, it has been observed that climate change and anthropogenic stresses caused by over-urbanization, ill-planned development, habitat fragmentation, overexploitation of resources, and pollution from industry as well as anthropogenic sources have adversely affected the ecological balance and services being offered by the Indian coastal ecosystems. As a consequence, vulnerability of the coastal population to various hazards has exacerbated.