Webinar on Carbon finance: A tool to mitigate Human wildlife conflict and Climate change in Protected Areas of India
Mr Yatish A Lele
Online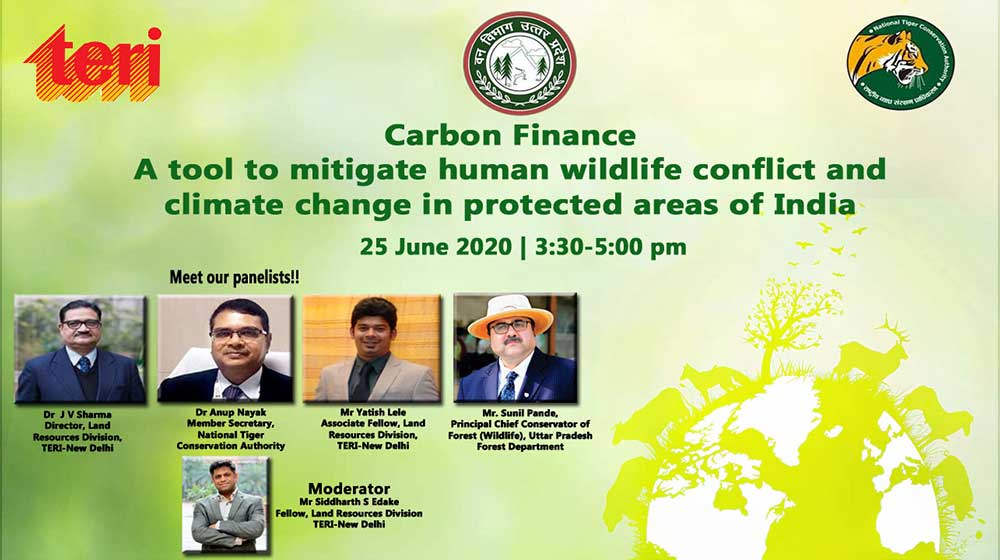 On 25th June 2020, 03:30 PM - 05:00 PM IST
Human wildlife conflict is a pressing issue in and around protected areas such as Tiger reserves. The local communities face economic losses due to conflict leading to retaliation against wildlife. Irrespective of initiatives undertaken by the government, many states still face lack of financial resources on a timely basis to effectively mitigate the conflict. Carbon finance is one such mechanism which could help in generating additional finance required to manage and mitigate this issue. It is necessary to understand the contribution of ecosystem services in carbon mechanisms such as Climate, community and Biodiversity Alliance (CCBA) to effectively use the mechanism. TERI undertook a study to understand the contribution of ecosystem services in Dudhwa Tiger Reserve (DTR) where human wildlife conflict is in the form of attack on humans, cattle and crop depredation. The methodology to understand the contribution of the co benefits was based on the economic valuation of the ecosystem services provided by DTR such as firewood, minor forest produce, fodder and grazing, carbon sequestration and recreation. The value of ecosystem services was found to be eight times greater than the value of carbon. Including these ecosystem services in the carbon finance mechanism shall yield 8 times more benefits as compared to the benefits from carbon which could help mitigate the issue of human animal conflict in the reserve. The practice of valuing the ecosystem services paves a way in not only finding the economic value of the various intangible and tangible services, but also leads to financing the conservation of the area through carbon trading mechanisms.
This webinar focuses on exploring possibilities on the inclusion of carbon finance mechanism to mitigate the issue of human wildlife conflict and climate change in Protected areas of India.
---
---
Speakers
Dr Jitendra Vir Sharma Director, Land Resources, TERI
Dr. Sharma holds a doctorate degree in economic valuation of forest ecosystems. He has has nearly 34 years' experience in leading, coordinating and managing projects and activities in the forestry sector. Dr Sharma has coordinated and implemented donor-funded projects from both a governmental perspective (as an Indian Forest Officer) and as Director of the Forestry and Biodiversity Division at TERI. He also has extensive expertise in global forest policy and international negotiations and has been a negotiator on behalf of Government of India to the United Nations under the UNFF process. As Deputy Inspector General (DIG) Forest Policy and Forest International Cooperation, Ministry of Environment, Forests and Climate Change (MoEFCC), he was responsible for international cooperation including negotiations. Dr Sharma coordinated with FAO and Asia Pacific Forestry Commission on behalf of Government of India. As National Focal Point he organised the 21st session of the Asia Pacific Forestry Commission in 2006. Dr Sharma was the key organiser and co-chair for a country led initiative on the Payment for Ecosystem Services under United Nations Forum on Forests hosted by the Government of Germany, Berlin.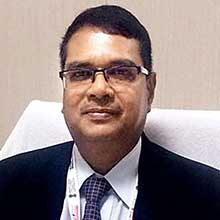 Dr. Anup Kumar Nayak Member Secretary, National Tiger Conservation Authority
Dr. Anup Kumar Nayak is a Additional Director General, Project Tiger and Member Secretary, National Tiger Conservation Authority.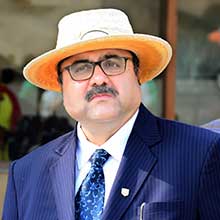 Mr Sunil Pande Principal Chief Conservator of Forests (Wildlife), Uttar Pradesh Forest department
Mr Sunil Pande is a forest officer from 1984 batch of IFS from UP cadre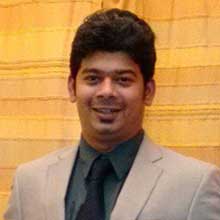 Mr Yatish A Lele Associate Fellow, Centre for Biodiversity & Ecosystem Services, Land Resources, TERI
Mr. Yatish Lele is currently engaged as an Associate Fellow for The Energy and Resources Institute (TERI) under the Forestry and Biodiversity division of TERI. He is closely associated with the institute for the more than 5 year. Working on the theme of achieving sustainable development, he is more focused on forest management, biodiversity conservation and environmental issues. His primary projects are related to biodiversity documentation, assessment and habitat conservation. Mr. Lele has been involved in the projects with regards to Community conserved areas (CCA), Human wildlife conflict, Minor forest produce and ecotourism. He has been able to successfully couple his technical background related to environmental management with community mobilisation and stakeholder consultations. Along with this, he has worked on 10 Small scale A/R CDM projects in Uttar Pradesh which accounts to documenting the carbon sequestered by the plantations and estimating the CERs. Furthermore, he also possesses the know-how needed for applying Participatory and Rapid Rural Appraisals (PRA and RRA). In the urban context, he has prepared Environmental status report for Nagaland, Navi Mumbai, Kolhapur and Nanded Municipal Corporation and also worked in developing state level statistical reports on the quality of Air and Water in Maharashtra in association with MPCB (Maharashtra Pollution Control Board).
Moderator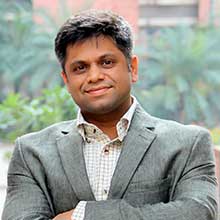 Mr Siddharth Edake Fellow and Area Convener, Centre for Biodiversity and Ecosystem Services, TERI
Mr Siddharth Edake is a Master's of Science (M.Sc.) in Biodiversity and currently is working as a Fellow and Area Convener of the Centre for Biodiversity and Ecosystem Services (CBES) at The Energy and Resources Institute (TERI), New Delhi. For more than a decade, he has focused on conserving forests and biodiversity across India through research and action. His passions include wildlife photography and traveling.