Transitioning towards a Next Gen Utility - Webinar series by TERI and TPCL
Mr Rishabh Sethi
Online
TATA Power Company Limited (TPCL) and The Energy and Resources Institute (TERI) are conducting a joint two-webinar series with a focus on – "Transitioning towards a Next Gen Utility"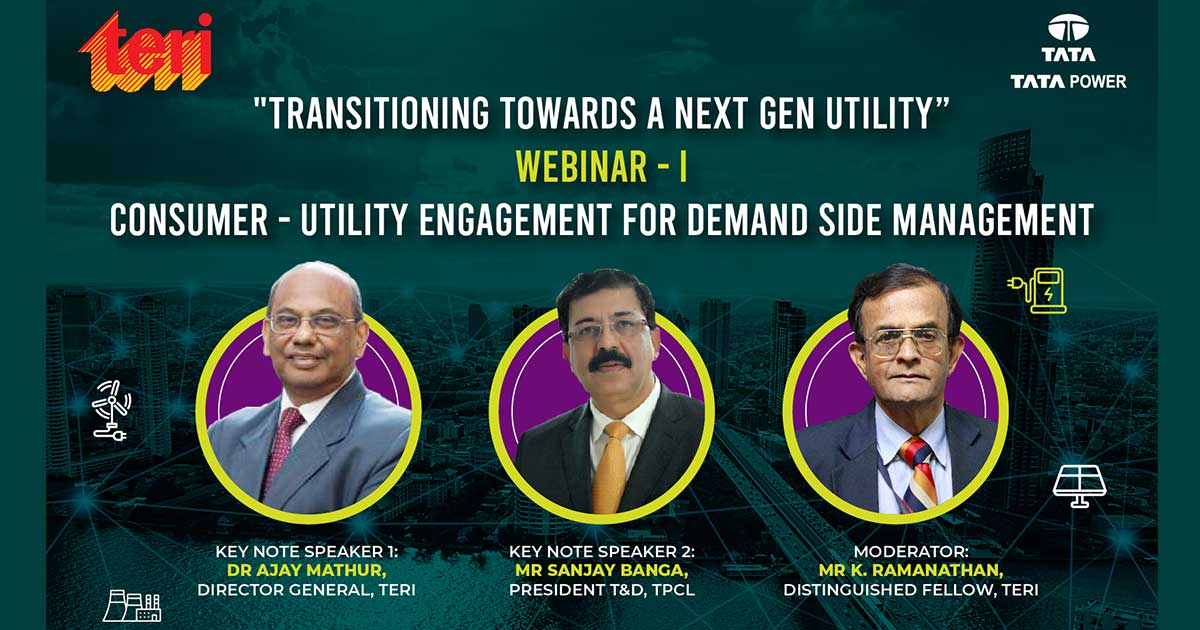 Webinar I: Consumer-utility engagement for demand side management
On 10th December 2020, 03:00 PM to 05:00 PM IST
The first webinar shall focus on the relationship between utility and its consumers and the importance of it for the utility while Transitioning towards a Next Gen Utility. The webinar shall bring focus on the various demand side management and energy efficiency initiatives that have been undertaken across utilities and shall be undertaken in the future such as the deployment of smart meters, home automation, renewable energy systems, EVs and other energy conservation and energy efficiency measures. The webinar will also throw light on the perspective of industrial and residential consumers on utility driven energy efficiency/demand side management programmes along with the benefits and drawbacks offered by such programmes. Benefit to the utility in load management and load curve optimization along with government policies in this sphere will also be deliberated upon.
Webinar II: Emerging technologies in distribution system management
The second webinar shall focus on the upcoming technologies being explored by the utilities which would help them in efficient system management. The webinar shall focus on the recent emerging technologies which are a point of focus for the distribution utilities presently, such as adoption of technologies related to smart grid, distributed renewable energy integration, planning of new consumer category of electric vehicles with their increasing penetration, energy storage systems among others. The webinar shall capture the perspective of key sector experts in the respective areas who have been able to address some issues while striding against the challenges and, thereby, offer a chance for cross-learning for other participants from these experts.