TERI CBS Thought Leadership Webinar: Transition Pathways to a High Share of Renewables in the Indian Power Sector by 2030
Mr Pankaj Kalyani
Online
---
The webinar focussed on India's power demand scenario analysis till 2030, implications for adoption of renewables, and roles of various agencies in enabling the ease of energy transition for corporates towards renewables.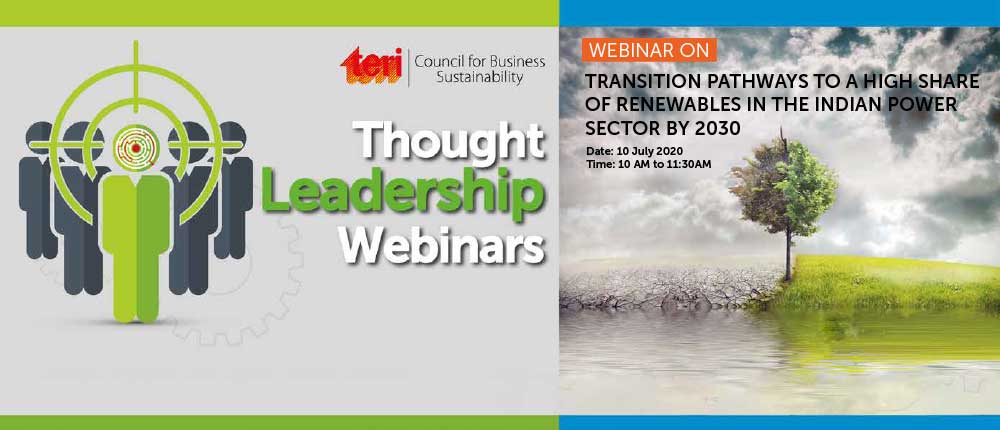 On 10th July 2020, 10:00 AM - 11:30 AM IST
TERI's partnership with WeMeanBusiness aims to accelerate zero carbon power transition in India through deploying business voices in support of power policy reform that enables increased corporate RE procurement. In this context, TERI Council for Business Sustainability (CBS), organized a Thought Leadership Webinar on "Transition Pathways to a High Share of Renewables in the Indian Power Sector by 2030". The focus of the webinar was to address India's power demand scenario analysis till 2030, implications for adoption of renewables and roles of State Nodal Agencies in enabling the ease of transition for the corporate sector towards renewables.
Dr Ajay Mathur welcomed and thanked all the CXOs, the Climate Group and the experts from TERI and started with the discussion on the high share of Renewable Energy by emphasizing the combined role of Renewables for supplying round-the-clock (RTC) power. Dr Ajay Mathur pointed that though India is only second to U.S. in capacity addition of Renewables through Corporate Power Purchase Agreements (PPAs), by adding 1.3 GW of capacity in 2019; but at the same time, it is way behind the 8 GW capacity added by U.S. So, the key factors in moving the needle ahead shall be a.) accelerating the pace of energy transition in India by addressing policy, operational and financial barriers, b.) Leveraging our partnership with WeMeanBusiness in reaching out to a larger group of Industry and Government stakeholders.
Presentation on ETC 2030 Electricity Report
Mr Thomas Spencer began with the need of technological innovation in complimentary technologies and systems adaptations as drivers for RE transition. He presented that the Renewables are now a cheaper option than the new coal and cheaper than the variable costs of a lot of old coal. Moving forward, he compared the today's situation of accelerating uptake of renewables which will be determined by the rate of system innovation for grid integration by 2030. He explained -how the use of battery storage plays a crucial role in reducing curtailment, cost and system stress and how the cost decline by the battery storage has made renewables plus storage competitive with coal. He continued by stating the advantages like large and integrated (interstate) power system and substantial flexible hydro resources while disadvantages like high reliance on coal, low gas resources, lower level of institutional and market readiness and financial viability.
At the end he concluded by stating that a.) The reallocation of capital from coal to renewables will continue, b.) Investment and business opportunities will open up in complementary technologies and sectors, in particular energy storage; and c.) It is crucial to track policy and regulatory interventions, as these will determine the value of different assets in a market where values are moving inexorably from 'kWh' to 'flexibility'.
Industry Perspectives from Indian CXOs
The CXO's Mr Rajiv Ranjan Mishra (Managing Director-India, CLP Power India Pvt Ltd), Mr Ravichandran Purushothaman (President, Danfoss India), Dr Rajashekhar Malur (Chief Technology Officer, Tata Consulting Engineers Ltd), appreciated the findings of the TERI ETC 2030 Draft Electricity Report and reflected that the private sector is keen for acting as agents of change in the transition. One common ground where the CXOs pondered was the gaps within the existing policy environment hampering the ease of RE transition. Mr Purushosthaman stated Leadership is very important for a zero-carbon future – our Chennai factory in the month of June running on 100% renewables is one such example. Indian industry is 70% MSMEs whilst technology and digital aspects are under harvested and should be studied as levers to move things forward. Strong Leadership along with Policy Interventions, Innovations in Business Model and Technology Adoption should be our focus pillars for accelerating ahead.
Mr Rajiv Ranjan Mishra (Managing Director-India, CLP Power India Pvt Ltd) specified that Decarbonization of the Electricity Sector is happening and the private sector is also well informed that setting a coal power plant is an utterly illogical asset. He agreed that there are technical and market challenges - DISCOMs favouring certain class of consumers, Open access, continuous changing inter and intra state charges are still the barriers in the path; but by promoting corporate PPAs, conducive market policies and with fall in battery prices; such challenges can be overcome. On climate ambition, he mentioned about companies with presence in India, but are headquartered Internationally are being driven by their leadership and clear vision which helps them in accelerating the climate agenda in the local context.
Dr Rajashekhar Malur (Chief Technology Officer, Tata Consulting Engineers Ltd) on the current happenings commented that - Just like COVID forced companies to adopt digital solutions, we can use COVID as a push on how to decarbonize electricity generation and there is an immediate need to form a uniform grid infrastructure. He stressed that various RE options like Floating solar, offshore wind, EVs, rooftop solar etc are being underutilized. So, there is an imminent need for Digitization which shall be very helpful to create a market environment promoting flexibility. Dr Ashvini Kumar, Senior Director (TERI) highlighted that boost in the local manufacturing through Make in India Initiative along with financial and fiscal incentives will prove instrumental in the ease of transition. He also mentioned that along with PV based cold storage, thermal and biomass based cold storage should also be explored as the waste processed is used; helping in curbing pollution and providing impetus for cleaner technologies.
Dr Divya Sharma, (Executive Director – India, The Climate Group) concluded the session and remarked that Investing in clean energy future is the only way to move forward for a better future and increased resilience. Businesses in India and around the world are showing that zero carbon energy future is possible and necessary for achieving targets under the Paris Agreement. She agreed with the Indian CXOs notion of strong leadership required for raising the climate ambitions and briefed about the RE100 platform, an initiative of The Climate Group which collaborates businesses to commit to 100% renewable power – demonstrating leadership and addressing policy and market challenges.
Agenda
Session

Presenter

Welcome
Mr Arupendra Nath Mullick, Vice-President, TERI Council for Business Sustainability
Opening Remarks and Setting the Context
Dr Ajay Mathur, Director General, TERI; Co-Chair, Energy Transition Commission
Presentation on ETC 2030 Electricity Report
Mr Thomas Spencer, Fellow, Centre for Global Environment Research, TERI
Industry Perspectives from Indian CXOs
Mr Rajiv Ranjan Mishra, Managing Director-India, CLP Power India Pvt Ltd
Mr Ravichandran Purushothaman, President, Danfoss India
Dr Rajashekhar Malur, Chief Technology Officer, Tata Consulting Engineers Ltd
Moderated discussion with industry participants
Moderated by Dr Ashvini Kumar, Senior Director (Renewable Energy), TERI
Closing Remarks by WeMeanBusiness India partner
Dr Divya Sharma, Executive Director – India, The Climate Group