Strengthening Resilience Against Climate Change Workshop
Magnolia Hall, India Habitat Centre, New Delhi
---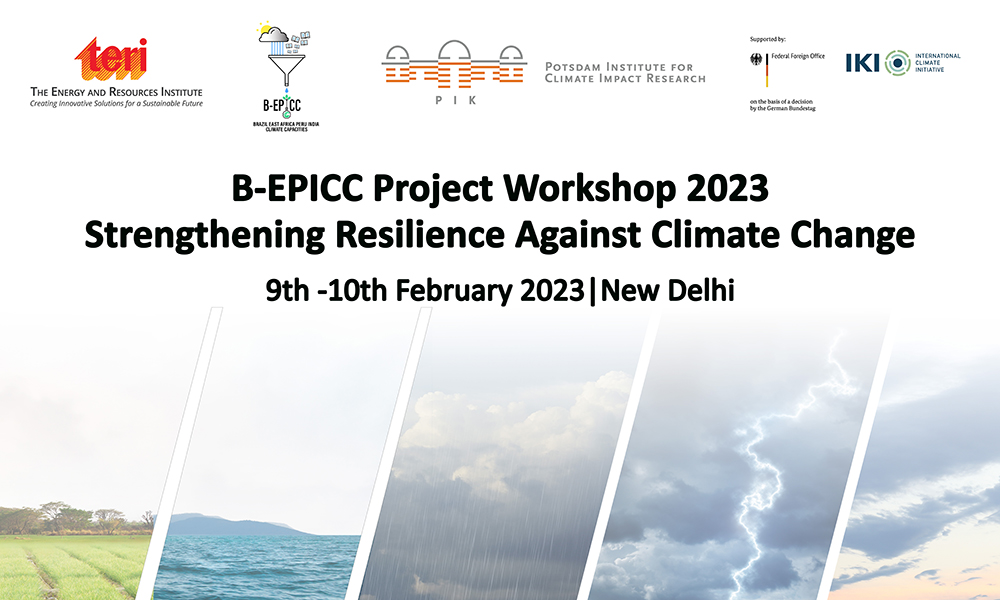 February 9 - 10, 2023
TERI, in association with, The Potsdam Institute for Climate Impact Research (PIK) is organising a workshop on 'Strengthening Resilience Against Climate Change' from February 9-10, 2023 at the Magnolia Hall, India Habitat Centre, New Delhi.
The stakeholder workshop aims to bring together experts from various fields and engage in discussion across four thematic sessions:
Forecasting monsoon onset and withdrawal & Regional climate sensitivity
Climate and Agriculture
Climate Change and Migration
Climate communication and Visualization
This workshop is being organised under the B-EPICC project, which is part of the International Climate Initiative (IKI) of the German Federal Ministry for Economic Affairs and Climate Action (BMWK) and is implemented by the Federal Foreign Office (AA). The Potsdam Institute for Climate Impact Research (PIK) is leading the execution of the project together with project partner The Energy and Resources Institute (TERI).
The overarching goal of this project is to strengthen resilience against disruptive weather phenomena and climate change impacts at regional, national, and local levels in five partner countries: Brazil, Ethiopia, India, Peru, and Tanzania. It is an opportunity for the partner countries to reduce the gap between climate research and its application in policy, business, and societal decisions, particularly regarding agriculture, biodiversity, hydrology, and water resources, as well as migration.
For more information and queries about registration, kindly write to santoshkumar.muriki@teri.res.in