Opportunities and Challenges for a Blue economy in Asia-Pacific region in COVID 19 world
Ms Mani Juneja
Online
The Energy and Resources Institute (TERI) partnering with KAS Regional Project Energy Security and Climate Change Asia-Pacific (RECAP) and Asian Institute of Technology, Thailand is organising a two-day workshop on the topic "Opportunities and Challenges for a Blue economy in Asia-Pacific region in Covid-19 world".
---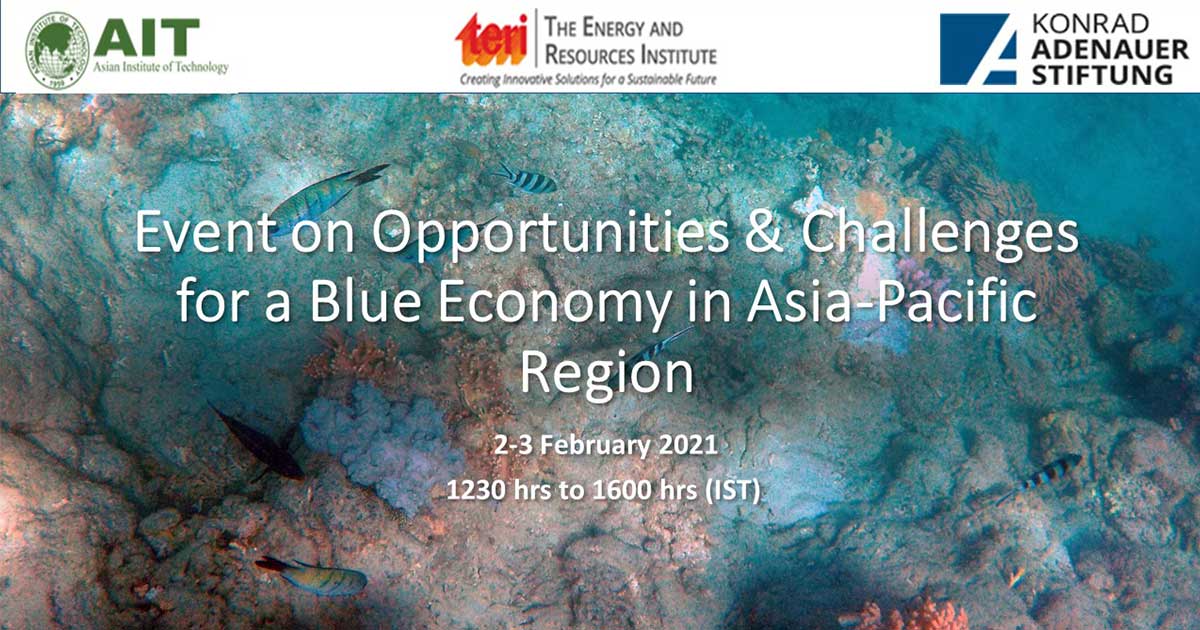 On 2nd to 3rd February 12:30 PM – 04:00 PM (IST)
The workshop aims to examine the numerous opportunities and challenges that stand before the Asia-Pacific Blue Economy framework that has a great influence on regional cooperation, resource security, science and technological cooperation and sustainable development in the said region.
Amidst the myriad definitions of blue economy, the underlying crux has always been strengthening economic growth, social development, security paradigm, and sustainable development. As oceans and coasts suffer from an almost uncensored exploitation due to factors like growing global population coupled with excessive industrialisation on the existing resource base, it is essential to tread on a sustainable path furthered by a blue economy.
This becomes even more crucial for Asia-Pacific as it covers a major portion of land and sea coastline while also possessing some of the most ecologically and economically important sea areas of the world. These provide a rich array of services, contributing directly and indirectly to human survival and quality of life along with supporting local coastal communities and their larger national economies. As countries across the globe embark on the race to 2030, a tangible increase in the focus on oceans' health can be observed in both international and national policies.
DAY 1: Registration link
DAY 2: Registration link